For a long time, there was no clear path for Pet Sitters to order Mad Paws flyers or business cards. Sure, Mad Paws offered a template and logo, but it often fell to the Pet Sitters to plan the rest. Now that we've relaunched our app and website, we've realised this needs to change. We want to enable our Sitters to promote their business, and empower them to take charge.
This why we've created a Pet Sitter Printing Account with MOO. Through this platform, Sitters can personalise business card and flyer templates, order the material, and ship it to their address. By ordering via the Mad Paws account, you'll also receive a discount on printing and shipping costs. In other words, you can order branded, customised promo material and have it shipped to your doorstep! 
To make the process as smooth as possible, we've created a step-by-step guide. Follow these below steps, and your business cards and flyers will be with you in a flash!
Step 1
Email Thomas at thomas.derricott@madpaws.com.au with your full name and email address. For the email subject, use the format "First name Last Name Moo Access" (for example, "Peggy Olson Moo Access"). Thomas will then email you a link, which will take you to a signup page. 
Step 2
Once you've landed on the signup page, you'll be asked to enter your details. After you've completed all relevant fields, click "Sign up". 

Step 3
Next, you will be taken to a login page and asked to enter your email address and password. From there, you will be taken into your Mad Paws MOO Account. When you hover above the white and green + symbol in the top right corner of the screen, the text "Create a new product" will appear. To access your templates, click on this symbol.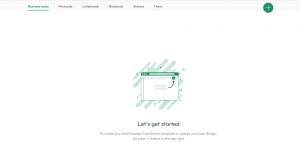 Step 4
You will now be presented with two options: "Use a company template" or "Upload a complete design". Select "Use a company template".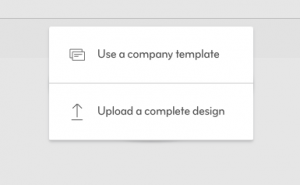 Step 5
Next, you'll be taken to a page for which you can select either business card or flyer templates. As Mad Paws grows, we plan to expand the number of products we offer to include stickers and postcards. If you would only like to order business cards, select "Business cards" on the top left.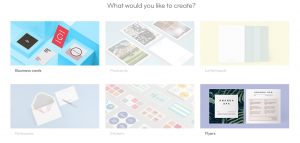 Step 6
From here you'll arrive at the business card template. To personalise your card, click the template on the left – marked as "This is the front. This will be the same for your whole pack of cards."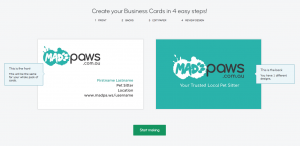 Step 7
Now comes Personalisin' Time! By clicking on the "Firstname Lastname", "Location", and "www.madpa.ws/username", you'll be able to update your business card from this…
…to (something like) this: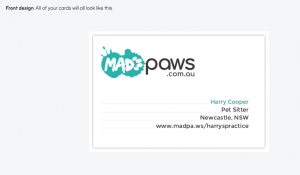 PLEASE NOTE: Pet Sitters are not permitted to list their phone numbers or email addresses on their business cards or flyers.
With these details complete, click on "Design backs"… 

…then "Edit paper", in the top right corner of the page. 

Step 8 
As the title suggests, you will now select the material on which your business cards will be printed. For the cheapest reliable option, we recommend choosing "Original". You can also select whether you want the corners of your cards to be squared or rounded.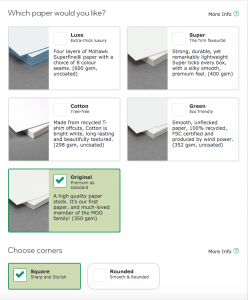 Next, choose the number of business cards you want to order. You will find this option below the list of paper types.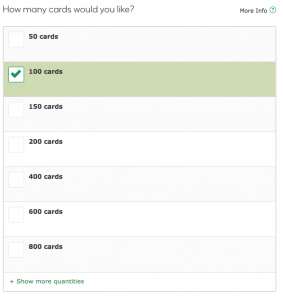 Once you're happy with your paper type and card quantity, click "Review design" in the top right corner. 

Step 9
At this stage, you will have a chance to review your business cards one final time. If you would like to change any details on your card, simply hover over the template and click on the "Edit" icon that appears. When you're happy to proceed, click "Save & Finish" in the top right corner of the screen.

Step 10
You will now be asked "What do you want to do next?" Click "Start ordering"…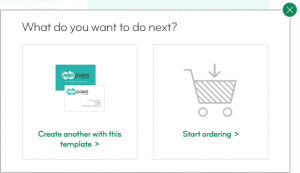 …after which you can click "Add to cart" to order your business cards.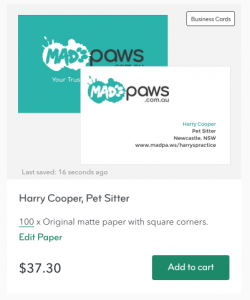 If you'd like to order some flyers as well, click on the "Flyers" option on the navigation bar. From there, you'll redirect to the flyer template. Simply apply the same steps as above and your personalised flyers will be ready to order!
Once you've added your templates to your cart, click on "Cart" in the top right corner of the screen.

Step 11
Next, you'll be able to confirm your delivery address and preferred shipping method. When everything is in order, click "Go to Checkout" in the bottom right corner of the page.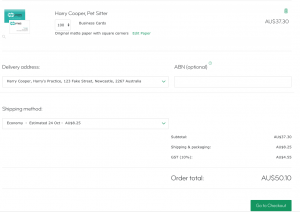 Step 12
Nearly there! The only remaining task is to confirm your order summary and your billing details. After you've done this, click "Place order" at the bottom of the screen and Moo will send your materials to you!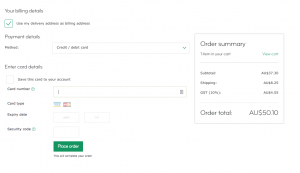 Any questions? Email Thomas at thomas.derricott@madpaws.com.au!
Comments
comments