Mad Paws gets pets. That's why we provide the very best in dog food delivery.
Finding the right dry dog food for your furry friend can feel like a challenge. On one hand, you want a quality product that meets their nutritional needs, gives them energy, and aids their digestive process. On the other hand, you know that doggy dinner time isn't only about refuelling – you want them to enjoy it. When your pupper consumes their meals, you want them to do so with the joy of a dog eating treats. In other words, your pupper needs a pet food diet that balances health and nutrition with taste and flavour. 
Then there's also the factor of convenience. Sure, if you had the time, you'd gladly spend hours each week cooking your pup a healthy, delicious feast. However, with the pressures of work and life, it can be hard to commit time to your dog's diet. That's where Mad Paws comes in. 
With Mad Paws, you can choose the right pet food for your dog's age, breed, and lifestyle. With our raw dog food and the launch of our kibble dry food and lightly-cooked dog food right around the corner, Mad Paws will have all the right options for you. What's more, you can have the dog food delivered to your front door. Never again will you need to trawl the supermarket in search of dog food for sale. Instead, with a few clicks, you can enjoy the benefits of pet food delivery. From Dog Food in Sydney to the Dog Food Gold Coast, we've got you covered.

Which pet food is right for my dog?
Good question – and one into which we've put a lot of thought. Because we know that no two dogs are the same, we offer different types of dog food. That way, you can find the right food for your pooch. 
Does your canine prefer natural, fresh dog food? If so, Mad Paws Dinner Bowl is the ticket for them. A mixture of raw mince, dog-friendly vegetables, and essential nutrients, Dinner Bowl is made from human-grade ingredients. When ordering Dinner Bowl, you can choose from chicken, beef, kangaroo, or a mixture of the three. All meat is locally sourced, and every meal is prepared here in Australia. So whether you want dog food in Canberra, or dog food in Perth, you know your pup is getting quality, fresh food. Each meal is also 100% complete and balanced, meaning that your pupper receives all the nutrition they need. Even better, the meals are pre-portioned, so they're ready to defrost and serve when they arrive. When it comes to packaged dog meals, you won't find fresher than Dinner Bowl.
Does your pooch have a sensitive palate that prefers cooked food? We are planning to launch fresh, lightly-cooked dog food that will give them the flavour they love whilst still preserving the nutrients of their ingredients. Unlike many types of commercial pet food, which are mass-cooked over high temperatures, Mad Paws will prepare its cooked meals over a gentle heat. By doing so, we strike that ideal balance between flavour and health. Once again, these meals will be complete, balanced, and human-quality, so your pupper will get everything they need in each bowl. And, much like our raw dog food, our lightly cooked meals are all about that dog food delivery. Simply place your order online and BAM! Your dog's dinner is sorted for the week.       
Of course, there are some dogs that prefer the crunch of kibble and dry dog food. At Mad Paws, we want to cater to these furry friends as well, whilst maintaining that human-grade quality. That's why we're planning to launch our kibble ensuring it is the freshest, highest quality, and best dry dog food you can find. When you order kibble from Mad Paws, you will be able to count on the highest tier of doggy meals around. 
Whatever your dog's eating preferences may be, we'll have them covered!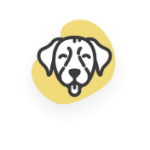 1. Tell us about your furry friend
Share a few tidbits about your dog so we can tailor the pawfect custom meal plan.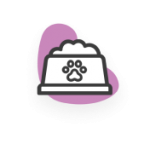 2. Order your dog's custom meal plan
Confirm your meal plan and personal details before placing your order.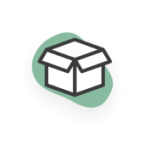 3. Receive your ready-made frozen meals
Wait for your dog meals to be delivered right to your door fortnightly. Simply defrost and serve!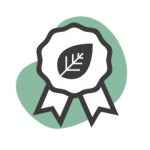 Natural & Nutritionist Approved
Recipes with no preservatives, no additives – just meat, dog-friendly veggies, and naturally sourced supplements, crafted by our Pet Nutritionist, Alice Clydsdale.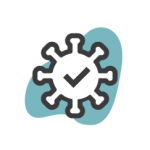 100% Complete & Balanced Meals
Our AAFCO-aligned meals contain the paw-fect amount of vitamins and minerals to fuel your dog's day.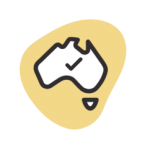 Australian Sourced & Grown
Ingredients sourced from the same Aussie farms that supply your favourite gourmet restaurants and specialty grocers.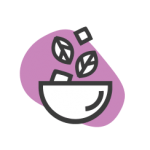 Human-Grade Ingredients
All ingredients are fit for humans, and sourced from human-grade suppliers. Your pup deserves to eat as well as you do!
Frequently Asked Questions
FAQs
1. How much dog food should I feed my dog? 
How much you should feed your dog depends on a variety of factors, including age, gender, and breed. To help you determine the right amount to feed your pet, we feature a Meal Planner on each of our pet food websites. After entering the relevant info about your pupper, you'll receive a recommendation for how much food to order. That way, you're only ordering the food that your furbaby requires.
2. How do I switch dog food safely?
Switching from one food type to another does require some planning. Without a proper transition plan, your dog can suffer an upset stomach. That's why all of our pet meals contain a transition plan that will guide you through the switch to your pooch's new food. Simply follow the transition plan, and your furry friend will be A-OK!
3. Does Mad Paws provide dog food delivery near me?
At the moment, some of our dog food types are available along the East Coast, while others can be delivered all over Australia. To find the best option for dog food delivery near you, check out the bottom of this page.  
4. Is Mad Paws dog food safe? 
Not only is our dog food safe – it's top-shelf! In Australia, pet food must meet the standards of the Association of American Feed Control Officials (AAFCO) to be considered complete and balanced. At Mad Paws, all of our pet food choices exceed AAFCO's standards. In other words, our dog meals are as safe as can be.
5. How can I buy pet food online? 
Our raw dog food, kibble dry dog food, and lightly-cooked dog food are all available for online order. To buy pet food online, simply visit one of the three websites at the bottom of this page and place your order. 
6. Is Mad Paws' dog food premium?
As mentioned earlier, all of our dog nutrition options surpass AAFCO standards, meaning they give your pup all they need. In addition, both our raw and lightly-cooked meals use human-grade ingredients, which ensures your furbaby will eat as well as you do!  
7. How do I know that Mad Paws offers the best online dog food?
Yes, we exceed AAFCO standards. Yes, our ingredients are fresh and human-quality. And sure, we make it easier than ever to serve your pooch delicious and healthy bowls of food. But beyond these truths is the fact that Mad Paws understands the diversity of pets. While most pet food suppliers will focus on one food type, we understand that no two animals are alike. For this reason, we offer different food types to meet the unique needs of your furbaby. 
Whether they prefer kibble, raw, or gently-cooked, we have your pupper covered.   
8. Is Mad Paws' dog food delivery service reliable? 
Absolutely! On each of our dog meal websites, we feature clear delivery schedules for your region. Provided you order by the advertised cut-off date, you can depend on your food arriving by the designated date.
9. Which is better for my dog: raw dog food, kibble dry dog food, or lightly-cooked dog food?  
We believe your pup should be the judge! Each dog's preferences can vary, so the best dog food type for your pooch will depend on them. Not entirely sure which one they'll like the best? Why not give all three a try and let them decide? After all, they're going to be the most informed party!
Mad Paws Dog Food Reviews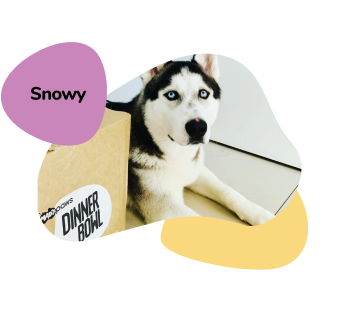 Top Quality Food
"You know you've been a good boi when you get treated with the top quality food! Food that's not just tasty but also keeps my coat shiny and my gut healthy! I woof you @Madpaws"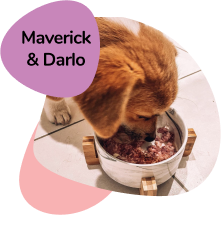 Gone in less than 10 seconds!
"Maverick is a fussy eater, and we have tried a variety of meals, but he never really enjoyed them as much as he enjoyed his first serve of MadPaws Dinner Bowl. Gone in less than 10 seconds!"
Your pet is waiting!
Join Mad Paws Dinner Bowl today for all your dog's nutritional needs. Give them a lifetime of better health!