Mad Paws Press
Below is a highlighted sample of Mad Paws press appearances. For all Press and Media enquiries, please contact thomas.derricott@madpaws.com.au. For insight into pet welfare, visit our blog. 
Weekend Sunrise
June 2019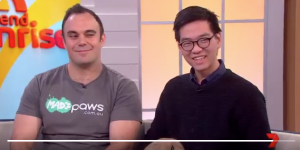 New Idea
May 2019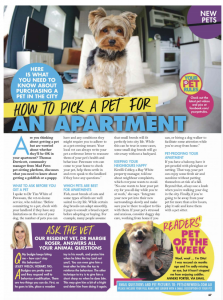 TimeOut
April 2019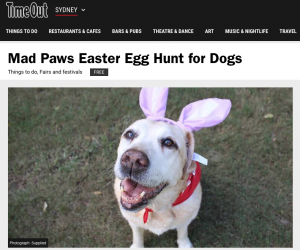 A Current Affair
March 2019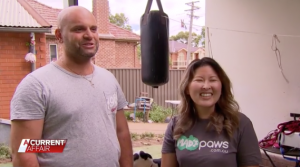 RIOTACT
February 2019
Pedestrian
January 2019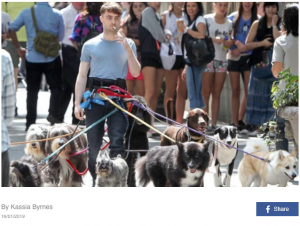 Sydney Morning Herald
December 2018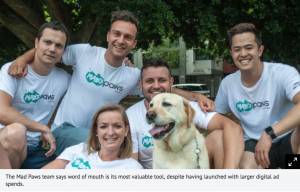 RealEstate.com.au
November 2018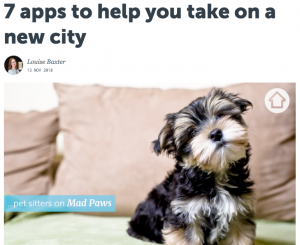 Better Homes & Gardens
October 2018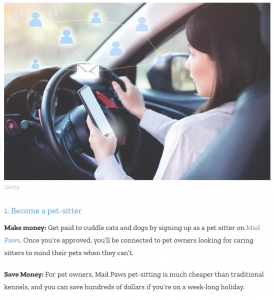 CNBC 
September 2018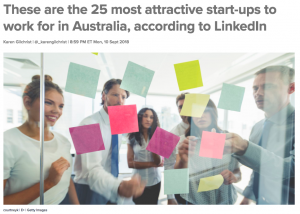 ABC 7.30 Report 
August 2018
Ninemsn 
June 2018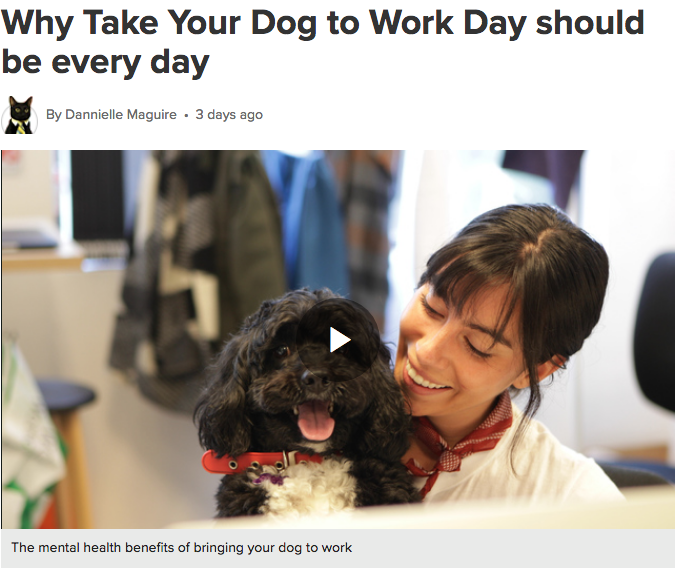 Broadsheet 
May 2018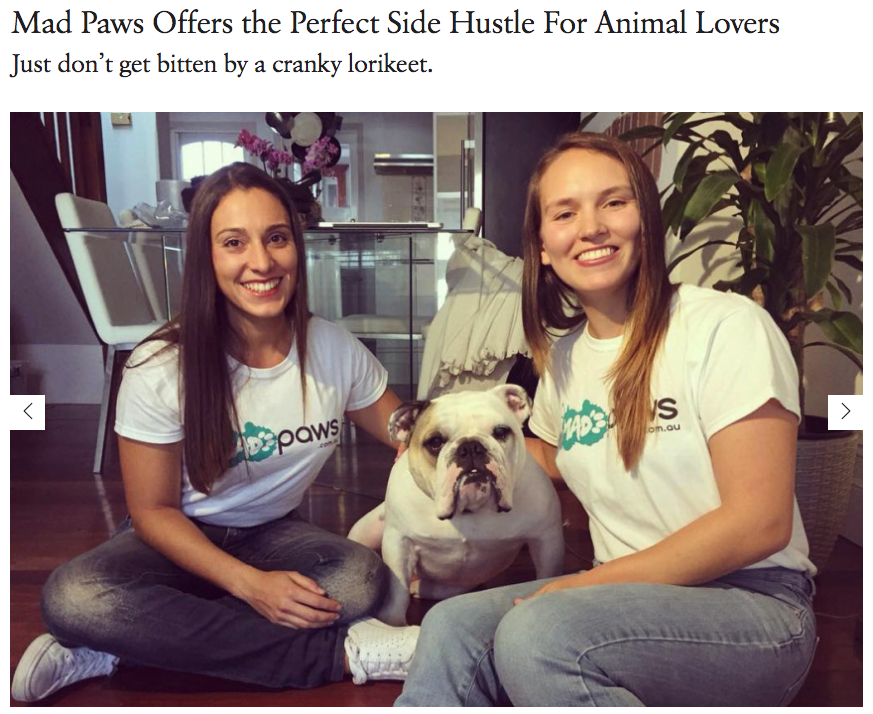 Herald Sun
April 2018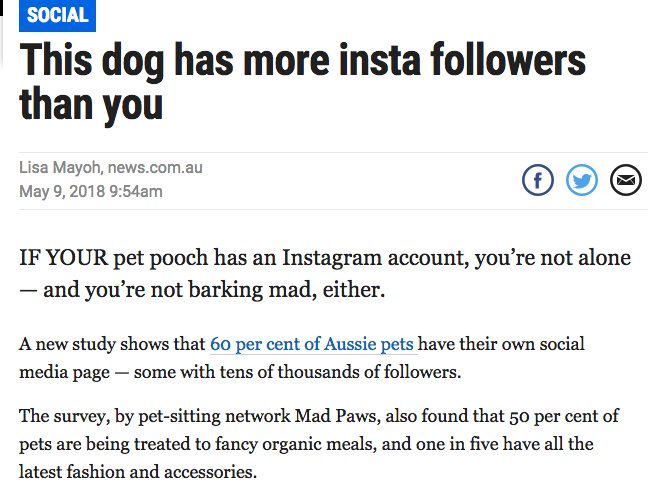 ---
AUSTRALIAN FINANCIAL REVIEW
March 2018     
Mad Paws raises $5 million from Qantas and Airtasker's Tim Fung
STARTUP DAILY
March 2018      
Mad Paws raises $5 million Series A from Qantas and Scale Up Media Fund
DYNAMIC BUSINESS                                                 
March 2018
Mad Paws welcomes Airtasker CEO Tim Fung to its board
SYDNEY MORNING HERALD 
March 2018 
Pet matchmaking service raises $5m from backers including Qantas 
NEWS.COM.AU 
March 2018 
Aussie pet-sitting start-up Mad Paws received $5 milliion in funding 
WHICH 50 
March 2018
Qantas invests in 'Air BnB for pets' start up
AUSTRALIAN DOG LOVER
December 2017     
SUNRISE 
December 2017 
Making extra money this Christmas! 
SUNRISE 
December 2017 
WOMEN'S AGENDA
November 2017 
THE AUSTRALIAN 
November 2017
Mad Paws and other Sharing Hub members launch sharing economy awards 
WOMEN'S AGENDA
November 2017
Launch of the first Sharing Economy Awards 
NOWTOLOVE
October 2017 
8 Things Your Dog Can Sense by Mad Paws Pet Expert Melanie Griffiths 
THE CANBERRA TIMES
August 2017
Golden Retriever Jack named as Aus Dog 2017
HERALD SUN
August 2017 
Australia's Dog of the Year is named as Jack the Golden Retriever
THE WEEKENDER
August 2017 
Host Clinton Maynard chats to Jo Righetti about Mad Paws' search for Australia's Dog of the Year
AUSTRALIAN DOG LOVER 
August 2017 
Mad Paws Dog of the Year 2017 Winner!
LIFE HACKER 
August 2017 
Mad Paws CEO Alexis Soulopoulos: How I Succeeded
POP SUGAR 
August 2017 
Which pet is best suited to your star sign? By Mad Paws pet expert Melanie Griffiths
THE HIP POCKET
July 2017
Get more done in less time with these apps!
OVER 60
July 2017 
6 Ways To Boost Your Pup's Wellbeing
BUSINESS DAILY 
June 2017
The top sharing economy platforms in Australia 
DAILY TELEGRAPH
June 2017
How Mad Paws can help you to make big money! 
ZDNet
May 2017 
An inside look at the tools powering Australian business
BETTER HOMES AND GARDENS
May 2017
Mad Paws listed as one of 9 jobs to keep you healthy
POP SUGAR
May 2017
6 Peaking Pet Trends That Prove Humans Are Nuts! 
SYDNEY MORNING HERALD
April 2017
Australia's Largest Dog Party!
CHANNEL 7 SUNRISE
April 2017
JT joins us at the Mad Paws Easter Fair and talks to Alexis about Mad Paws
REAL ESTATE.COM.AU
April 2017 
Five ideas for a great day out in Sydney – Mad Paws Easter Fair
THE HUFFINGTON POST
March 2017
Mad Paws to host the best dog party ever! 
THE CUSP
March 2017
What is your spare time worth?
BETTER HOMES AND GARDENS
February 2017
8 ways your pets (and therefore Mad Paws!) boost your health and wellbeing
TALKING LIFESTYLE
February 2017
Mad Paws co-founder features on morning show podcast discussing pets on Valentine's Day! 
DAILY MAIL
February 2017 
Mad Paws users tell all about their relationship with their pets
GQ
February 2017 
Apps to help you achieve your life goals 
PC WORLD
February 2017
CREW SCOUT
February 2017
In a video interview, Mad Paws CEO Alexis shares his top tips for building a two-sided marketplace
ABC
February 2017
Alexis joins Philip Clark on the Nightlife radio show to discuss the sharing economy
LIFEHACKER
February 2017
CEO Alexis discusses Mad Paws' challenges, successes and what the future holds
SYDNEY MORNING HERALD
Feburary 2017 
Mad Paws CEO discusses what he learned whilst establishing Mad Paws 
TRAVELLER 
January 2017
23 things you need to do before you travel
7 NEWS
December 2016
How to make extra cash this Christmas
INSIDE SMALL BUSINESS
December 2016
Sharing leaders predict collaborative consumption trends in 2017 
FAMILY CAPERS
October 2016
8 wackiest facts about man's best friend 
KIDSPOT
October 2016 
Money hacks for first time parents
DYNAMIC BUSINESS 
October 2016
Australia's first sharing economy accelerator launches 
BUSINESS INSIDER AUSTRALIA
October 2016 
Sharing economy accelerator launches in Sydney 
THE AUSTRALIAN
October 2016
Start-up accelerator to target sharing economy
STARTUP DAILY
October 2016
Sharing economy founders unite to create dedicated coworking hub
STARTUP DAILY
April 2016
Mad Paws announces partnership with pet supplies retailer PETstock
LIFESTYLE 
November 2015
Mad Paws : The perfect way to keep the kids busy during school holidays