Leave your pooch in the most caring of hands. Book them Dog Boarding through a trusted Mad Paws!

Locate the Best Dog Boarding Options in Your Area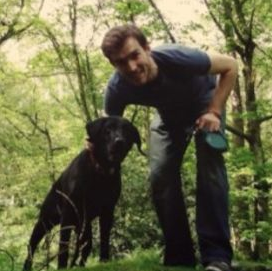 George - Dog Boarding Pet Sitter
"George is a fantastic Pet Minder. He sent regular updates and photos which gave us peace of mind and a laugh at the same time. Our dog was very happy, calm and content at George's place, and very well exercised too." – Josephine, Randwick NSW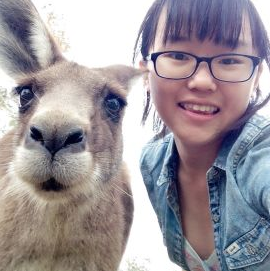 Emily - Dog Boarding Pet Sitter
"Thank you Emily – you have taken such incredible care of our beagles. Thank you for daily photos, videos, and playing with them, taking them for walks, and taking care of them just like if they were yours. We so appreciate it! Anyone who is thinking of using Emily as their Dog Sitter should not think again – she is the BEST!!" – Masa, Kelvin Grove QLD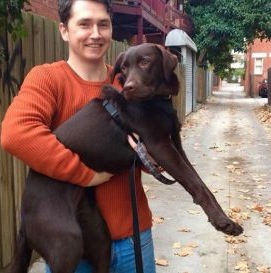 Tim - Dog Boarding Pet Sitter
"Tim was amazing and looked after Diesel so well, would highly recommend him, Diesel has been so happy and looking forward to his next stay. Thank you Tim for your great work and your daily updates made our trip so comfortable"- Gina, South Yarra VIC
Dog Boarding
It's never easy to leave your best friend. It's even more difficult when you don't know if they'll be happy and safe in your absence. With Mad Paws Dog Boarding, you can put those worries to rest. Mad Paws connects you with trusted, verified Dog Sitters who put the needs of your dog above all else. Instead of keeping your dog in a kennel, our Pet Sitters care for your pooch in a dog-friendly home. Whether you're boarding a plane to fly overseas or jumping in the car to take a weekend away, you can relax knowing that your furry friend is in the best hands.
Mad Paws Dog Minders combine the professionalism of a vetted Dog Sitter with the passion of a pet lover. To be accepted as a Dog Boarder with Mad Paws, applicants must pass a comprehensive vetting procedure. If they make it onto our platform, they receive publicly listed reviews from every Pet Owner for whom they work. Mad Paws constantly monitor these reviews, and only retain Dog Sitters who maintain an excellent review average. 
However, our commitment to quality Dog Boarding extends beyond vetting and reviews. Each and every Dog Minder needs to be as crazy about pets as we are. If they don't love your dogs as if they were their own, they don't belong on Mad Paws! 
At Mad Paws, we also understand that dogs come in all different shapes, sizes, and personalities. There is no one-size-fits-all solution for Dog Minding, which is why all of our Dog Boarding options are unique. Does your pooch need a big yard in which to roam? We have a Dog Boarding option for that. Does your furry friend prefer to remain curled up on the lounge? We have Dog Sitters who will create the perfect cosy environment for your furry friend!
Are you interested in Dog Boarding, but want to meet the Dog Sitter first? You can organise a Meet & Greet at the Dog Boarder's home. This allows you to inspect the house in which your pup will be staying before locking in a booking. It also provides you with the chance to determine whether the Pet Sitter is the ideal carer for your dog.
From Sydney to Perth, from Adelaide to Darwin, Mad Paws Dogs Boarding professionals operate all across Australia. Book Dog Boarding for your next holiday and give your pup a home away from home!
"What is Dog Boarding?" 
Dog Boarding is a process through which your dog stays with a vetted, covered, and reviewed Dog Minder. Unlike other options, such as kennels or pet hotels, Mad Paws Dog Boarding allows dogs to stay in loving homes. Some people also refer to Dog Boarding as Dog Minding or Dog Hosting. 
Unlike Pet Sitting, in which a carer stays in the dog's home, Dog Boarding occurs in the carer's home. Due to the unique nature of every carer, Dog Boarding gives Pet Owners a plethora of options. For instance, if your dog normally lives with a large household, you can find a family of Dog Boarders to mind them. Likewise, if they're only accustomed to one person, you can source a Dog Boarding pro who lives alone. 
Similarly, Dog Boarding allows you to choose a carer with the right home for your pup. Whether it's a house on acreage, a townhouse near a park, or a cosy apartment, you'll find the right option.   
"What's the difference between Dog Boarding and kennels?"
Dog Boarding offers a better experience than kennels for a number of reasons. Firstly, with kennels, you have no control over the other dogs who might be staying. For example, if your dog is a small breed, they may struggle when surrounded by much larger pooches. While a kennel can host dogs of all kinds, Dog Boarding lets you decide. 
Would you like your furbaby to be the only dog staying with your Dog Boarder? You can find a Dog Minder who only accepts one pet at a time. Would you like your pup to socialise with other dogs, but want to ensure they're not too big? Simply select a Dog Boarding pro that only cares for small dogs. There's no limit to which you can personalise your furry friend's Dog Boarding experience! 
Secondly, you often don't know who will be responsible for caring for your pooch at a kennel. While you may meet some staff, they can often be replaced with strangers when their shift ends. In comparison, when you book Dog Boarding, your pup will remain with the same committed Dog Minder the entire time. In other words, you can feel confident that your dog will stay with the same person you met during the Meet & Greet. 
Finally, and most importantly, Dog Boarding offers a much more personalised experience for your pooch. Whereas kennels are often sterile facilities that see a high guest turnover, Dog Boarding puts your furbaby front and centre. Through Dog Boarding, you can entrust your furry friend to a real home. Their Dog Minders will love them as if they were their own pet, and lavish them with cuddles. 
In the eyes of dogs, no human will ever bring them as much joy as their Owners. However, when you're away, Mad Paws Dog Boarding will do the next best thing!
"How much does Dog Boarding cost?" 
As each Dog Boarder sets their own prices, the cost for Dog Boarding can vary. Prices generally begin from $20 per dog per night, and can alter depending on the location, reviews, and experience level of the Dog Minder. For an accurate guide, browse the list of Dog Minders in your area.    
"Is Dog Boarding safe for my dog?" 
For those times when you can't be with your furbaby, Dog Boarding is the safest option around. As we mentioned above, before you book a Dog Sitter, you'll be able to read publicly listed reviews from other Pet Owners. By doing so, you'll gain an insight into the type of service they provide. You can also arrange a Meet & Greet before finalising the booking; this will allow you to assess the Dog Minder and their home, and watch how they interact with your dog. 
Once the booking starts, an array of systems exist to ensure your pup's safety. First and foremost, every booking made through Mad Paws is protected by Mad Paws Accident Cover, which covers your pet in the event of an emergency. Your Dog Minder will also send you regular photo check-ins with your pooch, so you can know they're having fun. 
Additionally, Mad Paws doesn't release payment to Dog Boarders until the booking is finished, and you've confirmed all is well. Simply put, your pet care pro only gets paid once they've successfully finished caring for your dog.   
"Can I find Dog Boarding options near me?"
Absolutely! With over 20,000 pet service experts across Australia, Mad Paws can connect you with a local Dog Boarder. Simply search for Pet Hosting options in your area, and we'll give you a list of Dog Boarders near you.  
"Can I trust Dog Boarding professionals?" 
It's not an easy thing to leave your treasured furbaby with someone else. At Mad Paws, we understand that – which is why we allow all Pet Owners to publicly review their Dog Minders. To remain with Mad Paws, a Dog Boarding pro needs to ensure they earn only the highest reviews. This way, you can feel confident that you're only getting the best when you book Mad Paws Dog Boarding. 
We also don't allow just anyone to become a Mad Paws Dog Minder. To offer Dog Boarding through Mad Paws, candidates need to complete our online Pet Sitter Success Course. Because we take quality seriously, only one in five applicants are accepted onto Mad Paws to offer pet care services. 
In addition to completing the vetting process and online course, candidates also have the option to undergo a police check. Dog Minders who have received a police check will sport a police badge on their Pet Sitter Profile. 
"Will my Dog Boarding provider keep me updated about my furbaby when I'm away?" 
Most definitely! Our Dog Minders know that spending time away from your furry friend can be a challenge. For this reason, you can ask them to send you videos and photos of your pooch during the booking. 
Does your energetic pup need ample daily time in the park? Ask your Dog Boarder to send photos during their dog walk! Have they been feeling a bit queasy recently, and not eating much of their food? Request that your Dog Minder send you updates before and after meal time! With Mad Paws, you can ask your Dog Boarding expert to keep you completely in the loop while you travel. 
"For how long can I book a Dog Boarding stay?"
If your pup needs quality care, you can book a Dog Boarder for any amount of time. Would you like a quick overnight getaway? Book a Dog Minder for a single night. Are you planning a massive globe-trotting holiday? You can find a Dog Boarder who will care for your furbaby for months. At Mad Paws, the only limit on booking time is your Dog Boarder's availability. Whatever your plans may be, we're here to make Dog Ownership easier for you.  
"I don't want my dog staying with other pets. Can I find a Dog Boarder who will only care for my furbaby?"
If your dog is slightly shy, and likes to be the only pet around, don't worry: we've got you covered. Some of our Dog Boarders pride themselves on being able to host a community of pooches at any given time. However, others prefer to focus their attention on one furbaby at a time. Should your dog need a home without other pets, the latter option would be perfect for you.   
By reading over a potential Dog Minder's profile, you can determine the number of pets they accept at any time. If you're still not certain, simply send them an enquiry and ask! That way, you can find the perfect companion for your furry friend. 
"My dog requires specific medication, or has special needs. Will my Dog Boarder be able to handle this?"
Mad Paws Dog Boarders recognise one simple truth: no two pets are the same. Each and every dog is different, which means they all have different needs. When you organise Dog Boarding via Mad Paws, you can expect your dog's specific needs to be met. 
Should your dog require medication or other special attention, you can bring it up at the Meet & Greet. During this meeting, it also helps to provide your potential Dog Minder with a list of important details. In this way, your Dog Boarder will have clear instructions to ensure your pooch receives exactly what they need.  
Thanks to Mad Paws, you can rest assured that your pup will be healthy and happy while you're on holidays!  
"How do I become a Dog Boarder?" 
Do you have experience caring for dogs? Are you crazy about pets? Would you say you're the type of person who stops mid-conversation to point out a pupper on the street? Can you distinguish between a Shih Tzu and a Shar Pei, or a German Shepherd and a German Shorthaired Pointer? Do you know how to soothe an anxious dog, relax a hyperactive dog, and celebrate with a happy dog? 
If so, you could have what it takes to offer Dog Boarding on Mad Paws! As a Mad Paws Dog Minder, you'll be able to: 
Set your own work schedule

Set your own prices

Grow your Pet Hosting business 

Work from the comfort of your own home

Be a part of a pet-loving community that spans across Australia

Decide how many and which types of dogs you'd like to care for
To learn more about providing Dog Boarding through Mad Paws, visit our "Become a Sitter" page. We're always on the lookout for new pet lovers, and we'd be thrilled to hear from you!
How Does Mad Paws Work?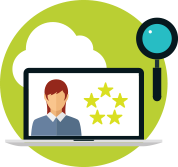 1. Search for Dog Sitters
Find trusted and caring Dog Sitters offering dog minding in your neighbourhood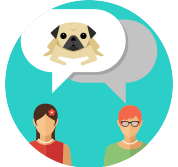 2. Book a Dog Sitter
Meet & Greet your Dog Sitter and book your first dog sitting session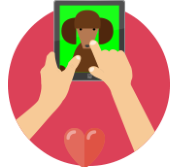 3. Have peace of mind
You'll receive regular text and photo updates, free Mad Paws Accident Cover and 7 day customer support
Peace of Mind with Local, Trusted and Covered Pet Sitters

Trusted Community
Verified Pet Sitter profiles, customer reviews and ratings.

Free Mad Paws Accident Cover
All dog minding booked through Mad Paws is covered by Mad Paws Accident Cover.

Booking Guarantee
If your Pet Sitter is no longer available, Mad Paws makes sure your pet is cared for by another.
Frequently Asked Questions
FAQs
What is Mad Paws?
Mad Paws is your #1 go-to Pet Sitting Community online in Australia, where Pet Owners can find trusted, verified, and covered Pet Sitters near their homes. With more than 15,000 trusted Sitters, you can book in any pet-related services such as Pet Sitting, Dog Walking, Pet Day Care, or House Visiting. Whether you are going for a few hours or for an extended holiday, Mad Paws wants you to enjoy your break with peace of mind, knowing that your pet is not only safe, but also having fun!
Mad Paws is best explained in this video.
For more information about how to find a Pet Sitter, click here.
Mad Paws also wants to give you the best Customer Experience. If we can ever help, please contact us by email – service@madpaws.com.au.
What other services does Mad Paws offer?
Unlike traditional Pet Minding services such as kennels and veterinary clinics, we offer a wide and unique range of services. This tailored approach will engage your pet and make them feel as loved and happy as they do at home. The services available through Mad Paws are:
Pet Sitting– Overnight pet care in the pet's home. The Pet Sitter can House Sit and Pet Sit at the same time.
Pet Hosting– Overnight care at the Sitter's home. This is where your pet goes and stay's at the Pet Sitter's abode.
Doggy Day Care– Daytime care for your pet. This can occur either in the pet's home or the Pet Sitter's home.
Dog Walking– A Pet Sitter comes to your home and walk your dog for you. The length of these Dog Walks are flexible depending on the needs of your pet.
House Visits – A Pet Sitter comes to your home once or twice a day to check on your pet/s and feed them. They can also spend an hour or two with your pet/s as you require.
Pet Grooming – Done either at your or the Pet Sitter's home, a pet expert grooms and beautifies your furry friend.
Dog Training – A Dog Trainer works with your pooch to hone their skills and address any behavioural issues. Like other services, this can be done either at your or the Pet Sitter's home.
Service rates will vary in price depending on the age and size of the pet, the number of pets, and the length of the stay. Make sure you read all the information on the Sitter's profile before making a booking. We also strongly recommend completing a Meet & Greet; it will allow you to discuss the details of the booking as well as meet the Pet Sitter prior to the booking.
To find the perfect Pet Sitter on Mad Paws, simply follow the steps outlined here.
What's included in Mad Paws Accident Cover?
At Mad Paws, the safety of our Pet Sitters, Pet Owners, and their pets is of the utmost importance. We want our Pet Sitters to be able to provide a fun and safe service, but not need to foot a veterinary bill in an emergency. This is why we provide Mad Paws Accident Cover, which protects all Pet Sitting services booked in through the Mad Paws website.
The Mad Paws Accident Cover applies for all services booked through madpaws.com.au. This includes:
Boarding (Pet Sitting or Pet Hosting);
House Visits;
Pet Day Care;
Dog Training;
Dog Walking;
Cat Care;
Bathing;
Grooming;
 
Our free Mad Paws Accident Cover applies to any damage or injury to a third party or their property which is due to negligence of the Pet Sitter whilst the pet is under the Pet Sitter's care. Please note that there is a $350 deductible for any case, and this is payable by the Pet Sitter. Mad Paws Accident Cover is not to be confused with the usual illness cover that most Pet Owners already have for their pets. For full details on our Accident cover, click here.
If you believe that any incident is covered under Mad Paws Accident Cover, you must provide us with written notice of the incident, along with all material documentation available to you evidencing the foregoing (e.g. invoices and veterinary notes from the initial veterinary examination), no later than seven (7) days after the end date that the Pet Services were provided under the relevant Booking.
For property damage we have a specific Damage guideline in place.  To read about our Damage guideline, click here. In addition, we also have a helpful article which explains what to do in case of emergencies: Help, there's an emergency!