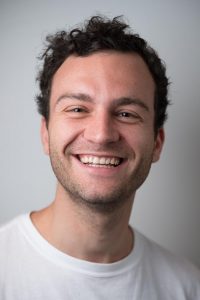 Name: Alexis Soulopoulos 
Job Title: CEO / Co-Founder
Pets: Sloeber the Labrador & Jack the parrot
What were you doing before Mad Paws?
Right before Mad Paws, I was studying a masters degree at the University of Sydney. It was a degree that was very focused on entrepreneurship, which got me thinking about ways to solve customer issues. At the end of my degree I saw a need for Mad Paws after taking care of my friend's Labrador Honey; this was incredibly rewarding experience for me. Not only was I helping out a friend, but I had such a great time walking, feeding and getting to know my newest canine companion! I got together with a founding team that was extremely experienced in solving customer needs and together we launched Mad Paws.
What's a typical day for you at Mad Paws?
My responsibilities can be grouped in 3 main areas: Team, Strategy, Governance & Investment.
Team: It is my job to make sure that the Mad Paws Team have all the tools, motivation and direction they need to do their jobs and build the best possible solution for our pet owners and pet sitters.
Strategy: It is my responsibility to gather input from the team, from users and from our data to decide on the strategy for our company.
Governance & Investment: another important area is my dealings with our board and investor relationships. Because Mad Paws is a start up or scale up company, we use venture capital to grow fast whilst still making sure we deliver a great solution for all pets, pet owners and pet sitters. We use the investment to improve our technology, to grow our team, optimise our processes and spend on marketing. Getting this investment and managing the relationship with our shareholders is an area I also work on.
In addition to these responsibilities I very much like interacting with our pet owners and pet sitters and hear about their experiences with Mad Paws
Tell me about something special you have on your desk
I have all sorts of team photos from our team social events. I like to have them around because they remind me of how much fun we're all having together. I also have a stuffed tiger who has been around since the very early days of Mad Paws. Whenever someone left Mad Paws in those days (and because we were working with many students and casual employees, this was quite often), we gave them a stuffed animal (usually a dog or a cat) as a leaving gift. In the early days I went to buy a number of stuffed animals and one of those was a tiger but then realised we don't actually offer pet sitting for tigers so it wasn't a great choice. I kept the tiger for myself and he sits on my desk as a nice memory of the early days of the company where so many people helped us out to get this company of the ground.

What do you love the most about working at Mad Paws? 
I really really love that when we ask our users "What do you love about Mad Paws?", the answer is that the company makes them happy. I think it's amazing that Mad Paws can now facilitate over 11,000 Pet Sitters to have regular bookings and bring them joy and happiness by bringing more pets to their lives. The same goes for the many, many thousands of Pet Owners who we're helping by ensuring that their pets are given amazing care, which makes them really happy too. I honestly believe that we're doing something good here for pet sitters, pet owners and importantly their pets!
At the same time, when we ask our users 'What could we improve?', the list is also endless. I still believe we're doing really great things but it's important to continuously improve in our customer interactions, our technology, the way we do marketing…everything. Whilst it's frustrating and we only have so many resources to work with and move forward, the need to continuously improve is also what excites me. The learning journey to incredible.
What do you have as the background image on your phone? 
It's the absolute best photo I've ever taken. It's from Seal Rocks, at the lake over there. It's sunset, the colours are absolutely beautiful and it reminds me of a nice, calm area away from mobile phone reception and stress, in beautiful scenery with great friends around me.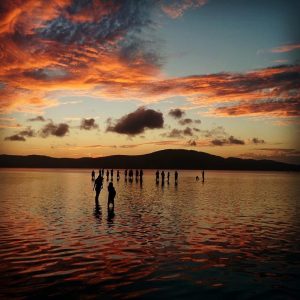 What do you spend your weekends doing? 
More recently, I've been doing a lot of 'nothing'. Just going for nice walks, recharging my batteries for the week ahead. I do enjoy meeting new people though and always enjoy spending time with my friends and girlfriend. 
If you could pet sit any animal, what would it be?
I think it would be a super interesting experience to pet sit an elephant. It's huge, and I also I think they're fascinating animals and although it would be a lot of work I think I would learn a lot and there could be some transferable learnings for Mad Paws too! A nice bonus would be the fantastic instagram photos.
---
Quickfire Round 
Night In or Night Out?
Most of the time, night in. But occasionally (because I really enjoy meeting people and spending time with friends) night out.
Salad or Pizza?
Salad.
Ocean or Forest?
Live by the ocean… adventures in the forest. 
Dogs or Cats?
Dogs!
Comments
comments