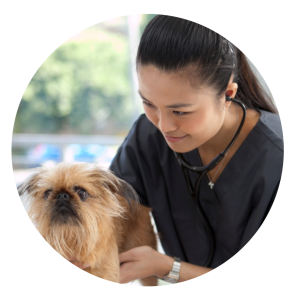 Dr Cherlene Lee is the Principal Veterinarian at My Vet Animal Hospital. She graduated from the University of Sydney and has worked in various rural and city based practices across NSW. Cherlene thrives on small animal medicine and soft tissue surgery. 
Ear infections are one of the most common issues that a lot of pet owners face, especially dog owners! One of the most common causes of ear infection is bacterial and/or yeast infection. Ear infections in dogs are usually very painful and most owners do not even notice that their dogs are suffering until a few weeks in.

What are the signs of ear infections?
There are a few signs that pet owners can watch out for if their dogs are suffering from an ear infection. You may see signs like:
Head shaking

Head tilting

Discharge from ear(s)

Smelly ears

Redness/inflammation around and inside the ear(s)

Rubbing ear(s)

Scratching ear(s) excessively
So, what causes ear infections in dogs?
Ear infections usually occur due to an underlying cause such as:  
Moisture build up – eg swimming

Hairy ears – eg Poodles, Schnauzers

Foreign body eg grass seeds, polyps

Allergies eg food or airborne

Poor ear anatomy due to breed predisposition
Always bear in mind that a dog's ear is a self cleaning device; if your dog's ears are not dirty, it is always best to leave them alone. Always check with your veterinarian if you are unsure.
How do we treat ear infections in dogs?
Treating ear infections is usually a two part process: treating the infection AND determining the underlying cause(s). Your veterinarian will perform a full physical examination and acquire a thorough history to determine the cause of the ear infection. It is important for your veterinarian to look inside your dog's ears to assess the ear canals and eardrums.  Ear swabs will also be performed to help your veterinarian determine which ear medication is best for your dog. Cleaning of the ears with the appropriate ear cleaning solution may also be warranted.
How do I prevent them?
 A few simple tips that you can take to minimise the occurrence of ear infections:
Cleaning the ears with vet-approved ear cleaning solutions after swimming/bathing

Airing the ears out by flipping the ears back

Cleaning the ears out when needed

Never self medicate or re-use ear medication without consulting your veterinarian
Ear infections can sometimes be very frustrating, painful and time consuming to treat. Therefore, it is very important to always follow your veterinarian's advice and instructions carefully. It is absolutely vital for you to return for checkups with your veterinarian as you may not be able to see if the ear infections have completely resolved unless you scope down the ears. As a general rule of thumb, it takes around 2-6 weeks for ear infections to resolve completely, sometimes even longer in chronic cases.
Check out My Vet Animal Hospital on Facebook or Instagram to find out more!
What would you like Cherlene to write about in future months? Let us know in the comments below! 
Comments
comments