If you follow a vegan diet or have been thinking of making the change, the question "Can cats eat a vegan diet?" may have crossed your mind. After all, we humans are always trying to eat more veggies, and many vegan meals are pretty tasty! So it's natural to wonder whether our hunting extraordinaires are able to survive on a plant-based diet, too.
In this article, we set out to find some answers to some key vegan cat questions. Are there vegan food options for cats available today? Even without cutting out meat completely, could our fur babies benefit from a more veggie-filled diet?
Before you throw out all the meat-based cat food in your home and print out your cat's new vegan diet instructions for your trusted Cat Sitter, let's pause and take a look at what the science says.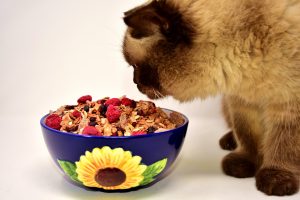 Before we ask, "can cats eat a vegan diet," let's take a look at our felines' natural eating habits
If you'll allow us, we're going to get very nerdy about feline biology for a moment. Because, as it turns out, cats have a digestive system that is just too fascinating to overlook.
For one, cats are what are considered obligate carnivores. That basically means that their evolution has made them expert meat eaters. They've got sharp teeth, which are better at tearing and ripping than chewing. They've got a relatively short digestive track, ideal for quicker digestion to lower the risk of bacterial infection. And, there are all of those amazing adaptations that make cats great hunters – forward facing eyes, unbelievable hearing, and lightning fast reflexes.
But hey, even if cats are some of the best carnivores around, that doesn't necessarily mean that they can't learn to love plants, right? I mean, they're so crazy for some grasses and herbs that we have an entire article dedicated to how catnip affects cats.
Well, not so fast. The obligate in obligate carnivores suggests that cats don't just like to eat meat, they need to eat it. That's because all cats, from the biggest lions to the smallest Singapuras, are unable to produce a few key nutrients, such as taurine, Vitamins A, D, and B3, on their own.They get those vital nutrients from the meat they eat. Take away the meat, and they could suffer from some serious heart conditions, liver problems, and other medical complications.
The other issue here is the plant matter itself. Herbivores and omnivores are much better equipped to break down fibrous plant material than carnivores. Cows, for instance, have a whole separate chamber in their digestive system to slowly break down the hard-to-digest greens in their diet. Even we humans have flat molars that are perfect for grinding our food down for easier digestion. Without these special plant-eater features, your cat is prone to painful bloating and discomfort. They could be suffering even if you convince them to eat a few more veggies than they're used to.
To learn more about the interesting world of carnivore and herbivore digestion, take a look at our recent article Can Dogs Eat Raw Chicken?
So, going back to the question, "Can cats eat a vegan diet," the science is pretty clear. Swapping out your feline friend's meat-rich food for a salad isn't going to cut it. But the conversation isn't over yet.
Can cats eat a vegan diet that has been designed for them?
Let's take the question of "Can cats eat a vegan diet" to the people who are working hard to create more vegan-friendly foods for us two-legged animals. Bioengineering companies are pouring a whole lot of money into finding the best meat alternatives and lab grown meats so that we can all make the switch to cruelty-free vegan diets. Can this growing trend in the tech world help our cats make the change, too?
Surprisingly, there are already a few companies selling vegan cat food. The bad news is, most of them are operating outside of Australia. But don't lose hope yet.
Veganpet is the leading manufacturer of vegan pet food in Australia, and it's the only one we could find selling vegan cat food at the time of this publication. Their cat food, they say, includes all of the vitamins and minerals that your cat would get from meat. They've also made sure to include enough protein in their cat food to satisfy your fur baby's dietary needs.
The final choice is up to you – but check with your vet!
Proponents of vegan pet foods say that switching cats to vegan diets is possible and even beneficial. Slowly but surely, we're seeing more options for safe vegan cat food around the world and right here in Australia.
But there's no sugar-coating it. A vegan diet poses some significant risks for cats when done without extreme care. So, if this is a journey that you want to embark on with your furry friend, you'll need the help of a veterinarian to help you monitor any changes. Medical supervision, at least at the beginning, is the only way to keep your kitty safe.
Final thoughts on your cat's vegan diet
So can cats eat a vegan diet? Evolutionary biology would say no. But the recent changes in food technology would say yes! We're still in the beginning stages of this interesting discussion, so make sure to stay up-to-date on the latest advances and keep in touch with your vet to learn more.
And if this is a change that you want to see in the world, keep talking about it! Tell your fellow Cat Owners, your dedicated Pet Sitter, even your local pet store owner. We may not have many options or information at the moment simply because there's not enough demand for it. So if you're passionate about answering the question "Can cats eat a vegan diet" once and for all, keep asking the tough questions! We'll be right there with you, hungry for more pet-centred knowledge. 
Comments
comments