With winter right around the corner, you may be getting yourself ready for the upcoming cold season – you've pulled out your best soup recipes, bought a new cold-weather sweater, and made a plan to put your gym membership to use instead of exercising outside. But have you considered the ways that you can keep your pet happy and healthy when the temperatures drop?
Just like us, pets may go through a period of low energy and mood when the cold creeps in. With colder temperatures outside, they may not be able to get as much fresh air and exercise as they did in summer, which can make the long winter months pretty dreary and boring.
Luckily, there are some easy ways to counter the winter slump so that your pet can be happy all season. Here are some simple ways that you can make sure your pet stays active and healthy: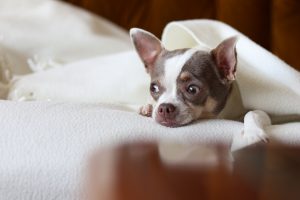 Tip #1: Indoor exercise
For Pet Owners, it's not easy to muster up the energy to play with our pets at the end of a long day. Especially in winter, when it gets dark earlier, all we want to do is cuddle up with our pet and hibernate.
But, think about it from your pet's perspective. They've been resting all day long, saving up their energy for when you come home. They want your attention, of course, but they also want to play.
This doesn't mean that you have to go back out into the dark winter night for a long walk. There are plenty of indoor activities that you can do with your pet so that they can shake off that extra built-up energy.
One of the best ways to engage and tire out your pet is with a fun mental challenge. Teaching them a new trick, like rolling over or standing on their back legs, will release energy while also giving them a chance to work out different muscle groups. Playing games is also very effective. You can check out our article on How to Exercise Your Dog Indoors here.
Remember, many of these indoor exercise tricks can also be adapted for cats! With their favourite treats or a can of wet food, you can teach your cat new tricks, set up a fun obstacle course, and even play fetch with them! Daily indoor exercise is just as important for your feline furbabies!
Tip #2: Winter diet adjustment
Some Pet Owners like the look of the winter weight gain in their pets, but it's actually quite unhealthy to allow your pets to put on those extra kilos. With less exercise overall, you'll want to reduce their daily calories – not drastically, just enough to keep them nice and healthy. In fact, PetMD suggests that you reduce the calorie count by 10% if you notice your pet is filling out.
Tip #3: Scheduled playdates
For dogs, having interaction with other pups is helpful for keeping the winter blues at bay. When it's too cold to make it to the dog park, you might invite over your dog's best mates so that they have some canine company.
For solitary pets like cats, you don't want to introduce other animals in the house, but you can still make sure to give them plenty of love and attention in winter. If you own a social cat breed, make sure that there are lots of people around to keep your cat happy.
Tip #4: Braving the outdoors
No matter how cold it is outside, daily fresh air is a must. Bundle up (yourself and your pet) and brave the cold. Instead of standing in one spot shivering while you wait for the potty break to be over, it can be helpful to engage in some short vigorous exercise like power-walking around the block. If the weather outside is too cold for you, but just right for your pooch, book them a Dog Walker!
Tip #5: Cozy winter bedding
Winter is a great time to introduce some cozy new bedding for your pet. After all, winter is the best time for snuggling and hunkering down for long periods of rest and rejuvenation, and a new dog or cat bed will make your pet feel loved and cared for.
Tip #6: Keeping them safe
Keeping your pet exercised, stimulated, and properly fed is just part of the equation when it comes to winter wellbeing. You'll also want to take extra precautions to make sure that your pet is safe and sound during these colder months, by investing in reflective night gear and keeping them away from unsafe burrows and hiding spaces.
You can learn more about Keeping Your Pet Safe This Winter here!
You're ready to brave the winter!
With these easy steps, you and your pet will be well-equipped for winter. And the easiest step of all? Make plenty of time for cold-weather cuddles! Your pet will love the extra snuggles! 
Want someone to keep your furry friend happy while you're at work! Book them in for Pet Day Care! From Perth to Brisbane, from Newcastle to Geelong, Pet Day Care will be a winter wonderland for your pet. 
Comments
comments