When it comes to giving your dog a workout, there's no substitute for a good old fashioned walk. However, on a cold and rainy day, it can be hard to spend as much time outside as you and your pooch would like. At times like these, an indoor exercise routine can put your dog in good stead.
This winter, try these tricks to keep them fit, happy, and sheltered from the elements!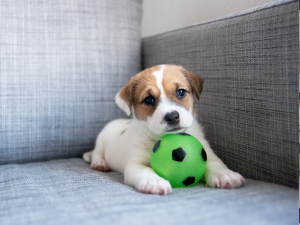 'Hide and Seek' 
Thought 'Hide and Seek' is only a game for humans? Think again! With a few simple treats, this game can become your dog's favourite exercise. Hide yourself around your house or flat, then when your furry friend finds you, reward them with a treat. After a couple of successful games, your dog will get the idea and engage in full Tracking Mode. 
This game can be played just between you and your dog, or with the entire family. In addition to giving your dog plenty of exercise, it will also provide them with yet another reason to love you! 
If your home is short of human-sized hiding places, you can apply the same principle with a scavenger hunt. Hide portions of their food around the home and watch them hunt. Start with familiar places for your dog, then slowly increase the difficulty.
Tug-of-war will bring you peace 
Tug-of-war doesn't just need to be played in the park. In fact, this game is a perfect candidate for an indoor workout regime. Purpose-designed tug-of-war rope toys are available if you want to give your dog a gold standard experience, but if you're sticking to a budget, and old towel or cloth should do the trick. 
If your living space is cosy, we advise clearing any vases, laptops, or breakables from the room before playing. Also, don't be afraid to be firm with your dog if they get out of line. This game can bring out their competitive streak, and they'll look to you to keep them in check. 
Make an obstacle course: the Ultimate Indoor Exercise Regime
It's time to channel your inner MacGyver! By building your dog an obstacle course, you can keep their minds and bodies active on a wet and dreary day. If you don't view yourself as a DIY type, don't be deterred: this is the work of an hour. Footrests, washing baskets, cushions, and coffee tables are just a few of the items you can use in your quest. Set them out in a way that will make your dog will jump, crawl, and zig-zag.
Once it's ready, you can lead your dog through the course by dangling a toy or treat in front of them. After several run throughs, they will have burned off some of that restless indoor energy, and you will know that you're more handy than you'd thought. 
Are you looking for some help indoor training your dog? Speak to a Mad Paws Dog Trainer! 
Comments
comments