2017 is coming to end and the holiday season is just around the corner, the time to celebrate and spend time with those close to you! Sooner or later, you'll be hearing the loud boom of fireworks and although you may like it, your cat will most likely not!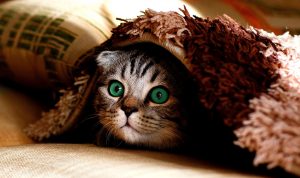 Loud noises in general scare cats, so when it comes to fireworks, it is very important to make sure your cat feels safe and secure when it occurs. Here's our tips:
Drown out the booms
Turn on the washing machine, tumble dryer or TV for a constant, loud background noise.By doing this, your cat will already prepare itself for the louder noises that the fireworks will produce. A constant, familiar loud noise will be far less stressful for your kitty than a series of random, unexpected bangs, whistles and booms! 
Keep your cat inside
Keeping your cat outside may trigger him or her to run away or behave in an erratic way, not knowing what to do if there is no "escape" route. By keeping your cat inside, you will feel reassured, knowing they are safe and cannot come to any harm. 
Creature Comforts
Just like humans, who reach for our favourite blanket, sweater or teddy to comfort us when we're anxious, the same goes for cats. Have their favourite blanket or toy nearby to make them feel comfortable.  If possible, stay near them to reassure them that everything is OK. If you can't be nearby, why not book a Mad Paws Pet Sitter now, in preparation for the holiday season!
Distraction is key
To distract from the fireworks, buy them some toys! We have a previous blog where we recommend some awesome toys to keep your cat distracted . These toys will definitely help to keep your kitty's mind off the fireworks.
On behalf of all of Mad Paws, we hope you enjoy the rest of 2017, may we wish you a very Meowy Christmas and a Happy New Year!
Comments
comments