Like many humans, there are some dogs who enjoy meal time a little too much. And while a love of canine culinary delights is a wondrous thing, overeating in dogs can lead to major issues. In some cases, the habit can lead to a little extra sag around the midsection. In others, overeating can trigger canine bloat (or "gastric dilatation-volvulus"), a fatal disease that can expand's a pup's stomach until their organs no longer function. Either way, overeating in dogs is something Owners should avoid at all costs.
Even so, to quote the 2001 romcom Kate & Leopold: your dog can receive dinner's luxurious comfort in their mouth without adding to the luxury of their waistline. By applying the tips below, your pup can enjoy a worry-free meal time!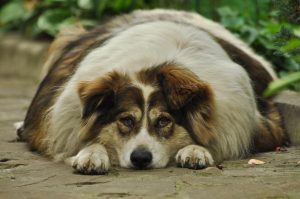 Avoid kibble to halt overeating in dogs
As convenient as it may be to serve, kibble isn't the best choice for our furry friends' diets. For starters, many types of kibble are made from fillers, such as rice, wheat, and corn. Beyond failing to meet a dog's dietary needs, these fillers also send mixed messages to their stomachs. In response, our pups can misjudge how much they've eaten and gorge themselves.
To sidestep this problem, feed your furbaby crude proteins like chicken, beef, and kangaroo. For primo results, mix in some dog-friendly veggies, such as carrot and cabbage.
Resist the urge to top up during the day
We've all been there: our pooch fixes us with those saucer-sized puppy eyes, and we give them whatever they want. For food-loving pups, that can often mean constant food bowl top-ups throughout the day. While this gesture may stem from a well-meaning place, it does our dogs no favours. In fact, by grazing throughout the day, they're more likely to cross their stomach's threshold at dinner time. The next time they plead with their eyes, steel your resolve and stick to your doggo's allotted meal times.
Avoid overeating in dogs by using strict portion sizes – especially after exercise
Whether it's with their favourite human or their local Dog Walker, many dogs work up an appetite on their daily stroll. If they normally eat after their walk, their bodies will refuel, and their muscles will channel the nutrients into self-repair. However, after working up such a hunger, your furbaby can often lose sight of when enough is enough. In these moments, they depend on you to know where to draw the line. The simplest way to achieve this is to measure the perfect meal portions for their size and activity level. By doing so, they'll consume the precise amount they need to refuel – without overdoing it.
Are you looking for dog nutrition options that provide customised meal sizes for your dog's specific needs? Subscribe to Mad Paws Chef and your furbaby will receive their first meal FREE!   
Comments
comments