If you're a Pet Sitter who offers daytime services, rejoice! We've now launched our Repeat Weekly Bookings feature. From now on, you can book all Dog Walking, House Visits, and Pet Day Care sessions on a recurring basis. In other words, you'll no longer need manually enter an ongoing booking week after week. That means less time on admin, and more time with furry clients! Beyond that, your client will no longer need to confirm End of Stay, so the payment process will be smoother.
In this article, we address some of the most common queries we receive around Repeat Weekly Bookings. Don't see you answer here? Check our FAQs, or email us at service@madpaws.com.au!
"How do I offer Repeat Weekly Bookings to my clients?"
Good question, amazing Sitter – and one you can solve with a touch. In the Services and Rates section of your profile, toggle the switch that aligns with the "Offer Repeat Weekly Bookings" option under your preferred service. For example, to offer it for Dog Walking, toggle the "Offer Repeat Weekly Bookings" switch under Dog Walking. Once you've toggled the switch, hit "Save" to make it live.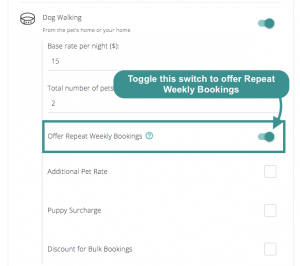 "Great! I'm ready to approve my first Repeat Weekly Booking Request. What happens now?"
Pawsome! Before you do, though, we advise that you double-check every detail in your booking.
By opting into Repeat Weekly Bookings, you agree to:
The Repeat Weekly Booking Flexible Cancellation Policy Under this policy, a full refund (excluding any booking fee that may have already been paid) will only be available if the booking is cancelled before 12pm AEST, 24 hours prior to when the service is set to begin. If this cut-off time has passed, the Owner will be charged 50% of the full amount for the relevant service.
Weekly Payments All Repeat Weekly Booking fees will be paid to you every week, 7 days after a week's booking has concluded.
Advance Bookings When a Pet Owner makes a Repeat Weekly Booking with you, our system will automatically block your Calendar for the chosen dates over the next month. When a week of your bookings have been completed, a new week of pre-approved bookings will be added to your Calendar.
"How can I make changes to a Repeat Weekly Booking?"
Are you looking to edit a Repeat Weekly Booking (RWB)? If so, you'll need to finalise them before your client makes their first Repeat Weekly Booking payment. Prior to that first payment, you may edit:
The starting week for the first Repeat Weekly Booking.
The day/s of the week on which these bookings occur.
The total weekly price for these bookings.
To find all of these options, simply look under Booking Details: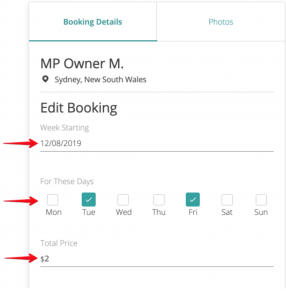 Do you need to make booking changes AFTER your client has already made their first RWB payment? To do so, you'll need to cancel the RWB and schedule a one-off booking. This will let you make the changes you need – after which you can schedule a brand new RWB.
"If I need to, how can I cancel Repeat Weekly Bookings?" 
To cancel your RWBs, you'll need to:
Go to your Bookings. From here, select the booking you would like to cancel.
Provide your reason.
Select "Cancel ALL Repeat Weekly Bookings".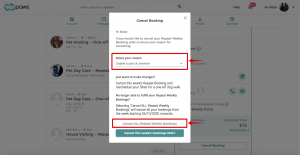 In the pop-up window, select "Yes, cancel" to confirm. This will cancel your RWBs.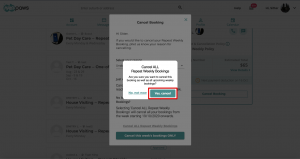 Your cancellation will take effect from the following week onwards, provided payment has not yet been made for that week's booking. If you would like to cancel a specific week, contact service@madpaws.com.au  
Please note: RWBs maintain a separate cancellation policy to your standard bookings. To learn more, visit our Knowledge Centre article on the Repeat Weekly Bookings Cancellation Policy.
"I've just confirmed my first Repeat Weekly Booking. How can I distinguish my RWBs from my standard one-off bookings?" 
When looking at your bookings, all you need to do is look for those two magic words: "Repeat Weekly".
"What are the benefits of opting in for Repeat Weekly Bookings?"
There are a number of advantages you'll enjoy by opting in to RWB. Firstly, unless you have a crystal ball, planning for future bookings can be tricky. One week you can be swimming in booking requests, and the next week may be comparatively quiet. When you opt in for RWB, you'll be able to enjoy a crystal ball for daytime services. Instead of wondering if a client will book you again, you'll be able to confirm them on an ongoing basis. In other words, RWB gives you the chance to firm up your daytime bookings for months in advance. 
Secondly, as RWB is a new feature, only a few Sitters have opted in to use it at the moment. This means that, by opting in now, you'll be one of the first RWB Sitters who Owners see near them. For you, this will mean more daytime bookings, because RWB was built on the basis of lengthy Owner feedback. As such, RWB is designed to make your services even more appealing to clients. Opt in to RWB, and you can enjoy a booking spree! (yes, we rhymed those words on purpose.) 
"How do Pet Sitter Reviews work within

Repeat Weekly Bookings?" 
With Repeat Weekly Bookings, Pet Owners can leave ongoing reviews. To enable this, we've added a "Leave a Review" button on the Booking Details page. We will also be reminding Pet Sitting clients to leave reviews after certain milestones; 1 week, 1 month, 3 months, etc.
In this way, we hope that Sitters can receive ongoing feedback on your RWB services, allowing them to continually strengthen their skills and profiles.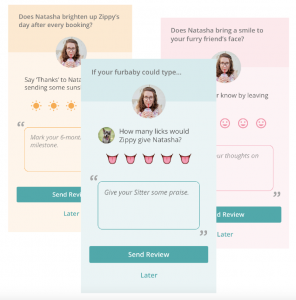 Any more questions? We'd love to help! Just email us at service@madpaws.com.au and we'll be in touch.
Comments
comments