Despite the name, ringworm in dogs has nothing to do with actual worms. Instead, it's a form of fungal infection that can affect dogs, cats, and humans. Not only can ringworm cause hair loss and itchiness, but it can also lead to bacterial infections that make the condition even harder to treat. 
In this article, we'll cover everything you need to know about this skin condition. You will, of course, need to get your pup to a vet for medical treatment. However, learning more about ringworm in dogs can help you soothe the symptoms and prevent reinfection.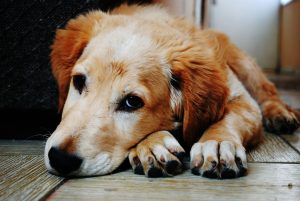 What is ringworm in dogs?
Dermatophyte is the group of fungi responsible for ringworm, and these tiny spores rely on keratin (i.e. skin, nails, or hair) to grow. When the spores take hold in your dog's skin, they form circular colonies, resulting in patches of hair loss and scabbing that give the appearance of worms. The lesions typically form about 10 to 12 days after a dog has first been exposed to the spores. From there, the colony can spread to form irregular patches of hair loss on a dog's skin.
Dermatophytosis, the medical term for ringworm, can also present as an infection in a dog's nails, making them fragile and brittle.
In rare cases, a dog can be a carrier of the fungi without showing any symptoms. These cases are especially dangerous, because one pupper can infect multiple other dogs and humans before detection. If all of the pups in your doggy playdates are suffering from ringworm and yours isn't, it might be a good idea to get to a vet and make sure your dog isn't a carrier.
How is ringworm in dogs treated?
It's important to get medical attention for a dog suffering from ringworm. The risk of waiting too long is that a larger colony will be harder to eradicate. And, the more your dog scratches and licks at their skin, they could be at risk for secondary bacterial infection that will have to be treated separately.
Luckily, ringworm is easily diagnosed by your vet. They may take a sample of the culture for testing, but ringworm can typically be diagnosed on sight and with the use of an ultraviolet light tool.
Once ringworm has been diagnosed, treatment plans generally include a topical treatment, an oral medication or both. The topical treatment may be a special shampoo or cream that you will apply to the area to kill the fungi. 
How long does the treatment for ringworm last?
Unfortunately, getting rid of a fungal colony is slow work. Topical treatments may need to continue for several weeks or months in order to completely eliminate the colony. 
And, during this time, you'll need to be mindful of exposing your dog to others. Ringworm can continue to be contagious with treatment for around three weeks, so you may need to take special care to avoid dog parks and other highly populated areas until your vet gives you the okay.
How contagious is ringworm in dogs? 
Ringworm is a highly infectious form of fungus that can be spread between dogs, cats, and humans. Young children and seniors are especially prone to contracting ringworm after being in contact with an affected animal.
Another important thing to know about ringworm is that it's not only passed from animal to animal. Dermatophytes can live on surfaces for months—even up to a year and half—before finding a host. So, while separation of an infected dog is important, proper cleaning and disinfecting of everything your pup has come into contact with is just as crucial in stopping the spread.
Disinfecting your home from ringworm should include:
Vacuuming of carpets, couches and rugs 

Cleaning hard floors with disinfectant

Disinfecting dog toys, grooming tools, and food bowls

Laundering any bedding or dog clothing. 
We know: it's a tedious process, and you'll need to repeat it during ringworm treatment. Even so, it's essential in preventing contagion.
How can you prevent the ringworm from coming back?
After going through the treatment, separation, and cleaning process, you certainly want to prevent your pup from contracting ringworm in the future. Here are a few ways to lower the risk of ringworm in dogs:
Leave your dog in the care of a dedicated Pet Sitter rather than a kennel

. Not only will a Pet Sitter be able to give your doggo one-on-one attention, but you can also avoid the crowded conditions that are ideal for ringworm.

Opt for groomers with a good reputation

. Ringworm thrives in warm, humid conditions. With this in mind, you'll want to stick with groomers who work to lower the risk of an outbreak. 

Give your pup an overall healthy lifestyle.

A strong

immune system is an important way for your dog to fight off a ringworm infection

. With proper exercise, regular trips to the vet, and a nutritious diet, your pup can have a better chance at resisting or even avoiding a ringworm infection.

Keep your home well-ventilated.

Like other types of mould, the fungus responsible for ringworm in dogs will struggle to survive in dry, cool conditions. You can keep your pup and your family safe by getting some airflow through your home.   
Ringworm in dogs is not easy to deal with, but it is treatable and preventable!
While no Owner wants to go through the long process of treating ringworm in dogs, the good news is that this condition is responsive to medication. With the right treatment plan, you can find relief for your dog. And with the right cleaning measures, you can ensure that you don't have to deal it in the future.
Comments
comments