Skin tags on dogs are quite common, and they have many Pet Owners wondering what to do. Should they be removed? Are they cause for concern? Why do they pop up in the first place?
In this article, we're going to talk about what skin tags are, why they develop, and what some next steps that vets may recommend for your dog. With this info and your reliable pet insurance plan, you'll be ready to take Fido in for a consultation for their skin tags!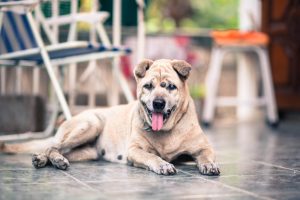 What are skin tags on dogs?
Just like their beloved humans, dogs can develop growths on their skin called skin tags. They typically occur in old age, and can appear anywhere on the body, especially around the head, neck, armpits, chest and abdomen.
Unlike other bumps and lumps, skin tags are small (about the size of a corn kernel), soft and the same colour as your dog's skin. And they're mostly made up of collagen and blood vessels. Some skin tags on dogs are what's called pedunculated, which means that they are attached by a stalk.
Over time, skin tags should stay about the same size. Some will grow a tiny bit, but excessive growth is a sign that your dog has something other than a skin tag.
Why do dogs get skin tags?
There's no clear scientific answer as to why dogs develop skin tags. It could be genetic, it could be the result of friction or wear and tear, or it could have something to do with your dog's environment. 
Because not much is known about why skin tags develop, there's no sure way to prevent them. And, they won't go away unless treated by a vet.
At the end of the day, skin tags are a pretty normal occurence that comes with old age. Like gray whiskers and sore joints, they're just another sign that your young-at-heart pup is entering into their golden years.
Are skin tags on dogs dangerous?
True skin tags on dogs aren't dangerous. They are considered benign tumours that won't affect your dog's health at all. And, unless they're located in an area that is uncomfortable to your dog, they don't need to be removed.
That said, what is dangerous about skin tags is that it can be easy to confuse them with other types of lumps, some of which are dangerous for your dog. Warts, for instance, look like skin tags but can spread and be transmitted to other dogs without treatment. And, there's also the risk of mistaking a cancerous growth for a skin tag, which can delay much-needed diagnosis and treatment.
Instead of assuming that your dog's growths are benign, it's a good idea to get a vet's professional opinion to be sure. 
Tick or skin tag?
The answer may seem obvious, but side-by-side pictures of skin tags on dogs and ticks on dogs might stump you! 
If you see something that looks like a skin tag on your dog after being in a grassy area, it's important to take a closer look. 
You'll notice upon inspection that a tick's body is perfectly oval, hard, and protruding from your dog's skin. Skin tags, on the other hand, are fleshy and tend to lay flat on their body. 
Proceed with caution here! Pulling on a skin tag because you think it's a tick can be painful for your dog. If you're not sure, or you want some help with tick removal, don't hesitate to bring your dog into the vet.
When should you go to the vet for skin tags on dogs?
If you're curled up on the couch and notice a skin tag on your dog, it's certainly not necessary to rush them to the emergency vet clinic right away. In fact, you might wait until an upcoming scheduled vet visit to bring it up to your vet. That said, if you're anxious to get your vet's opinion, you can call and ask for their advice.
In the meantime, take some notes about your dog's skin tags. How large are they? Where are they located, and do they seem to bother your dog? Are there any changes in colour, shape, or size? If anything strikes you as out of the ordinary, such as bleeding or swelling, then you might consider bringing your dog in sooner rather than later.
What can you expect from a trip to the vet?
In many cases, your vet will take a look at your dog's skin tags and decide whether or not to do a further investigation. If a skin tag looks suspicious, your vet may recommend a biopsy as malignant growths cannot be diagnosed on sight. Depending on the results of the biopsy, you will be able to discuss treatment options with your vet.
In the case that a skin tag is nothing more than a skin tag, there are two other options you can expect. The most common is that your vet will leave the skin tag intact and simply have you monitor it for any changes. If the skin tag is in an area that is uncomfortable for your pet, it can be removed with a quick, simple procedure. Many vets use a clinically-proven treatment called cryosurgery or cryotherapy, which involves using extreme cold to kill and remove the skin cells in the skin tag. 
Skin tags on dogs: final thoughts
While true skin tags are not dangerous or overly bothersome to your pet, you're doing the right thing to learn more about them. Because there's a risk of writing off a skin tag when it's actually something more serious, you should get the opinion of a vet to be sure.
As your pup ages, having a reliable pet insurance plan is the best way to ensure that your dog gets the best veterinary care possible. So whether it's skin tags on dogs or anything else that gives you pause, you'll know that your dog is in good hands!
Comments
comments