Summertime is our favourite time of the year, with longer days, warmer weather and holidays, what's not to love! But, at the same time, it can be challenging for our furry friends. While their thick fur keeps them warm during winter, having a thick coat can turn into an issue when the weather warms up. Humans cool themselves by sweating, and dogs by panting, but the main way for cats to avoid overheating is to stay away from the sun and the heat in general. So to make everything easier and more comfortable for your cats in summer, we have prepared 6 tips for you.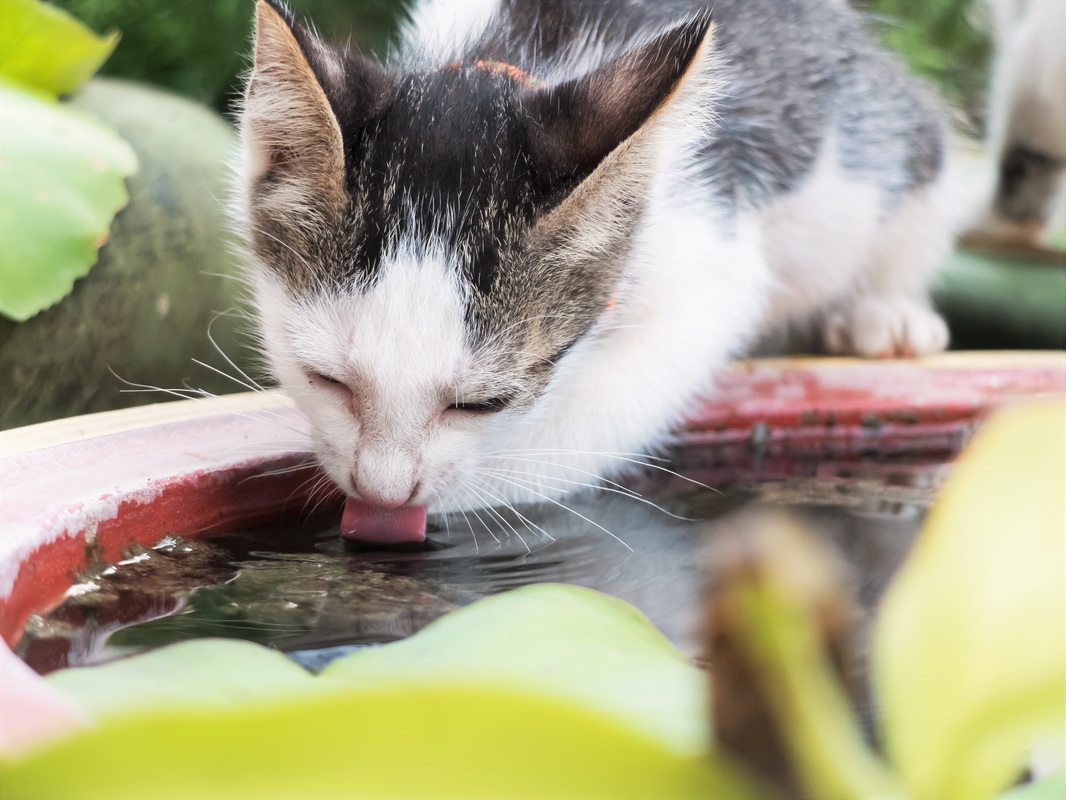 The cooler the environment that your cat is in, the better.
You can certainly turn the air conditioning on, but if you're worried about the bills skyrocketing, a fan might be enough to do the trick. Try to place the fan close to the floor and not pointed directly at the cat. Also, having the fan face the centre of the room will allow for good overall ventilation. Be careful with both air conditioners and fans as they can be a hazard for your cat, especially if there aren't any areas where the cat can warm up if it gets too cold, and if the fan blades are not covered.
Make some bare floor available
You might notice that during warmer times, your cat can choose a different favourite spot to the one he usually occupies. Wooden floor and tiles are cooler than carpets so you might see him moving to that part of your house. Also if you have a basement or a cellar, you might want to make that available to your cat during very hot days.
Provide plenty of cool water
It's better to provide your cats with multiple large drinking bowls, such as dinner plates or dog bowls, as cats don't like to get their whiskers wet by touching the side of the bowl. Make sure that the water is replaced frequently and always fresh. Algae are toxic and can be very dangerous for your cat if they develop in the drinking bowl, so check daily to make sure that the bowl is nice and clean.
Try to avoid car trips
Cars are every pet's nightmare in summer time, so do not ever leave your cat in the car. If a trip is unavoidable, make sure you have air conditioning on and cool water available for when you reach your destination.
Make sure your cat has shade
Especially if your cat is an outdoor one, check that there are shaded and cool places where he can go and rest during the hottest hours of the day. If your cat moves between indoor and outdoor areas, you might want to keep him indoors in a cool spot during the warmest hours, between 11am and 3pm.
Keep an eye on your kitty
Check up on your friend often for any sign of overheating or discomfort. If you see your cat panting, breathing rapidly, experiencing sweaty feet or acting restless, it may be a sign that your cat is overheated and you should call your vet. 
If you're worried about leaving your cat during the summer, book a Mad Paws cat sitter to pop in and check, change water and help keep your cat happy during the warm weather.
Comments
comments