Whether you're planning to enjoy a meal with loved ones (doggos included) or are hitting the road with your canine copilot, you'll want a list of top dog-friendly restaurants in your back pocket. Knowing the restaurants on the East Coast with a pup-friendly patio will mean that whenever you stop for a bite, your doggo can come along!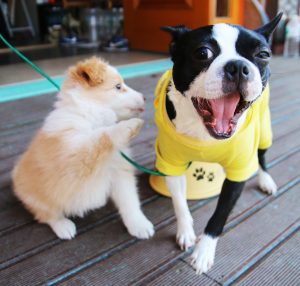 Brisbane
With a climate that always makes you want to be outside with your pup, it's no wonder that Brisbane offers so many Fido-friendly eating options. Here are our top dog-friendly restaurants for Brisbane:
At the start of a long day hanging out with your pup, you're going to want to get the ball rolling with a great cup of coffee. And, as you can tell by the name, the Brown Dog Cafe is as dog-friendly as it gets. In fact, if you bring your dog, don't be surprised if they get a highlight on the Brown Dog Cafe social media pages. The chances are even higher if your doggo happens to be brown!
You can find the Brown Dog Cafe in Woolloongabba. Look for the adorable coffee drinking dog logo with outdoor seating.
Located in Mt. Gravatt, this tasty brunch spot is known for its dog-friendly atmosphere. The restaurant was founded by the Dog Owners of two handsome black pugs named Bowie and Mate. And if you're lucky, you might see these charismatic little guys stopping in to say hello to the crew. Even if the famous pups aren't there, you're still likely to see a range of cute puppers in their back patio, and your dog, of course, will also be welcome.
We love a dog-friendly restaurant with a sense of humor, so make sure to take a closer look at their clever menu. With names like Beets by LBP and '00' Heaven, you'll want to try new dishes as a nod to the creativity! And the Little Black Pug also has an exclusive dog menu, so make sure Fido comes with an appetite.
Also known as "The Best Little Boozer in Paddington," the Hope and Anchor is a local's favourite. The location alone is a draw: the main cottage is a Heritage listed site that dates back to the 1800's. But the real appeal for Dog Owners? Their dog-friendly spaces!
While you sip on something from their extensive booze menu or enjoy their pub-style food options, your pup can be right by your side. They always keep clean water bowls on hand for their furry patrons.
Sydney
Sydneysiders' love for doggos made headlines in 2017 when the city reported a population of over one million dogs! Since then, the pupulation has continued to bring joy to Sydney families, while also inspiring a rise in dog-friendly establishments. Here are a few of the top dog-friendly restaurants in and around Sydney:
Can you tell we love a restaurant named after a doggo? But that's not the only reason why Dachshund Coffee has made our list of top dog-friendly restaurants. This Hunters Hill coffee shop is a gem. Their menu is filled with delicious plant-based, sustainably sourced food. They even have a healthy doggie menu that will have your pup drooling for more.
And, we have to mention that their merch will tug at the heartstrings of any Dog Owner. Their shirts, simply printed with the words "Come. Sit. Stay." remind us all to schedule our next training session with our pooch.
Dog-friendly is practically the tagline of the Erko. When you walk in with your pooch, don't be surprised if the staff makes them feel like the VIP (Very Important Pet, of course). They've even got an entire page of their website dedicated to all of the dogs who have visited their locale. It's simply adorable. 
In essence, the Erko is a family-friendly beer garden serving pub food and screening live sports. They've got a laid-back atmosphere that makes them the perfect lunch spot. As the name suggests, they're located in Erskineville.
If you're looking for high-end dining with a view, the Newport is your go-to. At first sight, you wouldn't expect this classy place to be pup-friendly, but their waterfront terrace is open to doggos. You might want to make Fido look presentable, like this fashionable Newport visitor. 
Whether you go for the wood-fire pizza or gorgeous seafood options, you'll have a great meal with an equally stunning view.
Melbourne
Did you know that Victoria residents represent the largest percentage of Pet Owners on the East Coast? It's true! 65% of Victoria locals own a pet, as compared to 60% in NSW and 58% in Queensland. That might be why Melbourne has so many amazing food options to add to our list of top dog-friendly restaurants.
One of the top comments for this St. Kilda eatery states, "During the week when I go, there are lots of dogs for dog watching." Really, what more do you need to know? It's a place for Dog Owners and dog watchers who maybe wish they were Dog Owners, and you and your pup are going to fit right in.
They've also got a great food menu, with lovely brunch and lunch items. And the coffee is as memorable as the adorable doggos you'll see during your visit.
Uitgang Bar is a unique place, through and through. They offer 12 beer and cider taps, all the wine you could want, and more than 10 high quality hard liqueurs—exclusively from Aussie-owned, indie breweries, wineries, and distilleries. They don't have a kitchen on-site, so they allow you to bring your own food or order in from your favourite nearby restaurants. And, the best part of it all? They're entirely dog friendly, both inside and out.
Rain or shine, this Richmond hangout is full of doggos.
By now, Industry Beans is well-known on the East Coast for their roasted coffee and tasty canned cold brew. As it turns out, their cafe in Fitzroy goes way beyond the beans. With your dog in tow, you can pair your coffee with something tasty from their seasonal menu. And thanks to their open, industrial layout, you'll be able to enjoy your meal with a view of the pros at work in the roastery. 
Even when visiting the top dog-friendly restaurants, consider sticking to your pup's normal eating habits
Not all dog-friendly restaurants offer food for dogs. But even when they do, it might not be a great idea for your pup to over-indulge. Any kind of change in your dog's diet can lead to stomach upset, which can be particularly challenging if you're traveling.
The better option for your pup is to give them a great meal before you take them out to one of the top dog-friendly restaurants from our list. With a tummy filled with fresh, raw ingredients from Mad Paws Dinner Bowl, they won't be tempted by the dog food menu. And, you won't have to worry about them begging for food from the table next to you!
The East Coast has some of the top dog-friendly restaurants in Australia! Which will you choose?
Will you stop in for a coffee at Brown Dog Cafe? Sit down to for some quality chow at the Newport? Wherever you're headed, you and your pup are in for a fun visit to one of the top dog-friendly restaurants on the East Coast!
Comments
comments