Check out our seven fun activities to try with your dog and make the most of the summer sunshine!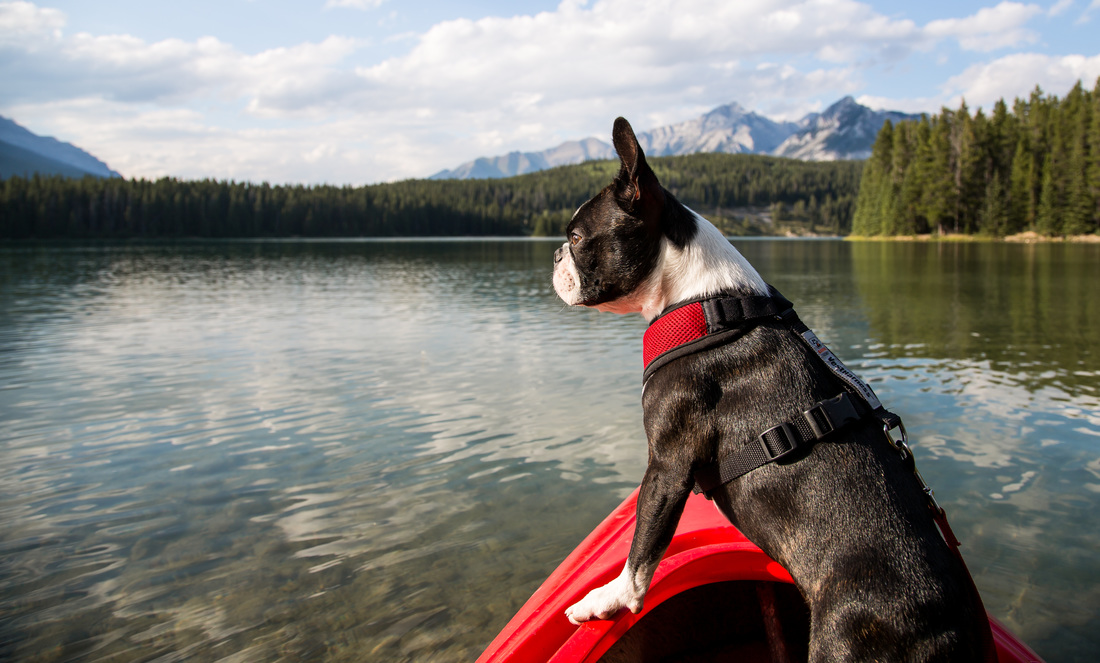 What a great and fun activity for you and your dog! Smaller breeds are able to sit at the front, whilst larger dogs might feel more at ease closer to your feet. You can use treats to teach your dog how to get in and out of the kayak whilst still on land, then practise in shallow water until your dog is at ease. This is a great activity to do in inlets, small bays and slow moving rivers where there isn't too much traffic.
Stand-up paddling
The big board used for SUP allows plenty of space for your canine co-pilots. Dogs of all sizes can ride on the nose; we recommend you pick a very quiet day on a lake, or  bay, for your first excursion together. This will allow your pup to  get used to the new experience. If you have balancing problems, try paddling on your knees to lower your centre of gravity. As you both will probably end up taking a dip, you could consider putting a life vest on your dog, this will also make it easier for you to lift him back on the board.
Running
Trying to keep up with your weekly run? Bring your dog along with you for extra motivation! When you're struggling to find an incentive to put your running shoes on, your dog's excitement will change your mind. Small dogs, as well as bigger dogs, have all the energy to keep up with you.  Don't forget to be careful with heat and humidity when exercising.
Frisbee
Dogs love playing with them, either purely for pleasure or for competition. You might have never tried using one of them, but if you know that your dog loves to play ball, then you might want to change it up and give frisbee a try. It is a great form of exercise, which involves a lot of running and jumping, and engages your dog's instinct to chase and stop small moving objects. There is also a competitive version of frisbee, called Disc Dog. This has both a physical and an artistic vibe to it, competing with distance and accuracy on one hand and freestyle on the other.
Cycling
If your dog is very exuberant on walks and likes to pull the leash, cycling might be the activity you are looking for. Keeping up with your peddling will expend a lot of energy which will help relax them later on. 
Roller skating
Like cycling, skating is another great way to burn off a dog's excess energy. As long as you're an expert roller or inline skater and you know how to control him or her, then your dog will be very excited about this activity. Make sure that you skate in areas free from traffic, like a park, so that you will be able to fully enjoy your excursion.
Agility
 a high-energy running and jumping competitive sport that is not only great exercise, but develops confidence and new skills for your dog. This sport consists of an obstacle course where dogs can't complete it without using directions from their human friends. When this is done competitively, people and dogs can train for months in order to do well. However, you can always try this out with your pooch to see how you go!
Comments
comments