Are dogs colour blind, or is that just an old myth? 
In our article, Things People Get Wrong About Dogs, we revealed that the truth is much more nuanced. Dogs don't see in black and white, but they also don't have the same range of colours available to them as we do.
But exactly how does it work? Do our dogs know what colour their favourite ball is? Can they pick out the colour of their favourite Pet Sitter's house? And why did we think for so long that dogs see the world like Toto before the tornado in the Wizard of Oz?
As it turns out, learning more about how our dogs see the world is as fascinating as it is useful. Once we understand what colours our dogs can see, the better we can build a bright, exciting, and safe world for them.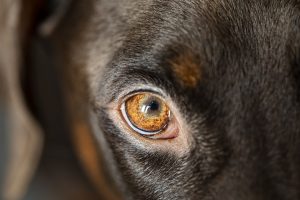 What is colour blindness?
Before we ask the question, "Are dogs colour blind?" it's helpful to explore what colour blindness really means. So, let's start with the basics of vision, hopefully without having to refer back to our old biology school books.
Every animal sees the world thanks to photoreceptor cells in their eyes, which are responsible for absorbing light particles and then sending them to the brain. The two kinds of photoreceptors in the eye are rods, to pick up light, and cones, to see colours.
Now, all animals have a different amount of rods and cones in their eyes, according to their unique environment. Some marine animals, like dolphins, don't need to see colour—most of their environment is made up of different shades of blue. For them, rods are much more important, as they allow them to hunt in low light.
Butterflies, on the other hand, live in a world of colour. They need plenty of cones to be able to differentiate between different kinds of flowers, insects, and even rival butterflies.
The amount of rods and cones an animal has isn't just about their environment, but also their lifestyle. Nocturnal animals, like owls, for instance, tend to have an astounding number of rods, but not many, if any, cones. Since cones require light to function properly, animals who hunt at dawn and dusk (a.k.a. crepuscular) or at night don't have as many cones as animals who are active during the day.
So, how does all of this information explain your pupper's vision? 
Are dogs colour blind?
Unlike completely colour blind animals who lack cones, dogs do have some cones to be able to see a range of colours. 
But, colour vision isn't just about whether an animal has cones. It's also about how many and what kinds. We humans have three types of cones, allowing us to see the colours blue, red, and green. And, we have up to seven million of them!
Dogs, on the other hand, have two types of cones, which give them the ability to see yellow and blue. For a doggo, red and green are similar to yellow, and you can forget about colours like purple and orange. The world to a dog, in other words, is essentially yellow, blue and grey. And, they have significantly fewer cones than we do—about one fifth the amount of humans. So, their ability to differentiate between colours is significantly weaker.
Why aren't dogs able to see colour as well as humans?
We've long thought that dogs don't see the world like we do. In fact, the myth of complete canine colour blindness goes as far back as the 1930s, although no one knows what the reasoning was behind it. And, while the original assertion wasn't based in fact, it gained traction throughout the 20th century. Primate researchers in the 1960s went so far as to claim that primates were the only animals capable of colour vision. And if not for a Russian paper published in 2013, we might still think that dogs were colour blind!
The next question, of course, was why would dogs need to see colour? What could they use it for? And why don't they see as well as we do?
Like their wolf ancestors, dogs are naturally crepuscular, with the ability to adapt to night-time activity. In fact, wolves have been known to remain highly active during months of 24-hour darkness in far northern regions. Modern feral dogs, too, are capable of functioning in the dark, preferring to scavenge for food at night. 
It makes sense, then, that doggy eyes would be perfectly adapted for both night vision and low light vision. 
But wait! Most of our dogs aren't exactly night owls. Instead, they sleep when we sleep, and would much rather join our daytime adventures than snooze through the sunlight hours. Similarly, wolves have been known to hunt in broad daylight. Even so, colours aren't as important to canines as they might be for an animal who eats a specific colour fruit or chooses a mate with the prettiest feathers.
In other words, in the game of evolutionary cost-benefit analysis, imperfect colour vision and excellent night vision was the best option for the canine.
How can you test this out at home?
Since our pups can't tell us what colours they can see, testing them isn't the easiest task. But it can be a fun experiment to try out at home!
Here's how it will work. You will use three identical objects in blue, red, and green. Try to make sure that all of the objects have the same shade, otherwise, your pup's ability to differentiate between light and dark shades will scramble up your results.
Starting with a blue and red (or green) object in each hand, you're going to teach your pupper to touch the red (to them it will look yellowish) object in exchange for a treat. They should be able to touch the red object even if you scramble them behind your back.
Once your dog gets the hang of this, you're ready for phase two. In this phase, you're going to swap out the blue object for another colour that they theoretically cannot see. When you present them with a red and green object, you should notice a delay in their thought process. And, the more you swap the items, the more your pup will likely choose the wrong one. That's because both of the objects will look very similar.
Now, this experiment can be a bit frustrating to your pup, and you certainly don't want them to walk away discouraged. So make sure to rebuild their confidence by trying again with the blue ball. And, give your doggo a head scratch, plus a pat on the back for yourself for conducting your very own colour blindness experiment!
How to make your dog's world more dog-colour friendly
Chances are, your pup isn't silently wishing that you would redesign your whole home with blues and yellows. But, if you want to spruce things up for them, there are a few things that can make Fido's world more dog-friendly:
Invest in blue and yellow toys for fetch

. If your dog loses their toys all the time, you might be able to help them by providing them with bright blue or yellow balls or frisbees. The extra advantage is that when you take your pup to their Pet Sitter, your pup's toys probably won't get mixed up with other dogs'.

Get some exciting new food bowls.

Colour therapy for dogs hasn't been widely researched yet, but you might consider how much more exciting meal times can be with some dog-friendly colours. 

Have a clumsy pup? Try incorporating some textures and patterns

. In general, your dog will have perfectly fine spatial awareness even if all of the walls and surfaces in your house look grey to them. But, if you do have a pup that zooms through the house, sometimes knocking into things along the way, you might consider adding in some elements that will help them navigate. Patterned wallpaper, mirrors, or furniture with some interesting textures may help them orient themselves in an otherwise grayscale setting. And, if your pupper continues to have some vision issues, it's probably a good idea to talk to your vet!
Are dogs colour blind? No, but there's a lot more to learn!
We may be able to answer the question, "Are dogs colour blind?" with a simple no. But that doesn't mean that scientists are done researching doggy sight. Lucky for those of us curious about our canines, there's still a lot to learn about dog vision! 
Comments
comments