After signing up with Mad Paws to find some furry friends for her puppy Jasper, Lisa fell in love with pet sitting and has become one of our top sitters. She and her family love to welcome new furry guests into their home and Jasper in particular enjoys having other pooches around!
What made you become a Mad Paws 

sitter

?
I started looking after dogs when we bought our little puppy Jasper home.  As soon as we got home we all said to each other that we should have bought Jasper's sister too – Jasper was so sad when we went out it used to break our hearts.  So a friend said to me "why don't you look after dogs?".  Well, that was the best idea ever!  I have been doing it for 5 years now and absolutely love it and so does my family and little Jasper.  He's never lonely now.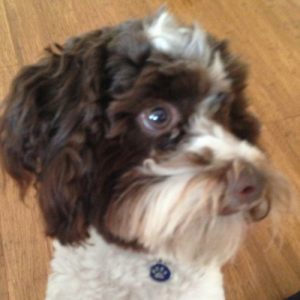 What is your favourite thing about being a Mad Paws 

sitter

?
My favourite thing is meeting each dog, they are all so cute and I just love seeing the joy it brings my kids and my little Jasper.
Why do you think owners should use Mad Paws? 
Mad Paws gets it right every time and they put you in touch with someone in your area that can look after your dog.  It is a local service and I think that is great – its so convenient and easy to use.  The Mad Paws team are efficient, lovely to deal with and make the whole process very simple!
What would be your top tip for a new Mad Paws 

sitter

? 
Make sure you have a secure yard and be careful whenever you open your front door.  Dogs that are visitors are often unsure of their new environment and will race out the front door, given the chance.  Give them lots of cuddles and take them regularly to the toilet in the first couple of hours of their stay to reduce accidents in the house.
How do you keep owners coming back time and time again? 
 If you have a genuine love for dogs, it will show.  The dog will love you and go home happy and content.  The owner will see this and want you to look after their dog again because everyone wants their dog to be happy and loved while they are away.  If you do this well then the owner will return time and time again.
Can you sum up your Mad Paws experience in a few words?
My whole family love it.  My kids can't wait to see the next dog walk through the front door. Our furry visitors bring a lot of joy and love. It is a very rewarding experience every time.
You can visit Lisa's profile
here
!
Comments
comments