Get ready to update your calendars, people: Friday 21 June marks International Take Your Dog to Work Day. For some, this will be a chance to flood their office floors with furry friends. For others, it will herald a day like all others, in which no pets and little joy graces the workplace. No doubt, there will be those who say: "'Take Your Dog to Work Day'? What on earth is that, why am I hearing about it, and who even keeps dogs in the workplace?"
Needless to say, at Mad Paws, we fall into the first category. Last year we brought 13 dogs into our office, and this year we plan to do the same. Now, to be fair, Mad Paws is Australia's largest Pet Sitting platform, so dogs are pretty much our thing. However, you don't need a John Wick-level love of pooches to enjoy their presence in the office. In fact, psychologists and canine experts alike agree that dog-friendly offices work for everyone.
Here are just a few reasons why you should bring your furbaby to work with you.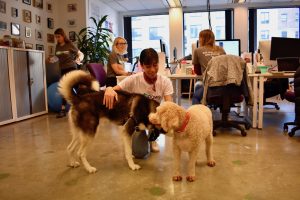 #1: Dogs in the workplace benefits your dog
At their heart, dogs are social creatures. Research has proven that our furry friends suffer distress and melancholy when left on their own all day. While Pet Day Care can fill this void, there is no-one a dog would rather be with than their Owner. By bringing them to work with you, you're not only keeping your pup happy – you're also strengthening your bond.
Are other colleagues already bringing their doggos to work? Even better. When you expose your dog to others in a controlled environment, you contribute to their socialisation process. In other words, you're raising them to be a proper and social canine.
#2: Dogs in the workplace benefits employees
If you're a Dog Owner, you probably don't need us to tell you that dogs at work serve your wellbeing. Even so, we're going to do it anyway. Multiple studies suggest that as little as 15 minutes spent in the presence of pets can lower stress levels and trigger serotonin – thereby creating happier, more motivated employees.
Beyond that, you'll find that vocational pooches also let you build a rapport with your colleagues. After all, what's a better ice-breaker than playing fetch with Bella the Labradoodle and Alan from Accounting?
Finally, nothing will keep you active like a dog beside your desk. Instead of browsing your iPhone on your break, you'll find yourself walking your furry friend around the block. 10,000 steps a day, here we come!
#3: Dogs in the workplace benefits society
You may say we're reaching with this argument. Well, you want to know something? You're wrong. WRONG, I say. When you host dogs in the workplace, you're casting a light on responsible Pet Ownership. In fact, Take Your Dog to Work Day first began as a means to highlight the perils of leaving your dog at home alone. Every time you bring your pup with you to the office, you're encouraging a conversation about proper pet care.
What you should do if you can't bring your furry friend to work
Of course, not everyone can bring their dog to work with them. Perhaps your office isn't pet-friendly, or maybe you take public transport to work. Whatever the reason, it's important to ensure that your doggo doesn't spend their day mired in worry while you're away. Whether you leave them with a relative, book them into Doggy Daycare, or even find them a Dog Walker, they'll appreciate the company until you return to them.
And if your workplace isn't pet-friendly? SURELY your employer will make an exception for Take Your Dog to Work Day…
Comments
comments