Friday the 22nd was International Take Your Dog to Work Day. To mark the occasion, we brought 13 – yes, 13 – dogs into a 12-person office. We even saw the return of Charli, the unofficial Mad Paws office dog. In a sentence, the day was hectic, hairy, and insane in the best sense of the word. Here's what we learned!
Dogs at Work Chase Your Stress Away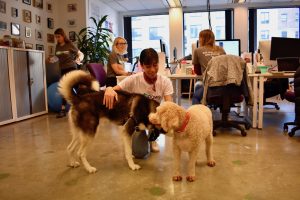 Countless studies that have proven that the presence of pets can cause stress levels to plummet. Of course, today we were only interested in one study: the study that involved us bringing 13 dogs to work. To the surprise of no-one, we can now report that the results were positive. 
Looming deadlines, tricky emails, complex spreadsheets, and other dicey tasks were all devoid of their trademark stress. For the entire day, each Mad Paws Pack Member skipped spryly from one task to the next – safe in the knowledge that stress can't exist in an office full of pooches. It just can't…and you're a heartless cynic if you say it can.
You Need to Remain Focused if You Want to Be Productive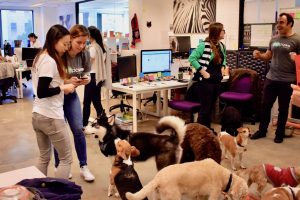 "So…many…dogs…must…focus…on work…" 
If you're hosting dogs at work and expect to meet some deadlines, you'll need to bring your Concentration A-Game. It's easy to get distracted by a wagging tail or a big pair of puppy dog eyes, and if you're not careful, you'll spend three hours playing fetch and giving belly rubs. To make the most out of your day, be disciplined with your time. Prepare a schedule that details when you'll complete your work and when you'll play with dogs. 
Failing that, simply replace your coffee breaks with doggy breaks!
The Dogs Will Create Their Own Social Structure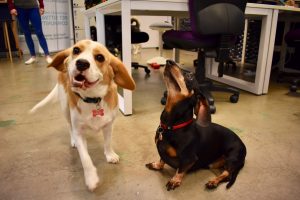 Dogs in an office function like high school kids in a playground. You have the Alpha, the Jock, the Popular Girl, the Drama Queen, and the the Hipster who makes a big deal of not eating with the others. Much like students on the first day of school, the pooches will spend time sizing each other up. Once they have each other's measure, they'll settle into a social hierarchy that could match any Lindsay Lohan movie. 
The Entire Office Comes Together to Care for Their Furry Friends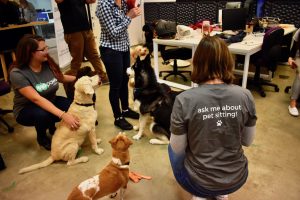 When pets arrive in your office, everyone joins forces to love them. Colleagues from different departments bond over their new furry friends; staff members organise "walkies rosters"; and people even take turns in cleaning up after their guests. 
By bringing dogs to work, you not only enjoy some canine company – you get to see the best in your colleagues.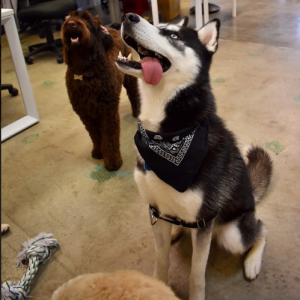 Thanks, furry friends. We'll look paw-ward to hosting you again in 2019! 
Is your workplace non-dog-friendly? Contact Mad Paws Doggy Daycare and leave your pooch with a professional pet lover!
Comments
comments