"You can't teach an old dog new tricks." Most of us have been hearing this phrase since we were young. Fortunately, the reality couldn't be further from the truth. Not only is an elderly dog capable of learning – it's also a great way to keep their mind active. With a little guidance and a lot of treats,  you can teach your dog tricks well into their later years.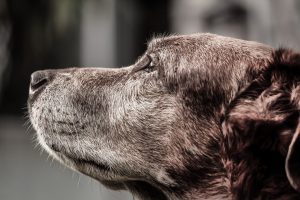 Remember That They're No Longer Puppies
Whether you've just adopted an old pooch or simply want to teach your long-time companion something new, you can teach a lot to a seasoned dog. Having said that, you'll need to be mindful of their limitations. The spirit might be willing, but the body is more frail than it once was. They may not be able to leap, flip, or perch on their hind legs – but don't let that deter you. Where puppies are restless and manic, older dogs are focused and patient. In fact, older dogs can be even more adept at learning some tricks than many puppies. Mother Nature Network features a list of tricks that are ideal for older, less mobile dogs.
Treats and Patience Are Your Two Greatest Tools
Find your pooch's favourite treat. Show them patience while you teach them. Reward them with their treat when they start to learn. Rinse and repeat. 
This advice might sound like it could apply for any dog, but it's doubly relevant for older pooches. Whether it's "heel", "sit", "shake hands", or "roll over", you're teaching them something that they've spent their life not knowing. If you ask them to roll over and they make it halfway, give them a treat! When they complete the trick fully, give them another treat! Regardless of their background, they will have known a love of tasty morsels their entire life. By feeding them treats during their learning process, your older dog will come to connote "learning" with "deliciousness"  
Keep the Tricks to One at a Time
You might feel an urge to catch up on lost time by teaching your furry friend a range of tricks at once. While this is a well-meaning urge, it will leave your dog confused, overwhelmed, and trick-less. Puppies thrive by splitting their attention, but old dogs fare best when they focus on what's in front of them. 
 For instance, if you want to teach your dog "sit" and "roll over", begin with sit. Once they've grasped the concept of sitting down at your command, it will be simpler to teach them to roll.
Do you need someone to care for your seasoned pooch while you're out of town? Book a Mad Paws Dog Sitter today! 
Comments
comments