For many Pet Owners, playing "fetch" is one of the best parts of having a dog. It's a great excuse to bond with your pooch, train them, and burn off a delicious dinner for dogs. While some dogs prefer frisbees and toys, others only have eyes for the humble stick. They feel the urge to hunt and forage, and when they seize a stick from the ground, they sate their primal need. 
Unfortunately, this habit isn't as harmless as you might think. Our dogs can suffer major problems from chewing on sticks, and it's up to us to correct the habit.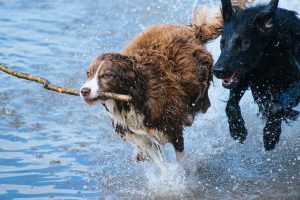 First Thing's First: Why Do Dogs Chew Sticks?
At their core, dogs are still hunters and foragers. That's why they feel such a natural yearning to chew on sticks. Everything from a tiny twig to a big branch feels like a bone to the mouth of your pooch, so their predator's instinct tells them: "Chew more! Tastiness awaits!" Once you've factored in a loving Owner who's ready to throw the dog's stick of choice, it seems like a perfect marriage. However, the simple stick can pose a series of health issues…
Sticks are a Vet's Worst Nightmare
At their most extreme, sticks can be poisonous for your pooch. Sticks from black cherry, yew, and walnut trees are toxic to dogs, and can leave them with stomach and breathing problems. Even when they've fallen from more dog-friendly trees, sticks are no picnic. They can lodge splinters in your dog's mouth; cut their gums and cheeks; and puncture their palettes. It hardly seems worth it for a game of "fetch", right? 
Stick to Toys Instead
Of course, you don't need to choose between your furry friend's health and their enjoyment. In fact, you can find a barrel full of toys, balls, and doodads that are poised to become your dog's new favourite "fetch" object. PETstock sell throwable chew toys that put any stick to shame, and a tennis ball will also do the trick. Not only can these items be thrown further than a stick – they're also more fun for your dog to chew. 
If your furry friend is having trouble moving on from sticks, remember that treats are an invaluable teaching aid. Refuse to play with your doggo whenever they pick up a stick, then give them a treat as soon as they drop it. Before long, the message will become clear: "Playing with sticks=bad, avoiding sticks=good!"
Does your pooch need some help learning not to chew on sticks? Book a session or two with a Dog Trainer today!    
Comments
comments