In this month's Dog Breed Corner we have the German Shepherd! Check out the German Shepherd's origins, personality, trainability, grooming needs and more! Do you require a Pet Minder who can be satin' your Alsatian? Via Mad Paws, you can find Dog Sitters in Townsville, Perth, Sydney, and everywhere in Australia!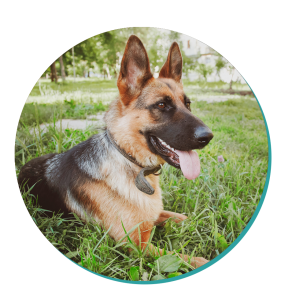 Quick Facts ✔ 
Height –  55 – 65 cm 
Weight – 22 – 40 kg
Lifespan – 10 – 14 years 
Country of origin – Germany
Breed type – Herding Dog
Best breed for: 
Active owners 
Owners looking to for a trainable dog
Owners looking for working dogs (eg herding)
German Shepherd Breed History 
♜
Today, we automatically think of the German Shepherd as the quintessential police dog. Large, intelligent, maybe even intimidating to some, it appears that this dog was born to work alongside law enforcement. Yet, the name Shepherd alludes to a more pastoral history. So where did this tough pup come from? And how has their public face changed over time?
It all starts in – where else? – Germany. By no means an ancient dog, the German Shepherd only came about in the 1800s. Before then, shepherds across Germany were breeding sheepherding dogs without much thought to breeding lines or coat colours. The important thing for a Deutshe Schäferhund was that the dog have all the qualities necessary for sheepherding: intelligence, confidence, ability to work independently, a good balance of firmness and gentleness to the herd, and great listening skills.
By the 1850s, breed standardisation was becoming more commonplace. It was then that an ex-calvary captain named Max von Stephanitz took a special interest in these shepherd dogs. Using his experience from veterinary college and familiarity with working dogs, he set out to standardise the German Shepherd.
In 1899, Hektor Linksrhein came onto the scene. And no, Hektor wasn't another breeder. Instead, he was the world's first official German Shepherd. Von Stephanitz bought him on the spot, changed his name to Horand von Grafrath, and started the Society for the German Shepherd Dog.
From there, the breed took off. But with two world wars on the horizon, it was, perhaps, unfortunate timing. During World War I, the German Shepherd proved to be invaluable to the German front. They served as messengers, lookouts, search-and-rescuers, and even carriers of ammunition and other supplies to the front lines.
After World War I, the breed made its way back to the United States, where they found success in Hollywood. With the very special canine actor, Rin Tin Tin, Americans developed a love for the German Shepherd. And off screen, the breed would continue to serve chiefly as police and military dogs. 
Interestingly, some breeders attempted to boost the public image during the time by changing the name from German Shepherd to Alsatian. Some regions would stick with the name change, but there is essentially no difference between the two. You may find some dog enthusiasts, especially in Europe, who swear by slight differences in build and appearance, but most of us would have a hard time distinguishing between an Alsatian and a German Shepherd.
By the time World War II broke out, German Shepherd Dogs were used again – this time, on both sides. Because these dogs weren't commonly thought of as family dogs at the time, the breed was hard hit from the destruction of the war. Still, dedicated German Shepherd Owners pulled the breed through, and eventually the numbers would recover.
In the decades following, the German Shepherd would take many different routes. Not surprisingly, the breed continued to be used for military, search and rescue and police work, although they would be joined by other working breeds like the Dutch Shepherd and the Belgian Malinois. In addition, service dog trainers realised that this breed was the perfect candidate for seeing-eye work and other assistance careers. And finally, families began to appreciate what a wonderful family dog the German Shepherd could be. 
These days, you can continue to see German Shepherds in movies, across Instagram and other social media platforms, and, of course, in the homes of loving families all over the world.
German Shepherd Personality Traits 

★
There's a special understanding amongst German Shepherd Owners. You might see them share a nod or a knowing smile. Because if there's one thing that many people don't know about the German Shepherd, it's that they are a dog with a complex personality.
On the one hand, they're everything you would imagine them to be. Intelligent, loyal, confident, and protective. They'd go to the ends of the earth for their family, and they form especially strong bonds with their Owners. In fact, we made sure to include them in our list of the Most Loyal Dog Breeds. Beyond that, they're active and aware of everything going on around them, making them excellent and natural watch dogs. 
And then, there's the side of the German Shepherd that might surprise you. They can be goofy, clumsy, affectionate, clingy, and easily startled. Every German Shepherd has a unique and very quirky personality, and their Owners often share stories about their pup's funny antics. Life with a German Shepherd is never dull, in other words. 
This is a very expressive doggo, with big, intelligent eyes and huge ears that never stop moving. And if that's not enough to get the attention of their caring Owners, they will rely on an array of barks, whines, and grunts to get the job done. 
One thing to note about the German Shepherd is that they're people-oriented to the extreme. Just like you wouldn't want to leave a small lap dog at home, the German Shepherd refuses to be left out. They can become quite destructive in the home when under exercised and lonely, so make sure that you have a reliable Dog Walker to help out when you're not at home. 
Despite their tough guy appearance, the German Shepherd is really a sheepherding dog at heart. That means that they always want to know that the people and animals around them are safe and happy, and will act out if things are amiss, sometimes aggressively. They can be aloof and downright unwelcoming to strangers, so always make sure to train and socialise these puppers early and consistently so that they don't develop bad habits.
German Shepherd Trainability
German Shepherds are big dogs. Not just in their physical stature, but in their presence and personality. There's no getting around the fact that they can be intimidating to many people, even if you know them as the big cuddlers they are at home. One thing that we see frequently with German Shepherds is that a stranger will show fear around one of these doggos, which, in turn, will raise anxiety in the German Shepherd. And a nervous dog is a recipe for disaster.
For this reason, it's extremely important to take training seriously with a German Shepherd. When your pup is well-trained and socialised, they'll be more at ease and others around you will learn to be more trusting of these special dogs.
Luckily, training is one of the things these puppers does best. In fact, this breed consistently ranks as one of the most intelligent dogs when it comes to recall time. Simply put, they learn new commands faster than other doggos. Despite popular belief about these dogs needing harsh handlers, they actually respond best to positive reinforcement training. Because they prize their relationship with their beloved Owner above all else, they can be quite sensitive to yelling.
While teaching a German Shepherd basic commands is easy and fun, socialisation may take a bit more time and effort. They must socialise with a variety of different animals and strangers from a very young age if they're going to learn to behave well with others. If you bring home a German Shepherd who has not undergone proper socialisation, you'll need to work slowly and consistently to ensure that they learn to trust newcomers. It might be appropriate to incorporate muzzle training during the transition period.
Exercise Needs
German Shepherds evolved for endurance and sustained focus, but they may also surprise you with their high level of playfulness. Whatever way you slice it, though, this is a dog with high energy needs.
German Shepherd Owners will tell you that if their high-strung pupper doesn't get at least an hour of intense exercise per day, they'll pay for it later with a virtually unmanageable dog. A German Shepherd with too much energy is bound to look for outlets in the home, whether that means demanding playtime with you or destroying your most treasured items.
Do yourself and your home a favour by giving them plenty of exercise and calling in a dedicated Dog Walker regularly.

Living Conditions 

⌂
You may have already guessed this, but the German Shepherd is not an apartment-friendly dog. They're at their most joyful in a spacious abode, and will thrive in a backyard. Just make sure you have a high fence installed – this breed could compete in the Olympics for high jump, and will clear a low fence like it's a washing basket. 
That said, German Shepherds are very attached to their humans, and will become upset and frustrated if left alone for too long. When they're in the backyard, they'll expect that you're right out there with them. Otherwise, don't be surprised if they're waiting at the door to come back inside.
Some German Shepherds can be pretty mouthy, so make sure to give them plenty of chew toys or mentally stimulating games to keep them active. Their vocal tendencies can also be an issue for neighbours, so make sure to read up on How to Stop Excessive Barking to address this common issue.
German Shepherd Grooming 

✄
German Shepherds may not require trips to the groomers, but they're not the most low maintenance dogs around. With a thick high-shedding coat, you'll want to brush them throughout the week so that your home isn't absolutely covered in fur. And, with their adventurous attitude towards life, you may find yourself bathing them more frequently than you might expect.
Other than that, grooming comes down to the basics. Regular tooth brushing and ear cleaning will get the job done.
German Shepherd Health 

+
Health is a hot topic in the world of German Shepherds. Unfortunately, many decades of inbreeding and other questionable breeding practices have put the breed at risk for hip and elbow dysplasia. The breed is also at risk for degenerative spinal stenosis and degenerative myelopathy. In general, breeders can lower these risks with responsible breeding practices; and today, the community is much more proactive about the health of the breed.
In addition, some unavoidable risks include bloat, which is possible in all barrel-chested large dogs, and ear infections.
Fun Fact  

♥ 
While we wouldn't consider this fact particularly fun, we did want to take the opportunity to celebrate the work of a modern-day hero, the German Shepherd Apollo.
Apollo was born in 1994 and was one of the first dogs ever to learn search-and-rescue for the NYPD. On 11 September, 2001, Apollo and his handler Peter Davis were the first K-9 team to arrive on-site. In fact, they did so only 15 minutes after the collapse of the South Tower.
In the following weeks, Apollo and his handlers would search for survivors in the rubble for up to 18 hours a day. 
Apollo's tireless work not only saved countless lives but also earned him the prestigious Dickin Medal, the highest award for animals serving in military action. Apollo is one of eleven German Shepherds to win the Dickin Medal since its inception in 1943, which is more than any other dog breed. Amazingly enough, the Dickin Medal has also been awarded to 32 pigeons, 5 horses, and 1 cat. 
Final Thoughts on the German Shepherd

 
When you think about (hu)man's best friend, the German Shepherd should be a top contender. They're unyielding in their love and loyalty for their Owners, and once you've broken into the inner circle of a German Shepherd's core "herd," you're in store for years of affection. It's no wonder why Owners of German Shepherds tend to own one after another. 
These doggos do require a bit of patience and attention, and we wouldn't consider them to be low-maintenance in the least. With high energy and a risk for destructiveness, these puppers need a lot of care. Even with the help of an energetic Dog Walker, you'll need to put in some steps everyday yourself. And, get ready to live in a constant tornado of German Shepherd fur.
But if you can put in the work needed for training and socialisation, you'll have a friend for life. Yes, the German Shepherd is loyal. Once you learn how special they are, though, you'll see that, for German Shepherd Owners, the loyalty is mutual.
Comments
comments