In this month's Dog Breed Corner we have the German Shepherd! Check out the German Shepherd's origins, personality, trainability, grooming needs and more!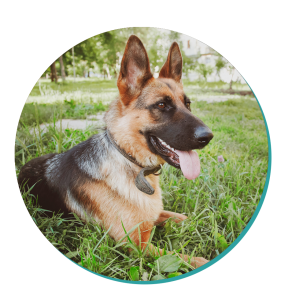 Quick Facts ✔ 
Height –  55 – 65 cm 
Weight – 22 – 40 kg
Lifespan – 10 – 14 years 
Country of origin – Germany
Breed type – Herding Dog
Best breed for: 
Active owners 
Owners looking to for a trainable dog
Owners looking for working dogs (eg herding)
Breed History 
♜
The German Shepherd breed began its lifespan in – where else? – Germany, but it was Hollywood that propelled this dog to worldwide recognition. During the First World War, an American soldier rescued a German Shepherd puppy from war-torn France and brought him home to L.A. After training him, the soldier ushered the pup into the film industry. Before long, the pup became known as Rin Tin Tin – the most famous dog to have ever graced the silver screen at the time. 
These days, German Shepherds (also known as Alsatians in parts of Europe) are bred and raised across the globe.  
Personality Traits & Trainability 

★
The German Shepherd is known for their courage, keen intelligence, and active nature. They can be trained to serve in an array of different jobs, ranging from sheep herding, to law enforcement/military, to seeing eyes for the blind. If you're looking for a dog to train, you'd be hard pressed to find a better breed! They're also loyal to a fault, and will stand by a kind Owner through thick and thin.
However, all of that potential has a flipside: if they don't receive the physical and mental stimulation they require, your German Shepherd will give you problems. You can expect constant barking, torn carpets, and chewed cushions, so ensure you make the time to walk them. 
German Shepherds can also be suspicious of strangers. This makes them great guard dogs, but can create some awkward run-ins if you host people in your house. If you want your Shepherd to be the belle of the park, expose them to strangers from a young age.  
Living Conditions 

⌂
You may have already guessed this, but the German Shepherd is not an apartment-friendly dog. They're at their most joyful in a spacious abode, and will thrive in a backyard. Just make sure you have a high fence installed – this breed could compete in the Olympics for high jump, and will clear a low fence like it's a washing basket. 
Grooming 

✄
German Shepherds are a breeze to groom. Their short coats shed naturally, and require little to no brushing. Having said that, you'll want to keep a vacuum handy to clean the hair they shed throughout your home. They're also fond of splashing in ponds and rolling in the mud, so be ready to give them a scrub! 
Fun Fact  

♥ 
During the 9/11 attacks at the World Trade Centre, German Shepherds were sent in to search for survivors amongst the rubble, and consoled the families of victims. 
Comments
comments