For about as long as humans have been sharing cuddles with doggos, we've been obsessed with discovering the most loyal dog breeds. We just love a doggo that can love us right back, and there are some breeds who are happy to step into the role of most loyal companion. According to the experts, these are the puppers who will pick us out of a crowd, follow us to the ends of the earth, and wiggle adorably when we pick them up from their trusted Pet Sitter.
So, who are they? You might be surprised by some of the faithful furbabies that made the list!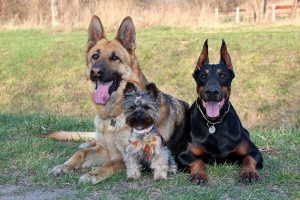 Top 10 Most Loyal Dog Breeds
Akitas have a reputation for being somewhat aloof, especially towards strangers. But as any Akita Owner will tell you, these dogs are also fiercely loyal to their beloved humans.
An Akita can be a formidable guard dog and valiant working dog. When it comes to their adored Owners, though, they're all cuddles and play. Once you gain the trust of an Akita, you'll have a companion for life.
Chihuahuas are known for creating strong bonds with one lucky human in the family. And in the right circumstances, they'll add a few more people to their inner circle.
That doesn't mean that Chihuahuas can't be friendly with strangers or their dedicated Dog Walker. Having said that, don't expect them to roll over for anyone other than their chosen humans.
This little doggo is one of the sweetest and gentlest pooches you can find. But don't let that tiny frame fool you. Yorkies have a history of stepping up for their Owners, making them one of the most loyal dog breeds around.
Yorkshire Terriers got their start helping coal miners keep their work areas free of rodents. Indeed, one very special Yorkie accompanied a WWII pilot into combat. To any Yorkshire Terrier Owner familiar with this dog's unwavering loyalty, these acts of bravery are not surprising.
When this breed was developed in the 19th century, it was because one man needed a dog that would be loyal even in the dangerous profession of tax collection.
All these years later, the Dobermann continues to be one of the most loyal dog breeds you'll ever meet. While they still enjoy a reputation as guard dogs, they're so much more than that. They adore those in their family circle, and are some of the easiest doggos to train.
Now, you knew this one would be on the list, didn't you? German Shepherds are the quintessential loyal companion. Whether they're working long hours in law enforcement or as a service dog for a family in need, this breed goes the distance for their beloved Owners.
This is not only one of the most loyal dog breeds out there, but also a breed with one of the most loyal followings. German Shepherd Owners tend to commit to this breed for life.
Loyal? Yup. Endless energy? Of course. Adorable puppy smile? The Golden Retriever has it all. This dog loves life, and above all, they love their family. Golden Retrievers are among the most popular dog breeds because while they're friendly to everyone, from the delivery person to their Dog Walker, their true affection will always go to their beloved family.
The Staffordshire Bull Terrier earns the nickname "nanny dog" because of this doggo's love for their humans. They're gentle with children, devoted to their family members, and all-around one of the most loyal dog breeds out there.
Although this breed has a reputation for aggression, the truth is, this dog is more interested in love than war. They're unwaveringly loyal to their beloved Owners, and social with nearly everyone else.
This dog is so loyal that they would fearlessly jump into the icy, rough waters of the Labrador Sea just to retrieve a single fish that escaped from their Owner's fishing net. These days, Labrador Retriever may not be much of a fishing boat dog. However, the breed retains the same loyalty traits that made them such valuable crew members back in their early days.
The Cavalier King Charles Spaniel could teach any number of dog breeds about loyalty – and royalty! Originally, breeders evolved them to be steadfast companions to the wealthiest and most powerful people in Europe. And we mean "steadfast" literally – these pups were experts at sitting through hours of aristocratic pomp and circumstance, not making a peep or moving from the throne of their beloved royal Owners.
Also known as the Mexican Hairless, this dog has been a loyal companion to humans for more than 3,000 years. Xolos can take a while to come around to new people, but once you've earned their trust, they'll be devoted to you for life.
The Aztecs believed so whole-heartedly in the loyalty of the Xolo that they depended on them to guide them in the afterlife. That's loyalty that extends beyond a single lifetime!
Didn't see your doggo on the list of most loyal dog breeds? Not to worry!
If you didn't see your pup's breed above, that doesn't mean they're not among the world's most loyal dog breeds. In fact, dogs in general are pretty devoted animals, and the science suggests that they might even love humans more than they love others of their own species.
So whether you've got a Dachshund or a Kelpie or a loveable mix, chances are you've got a loyal dog in your midst. Tell us about your devoted doggo in the comments!
Comments
comments