In Dog Breed Corner this month is the Golden Retriever! Check out the Golden's origins, personality, trainability, grooming needs and more. Does your Golden Retriever need some loving care while you're away? Find a Mad Paws Pet Sitter in Wollongong, Perth, or anywhere else in Oz!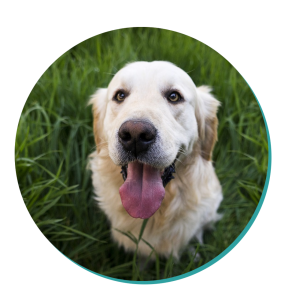 Quick Facts ✔ ​
Height –  53 – 60cm 
Weight –  24 – 34kg
Lifespan – 12 years 
Country of origin – Scotland
Breed type – Sporting Group
Best breed for: 
Families with children & other pets
First time Dog Owners
Owners who spend a lot of time at home
Golden Retriever Breed History
♜
Golden Retrievers are among the most beloved dog breeds on the planet. In fact, they're consistently one of the top 5 most sought after breeds in Australia, New Zealand, the USA and the UK. It's natural, then, to assume that they would have a well-documented history, right? Well, not exactly.
There have been a few myths and misunderstandings when it comes to this popular dogs origins. Let's see if we can untangle the web.
The first accepted origin story about the Golden Retriever is that this wavy-haired doggo came from traveling Russian circuses who were touring Europe. In these shows, dogs called Russian Trackers were commonly used to entertain and delight audiences. And you can see how this rumour might have started. After all, Russian Trackers do have that characteristic Golden Retriever smile, and they look pretty similar overall.
In this version of the story, wealthy Scottish businessman and politician, Sir Dudley Marjoribanks (which sounds like the perfect children's book character) attended a circus some time around the middle-to-late 19th century. He fell in love with the Russian Tracker and purchased one on the spot. From there, Marjoribanks started a breeding program that would later give us the Golden Retriever. And if the tale wasn't storybook enough, Sir Dudley Marjoribanks would later swap out his title to become the Baron Tweedmouth of Edington. On his large estate in Scotland, Lord Tweedmouth was said to develop the Golden Retriever as a hunting dog, crossing it with a Bloodhound to make it a better tracker.
The true story wouldn't come out until close to 100 years later, when Lord Tweedmouth's studbooks became public in the 1950s. What these records showed was that Golden Retrievers didn't have a background in the big tent, but came from rather more ordinary circumstances.
According to these handwritten records, Lord Tweedmouth bought an unregistered dog from a shoemaker in Brighton in 1865. This dog, named Nous, was believed to be a Yellow Retriever, a now extinct dog breed. When Lord Tweedmouth brought Nous home, he bred the dog with Belle, a Tweed Water Spaniel, another sadly extinct breed. What he got was the world's first Golden Retriever, a dog that would prove to be one of the best waterfowl hunters around.
Most experts leave the story there. However, there are historians who continue to sift through old dog paintings and old studbooks to set the record straight.
Regardless of their true origins, the Golden Retriever quickly gained popularity as a hunting companion for aristocrats and wealthy families. The dog was introduced in Canada and the United States in the early 20th century, where two variations of the Golden Retriever would be developed – the American Golden Retriever and the Canadian Golden Retriever.
Today, Golden Retrievers still hold their place in the hunting world, but they've taken over other professions, as well. Golden Retrievers are some of the most common therapy and service dogs in the world. They excel in dog competitions for agility and other activities. And, of course, they have enjoyed the title of most popular family dog breed in multiple countries for years.
Golden Retriever Personality Traits
★
The Golden Retriever's reputation tends to precede the actual dog, so it will come as no surprise when we tell you that this is a wonderful doggo. Sweet, gentle, smart, and patient, the Golden Retriever is known to be one of the best companions in the animal world.
Golden Retrievers love to be around people, and they're naturally even tempered. It's this combination of personality traits that makes them so well-suited for a variety of service jobs. Perhaps the only job that a Golden Retriever does not excel at is the role of guard dog. Instead, this dog will warmly welcome any newcomers, strangers and old friends alike.
Golden Retrievers get along well with children, making them an ideal family dog. In fact, the only danger of having this dog around small children would be making sure they don't accidentally knock anybody over. This is a fairly large pup, after all.
Golden Retrievers tend to hold onto their puppy-like characteristics long after they've matured into adulthood. That means you'll be able to enjoy their energetic demeanour and playfulness for many years. And because there's nothing more that a Golden Retriever loves than to be around humans, you'll be able to feed off of their lovely energy whenever you're together.
Golden Retriever Exercise Needs
Although the Golden Retriever is a relatively calm breed, they do have medium-to-high exercise needs. Remember that this was a dog bred to work, and they're happiest when their romping around in marshy waters in the cold climate of Scotland.
You might not be able to recreate the exact conditions for which your dog was bred, but you can give them enough playtime to satisfy that working dog drive.
By far the Golden Retriever's favourite game is fetch. They will chase after a ball or frisbee for hours and hours and seemingly never get tired. Swimming is another preferred hobby for any Golden.
And when you combine both fetch and swimming? Pure bliss for a Golden Retriever. It's what makes this breed so talented at water sports like dock diving. Golden Retrievers are also perfect candidates for obstacle courses and other fun physical challenges.
One thing to remember about the Golden Retriever is that they've got a lot of fur. You can help them stay cool while they exercise by keeping them inside during the hottest hours and giving them plenty of water. Read up on our other suggestions in our article, 7 Tips to Keep Your Dog Cool During a Walk. 
Trainability & Training Tips
You can assume that a breed this popular as a service dog is also pretty trainable. And you'd be right! With the Golden Retriever's calm demeanour, smart wit, and people-loving personality, this breed is one of the easiest to train.
The best tip we can provide is that you start training early and that you stick with it. Golden Retrievers are pretty large doggos, so it's best to train them in proper house etiquette and manners around people and dogs when they're young.
Once you've covered the housetraining basics, that's when you can get into more complex territory. These dogs are particularly skilled at tracking, which can make for hours of fun in your neighbourhood or your own backyard. Training your Golden Retriever to track includes challenging them to find hidden objects such as their favourite toy, after you've hidden it from them.
Obedience training is also a fun way to bond with your Golden Retriever. They'll love the mental challenge and you'll be wowed by their ability.
Golden Retriever Living Conditions

⌂
Golden Retrievers are one of those big dogs who are as happy to share a small apartment with their loving Owners as a huge house. Having said that, you may not want a Golden Retriever in a small space.
We say this because these are large dogs with quite a bit of energy. You might find your Golden Retriever accidentally knocking over your belongings when they're excited or swishing around that big fluffy tail. Best to give them wide areas to walk around and stretch their legs.
Golden Retrievers should also not be left alone for long periods of time. These dogs love to be around their Owners and may even develop separation anxiety when they're home alone for too long or left in the backyard. To help your Golden Retriever feel more at ease, they should definitely not be considered outside doggos. And, you might consider calling in a trusted Dog Walker during the day if you'll be away from home for long stretches.
Interested in more ways to make sure your Golden Retriever is happy? Take a look at our recent article with 6 Ways to Improve Your Dog's Mental Health.
If you're able to take your Golden Retriever with you wherever you go, that's a much better setup for this social dog than any large outdoor space you can offer them. Clearly, this is a dog that does well in public, so whenever you can, bring your Golden with instead of leaving them at home.
Grooming

 ✄
 When living with a Golden Retriever, you're going to have to become used to dog fur on everything. This is a dog with long double coat, perfect for swimming in the cold waters of Scotland. In other words, they shed pretty much constantly, so you'll need to brush them regularly to prevent tangling and matting.
Twice a year, usually in the Spring and Autumn, your Golden will shed more, so you'll need to brush even more often. With a Golden Retriever at home, you should probably have a few lint rollers around for regular fur cleanup.
Once per month or once every six weeks, your Golden Retriever will need a bath. Luckily, these dogs generally love receiving their own personal at-home spa, so bathing your Golden isn't a chore. When you bathe your Golden Retriever, make sure to take the time to penetrate that outer water-resistant coat.
Some other tasks to add to your grooming routine should include regular nail clipping, checking and cleaning the ears to prevent infection, and tooth brushing.
Golden Retriever Health

+
 In general, Golden Retrievers are healthy doggos. Similar to all big dogs, Golden Retrievers are prone to hip and elbow dysplasia and some heart conditions common in barrel-chested dogs.
In addition to this, Goldens may be at higher risk than other dogs for developing cancer. According to the Golden Retriever Club of America, about 60% of these loveable doggos will die from cancer in the United States. Although no-one has researched this phenomenon in Australia, it's something that you should discuss with your vet. Early detection is key to dealing with cancer.
Fun Fact about the Golden Retriever

  

♥ 
Golden Retrievers are some of the cutest record-breakers out there!
In 2012, Charlie, a Golden Retriever from Adelaide, broke the Guinness World Record for the loudest bark. Charlie's impressive bark reached 113.1 decibels, which is far louder than a normal dogs bark of between 80 and 90 decibels. Despite the loud bark, Charlie is true to his gentle Golden Retriever demeanour.
On the other side of the world in Texas, USA, another Golden Retriever, Augie, won the record for most tennis balls held at one time. This special Golden was able to carry around 5 standard-sized tennis balls, which is something that most doggos only dream of.
The more time you spend with a Golden Retriever, you'll see that they've all got something special to share. Keep an eye out and you might just find they've broken a Guinness World Record! 
Final Thoughts on the Golden Retriever

 
If you want a gentle, loving dog with a big heart, look no further than the Golden Retriever. This dog is one of the most popular breeds in the world because they live up to their reputation. They're friendly, affectionate, playful, and cuddly. They're just as happy to hop in the back of the car with you as they are to curl up for an afternoon of lazing around at home. This is one of the best companion dogs out there.
In terms of what a Golden Retriever needs from a potential Owner, they want plenty of attention and quality time. This is a dog that won't be happy existing in the background, or the backyard, for that matter. Instead, they demand to be with their favourite humans as much as possible, and risk separation anxiety without the contact. Many Golden Retriever Owners have a dedicated Dog Walker ensure their dog is getting enough people time throughout the day.
If you're able to give your Golden Retriever as much love as they deserve, you're in for a wonderful experience. Trainable, sociable, and a joy to have around, a Golden Retriever is ideal for just about any family.
Comments
comments