In Dog Breed Corner this month is the Golden Retriever! Check out the Golden's origins, personality, trainability, grooming needs and more!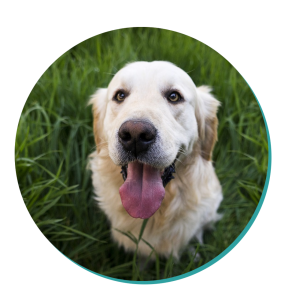 Quick Facts ✔ ​
Height –  53 – 60cm 
Weight –  24 – 34kg
Lifespan – 12 years 
Country of origin – Scotland
Breed type – Gundog
Best breed for: 
Families with children & other pets
First time dog owners
Owners who spend a lot of time at home
Breed History
♜
Although there are myths that Golden Retrievers are descended from sheepdogs from a Russian circus, the truth is quite different! The beloved Golden dates back to the end of the 19th Century in Scotland and owes a lot to Sir Dudley Majoribanks who spent a lot of time trying to create and perfect new breeds on his land. Sourcing perfectly coloured dogs from England and breeding them with now extinct breeds over the course of 20 years eventually resulted in the breed as we know it today. Registered in 1908 under the name 'Golden Flatcoat' and later 'Retriever – Yellow or Golden' it wasn't until 1920 that the Golden Retriever name was changed officially.
Personality Traits & Trainability
★
A popular choice for assistance and therapy dogs, search & rescue and drug detection, perhaps the only job the Retriever is not suited to is a guard dog, due to their super friendly nature. The Golden Retriever is hugely popular as a family pet and with very good reason – sociable, gentle and even-tempered, they love to please! Their desire to make their owners happy makes them easier to train than other, more independent breeds but they will still need guidance and training to become well adjusted, secure members of the family.  Retrievers tend to be slow to mature and can maintain puppy-like playfulness well into their third or fourth year or beyond! Goldens love nothing more than to romp around and play and will particularly enjoy any games which involve fetching and retrieving toys, balls or items. 
Living Conditions 

⌂
Although they are a laid back breed by nature, Golden Retrievers will need space to explore and regular exercise and mental stimulation to stay happy and healthy. Goldens are sociable animals and should not be left alone for long periods – they see you as their pack and you should expect to take them everywhere! Goldens are an indoor dog who are happiest living  indoors around the family rather than outdoors.
Grooming

 ✄
 Golden Retrievers have a double coat – a thick, water repellant outer coat and a fluffy undercoat for insulation. Although they may look tangle free at first glance, regular grooming is needed to make sure their undercoat stays free of matting. Golden Retrievers shed moderately through Winter and Summer and heavily through Spring and Autumn so be on hand with the lint roller! 
Fun Fact

  

♥ 
Golden Retrievers are consistently one of the top 5 most sought after breeds in Australia, New Zealand, the USA and the UK.
Comments
comments