It's no surprise that doggos don't always know what's good for them, which is why you carry the burden of thinking about how to keep your dog cool this summer. If they could decide, your dog would probably choose to spend every minute outside. Whether with you or their local Pet Sitter, they'd brave the midday sun and the hot pavement without a second thought.
But you're a good Dog Owner and you love that little fluffball, so how can you be sure that they're safe and healthy during their daily exercise routines?
With these tips, you and your trusted Dog Walker can keep your dog cool during their walks all summer long!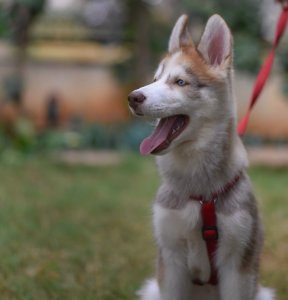 Cool Tip #1: Find the ideal schedule
This one's pretty obvious, but you don't want to be taking your pup out for midday walkies. Instead, set up a schedule in which you can go for a walk early in the morning or later in the evening to beat the heat.
During the day, you might schedule some alternative playtime like a backyard inflatable pool or an indoor obstacle course. Read our article on 7 Tips for Dogs in Summer to read more about keeping your pup cool and comfortable even when you're not on your daily walk.
Cool Tip #2: Scope out the shade
When you do leash up for that walk, you can keep your dog cool by seeking out the shadiest streets and walkways. If you're not sure where this might be in your neighbourhood, you might opt to take a little stroll on your own, or even do a loop around the neighbourhood in your car to scope out the shadiest walking route.
Make sure to share this info with your dedicated Dog Walker so they can benefit from the shadiest route, too!
Cool Tip #3: Make some pit stops
While you're on the lookout for shady walking routes, keep your eyes peeled for dog friendly establishments on the way. What better way to keep your dog cool during their walk than by taking a well-deserved break partway through in a nice air-conditioned cafe or pet shop.
We've put together a list of some of the dog-friendliest pubs in Australia if you're looking for some inspiration!
Cool Tip #4: Bring along some water
There are plenty of doggie water bottles on the market, but here's our opinion: look for whatever will keep that water cold for longer. Insulated or stainless steel water bottles are ideal for keeping water cold for hours, which is a great way to keep yourself hydrated and keep your dog cool at the same time. Not even ice will melt in these heavy-duty water bottles, which is great if you've got a pup who loves to crunch on some cooling cubes.
To minimise spillage, make sure that you invest also in a portable doggie bowl.
And if you want to get really luxurious, you might bring along a spray bottle full of ice-cold water. A few sprays for your pup, a few for yourself. You'll both enjoy the cool mist.
Cool Tip #5: Protect the paws
We live in a wonderful world of doggie clothing now, so it's time to invest in some summer dog booties. Your dog may walk around like a goofball when they're first getting used to them, but they're so great when you're out and about with your pup.
Summer is also prime time for cracked and irritated paw pads, so you might also invest in a high-quality dog paw salve.
Cool Tip #6: Mind the breed
Some breeds have a harder time keeping themselves cool in the heat. Short snouted doggos, such as Boxes and Frenchies, will need shorter walks during hot summer days because, well, panting is not their forte.
Keep a special eye on these doggles, as well as long-haired pups, who might be more susceptible to heatstroke. At the same time, experts like those at the RSPCA suggest that you don't shave double-coated doggos. While that long hair may look hot, it may actually have temperature control built in. Learn more about your dog's breed characteristics before asking the groomer to lop off all that fur.
Cool Tip #7: Block the UV
Doggie sunblock became really pup-ular with surfers who wanted to take care of their pooches waiting for them on the shore. Now, this UV protection is becoming more widely available for all Dog Owners.
It comes in a spray or block so that you can find the right doggie sunscreen for all coat types.
How will you keep your dog cool during their summertime strolls?
If you're going to adopt some of the recommendations on the list, let us know!
Comments
comments