As a veteran Chihuahua Owner, Zsuzsanna is an expert when it comes to small dogs. Learn what makes this experienced Pet Minder in Dianella WA worthy to be our December Pet Sitter of the Month!

Why do you love being a Mad Paws Pet Pet Sitter? 
I've always been a dog lover. In fact, I Owned a Chihuahua for 18 years. When she passed away I became very sad, but when I discovered Mad Paws, I realised it would be the perfect place to channel my love for pets. I'm grateful to Mad Paws for letting me into their world!
What's your favourite thing to do with your furry clients?

 
Obviously, I love to take them for a Dog Walk! I also love playing with them in the morning while I'm having my coffee; it's a great start to the day for both of us. Finally, I love giving them nicknames, making silly sounds to grab their attention, and playing hide and seek. 
What was the first pet you ever owned? Do you have your own pets now?

 
Ever since the loss of our Chihuahua, we haven't Owned any other pets. Instead, I like to focus my energy on caring for other people's furbabies while they're away or busy with life.  
Do you have any particularly memorable furry guests?
That's a hard question, because I love all of them! If I had to choose, I'd say Mr Summo the Shih Tzu, Cockie the Spaniel, and Sofie the Lexie.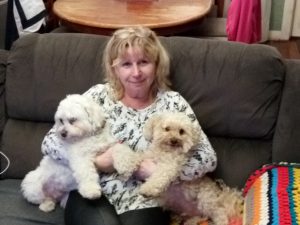 If your furry guests could talk, what one question would you ask them at a Meet & Greet? 
I would ask them if they like to watch The Bachelorette. It's a great way for us to bond after an energetic day of games and Dog Walks.  
What's your one top tip for new Pet Sitters?
Always be polite and bubbly, and always invite them for a Meet & Greet before the booking. During the booking itself, send lots of furry photos and updates to the Owner. It will allow them to enjoy their holiday, as they'll know their furry friend is enjoying their holiday with you! 
Comments
comments