The temperatures are rising and the holiday season is approaching, which means we're on the hunt for the best dog-friendly movies to watch with our furry friends. If you've been looking for the perfect excuse to lower the lights, blast the air conditioning, and munch on your favourite snacks with your pup at your side, your search is over. Feel free to share this list with your friends, your trusted Pet Sitter, and anyone who asks you how you'll be spending your time off this holiday season. It's time to watch some dog-friendly movies.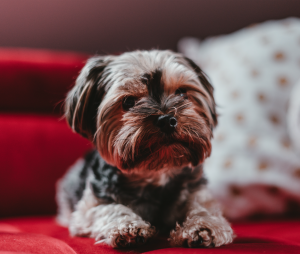 Quick question – how did we choose these dog-friendly movies?
Clearly, we could put together a list of popular movies with dogs in the title and call it a day. But that's no fun for Fido! Instead, we looked into what makes a movie more appealing to a doggo, so that they can join in on the movie marathon.
What we found was that dogs are more likely to respond to movies featuring fellow furry friends. The more screen time for doggies, the more invested your pup will be in the movie.
We also took into consideration colour. Dogs, as we've talked about in our previous article on Things People Get Wrong About Dogs, are best able to see blues and yellows. So get ready for some bright primary colours in this list.
And finally, we thought about emotion. Obviously, your pup won't know what's going on in terms of plot. But, they will be able to pick up on how a particular movie will make their beloved Owner feel. We can't promise that none of these movies will make you cry, but they definitely have more happy moments than sad.
Ready to get started? Here's our master list of the best dog-friendly movies!
#1: Beethoven (1992)
If you like St. Bernards, slapstick comedy, and movie franchises, Beethoven is a clear choice. These dog-friendly movies tell the stories of Beethoven, a huge St. Bernard who just wants to bark along to some classical music and keep the younger members of his human family safe and sound. Beethoven must fight off some formidable foes, including school bullies and puppy thieves. But don't worry, there's a happy ending to the original and every sequel.
#2: The Adventures of Milo and Otis (1986)
Shot in Japan and narrated in English, this film is full of dog-friendly footage and the most wholesome storyline imaginable. It follows the adventures of an orange tabby cat and a pug as they join up and make their way back to their farm after Milo gets separated from the rest of his litter.
#3: Red Dog (2011)
This is the story of an adorable Kelpie who won the hearts of a mining community in West Australia in the 70s. Red Dog was a real Kelpie/Cattle dog who roamed the Pilbara region, making friends along the way and becoming something of a legend. This is one of the dog-friendly movies on our list that might make you cry, but it's definitely worth the watch.
#4: Eight Below (2006)
If you're looking for more drama, Eight Below is the true story of a dogsled team that must fend for themselves when they're left behind during a rescue mission in Antarctica. Because of harsh weather conditions, the dogs must survive for two months on their own. There are a few scenes that are sad, but overall, it's an inspiring tale that will make you hug your furry friend a little tighter.
And, hey, if you want more dog-friendly movies about dog sled teams but without all the stress, never fear. You can simply swap this one out for the 2002 film Snow Dogs with Cuba Gooding Jr. It's full of silly husky antics that you and doggo will both love.
#5: Oddball (2015)
Another of the dog-friendly movies shot here in Australia, this warming film has everything you could want. There's a cute and mischievous doggo. There's family drama. There are penguins. And there's a happy ending. Really, you can't ask for more than that.
Which of these dog-friendly movies will you put on your queue?
We can't imagine a better day off than one spent curled up with your pup and some dog-friendly movies. If you've got your own suggestions, please let us know! We're always looking for more heart-warming films to share with our furry friends! And don't forget to share your favourite dog-friendly movies with your dedicated Pet Sitter!
Comments
comments