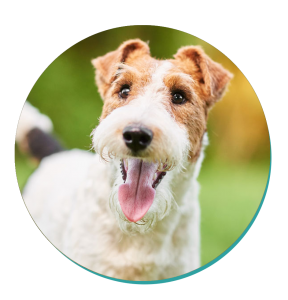 Quick Facts:
Height – 33-40cm
Weight – 6-9kg
Lifespan – 12-15 years
Country of origin – UK
Breed type – Terrier
Best breed for:
Families with children

Active families

Owners willing to bring some patience to training
Wire Fox Terrier Breed History
If you were to gather a family reunion of all the terrier breeds, one thing is certain: they'd be down in the dirt seconds after the obligatory tail sniffing!
The Wire Fox Terrier, like all other terriers, was first bred to flush out earth-dwelling prey, in this case foxes, from their underground burrows. Beginning around the 16th century, hunting on horseback with packs of dogs became a popular pastime for the ruling class. Fast forward two hundred years, and fox hunting had developed into a highly ritualised sport for the British aristocracy. By the time the Wire Fox Hound came onto the scene in the 18th century, there were already many other breeds dedicated to the practice: English Foxhounds, Beagles, and this pup's predecessor, the Black and Tan Working Terrier. 
The Fox Terrier, which came in both a smooth and wire coat, was the result of generations of tinkering with temperament and work ethic. Hunters wanted a dog with endless energy and drive, while sporting a mostly white coat that wouldn't be mistaken for a fox.
Although today's Wire and Smooth Fox Terriers may look similar, they are generally considered separate breeds. In fact, the two terriers stopped crossbreeding in many places over a hundred years ago.
Today, fox hunting is banned in most regions of the world, and the Wire Fox Terrier has had to adapt to different lifestyles. Some have gone on to live in the show dog spotlight while others have settled into family life. And though they've left their hunting days behind them, this dog has never let go of the personality traits that make them part of the lovable, sometimes difficult, terrier group!
Wire Fox Terrier Personality
Wire Fox Terriers have a set of eyes that will melt your heart, but you can tell there's quite a bit of mischief going on behind them! These dogs are classic terriers, which means that you can expect the following:
Curiosity.

A Fox Terrier's inquisitiveness is one of the key personality traits that made them such good hunters. They were bred to explore every nook and cranny until they had sniffed out a foxhole. So, be prepared for that same behaviour to live on in your home.
Intelligence.

Wire Fox Terriers are smart puppers, but you might hear them described more as wily or clever. Their level of intelligence is definitely impressive, but it can also take first time Dog Owners by surprise! It's important to be two steps ahead of this quick-thinking terrier.
Independence & Fearlessness.

During a fox hunt, a hound might lead the pack to a general area where the prey could be found. But it was the Fox Terrier who was tasked with diving face-first into a den! That takes quite a lot of courage, determination, and independence, all traits that are still prominent in today's pup. Sure, you might also call that stubbornness, and even reckless abandon. We call it nothing short of amazing.
Friendliness.

Fox Terriers are confident, social doggos who will get along with strangers and family members, provided they've had appropriate socialisation. They tend to also get along well with other dogs, and won't bat an eye at a play session with a much larger pupper. Their friendliness does have a limit, though, and that's also thanks to their hunting background. These dogs may see cats and other small animals as potential prey, so it's important to socialise them slowly and carefully if they'll be living in a household with small pets.
A fun-loving attitude.

Wire Fox Terriers are playful, enthusiastic, and generally a joy to be around. You won't have a dull moment with this doggo, although you may occasionally want a short break from their liveliness (more on that later!)
As you can see, the Wire Fox Terrier is a true companion, who will sometimes push your buttons. It's easy to see why they've thrived as a family pet long after the end of their fox hunting days!
Trainability & Training Tips
You might have seen words like "independent" and "clever" and thought, "Here we go. This dog is going to be impossible to train, right?" Let us set the record straight that the Wire Fox Terrier is absolutely trainable! They do require an extra bit of patience and persistence, but training is not only doable, but also a great way to bond with this working dog! Here are a few tips:
Training starts from Day One.

We don't mean that you should be drilling your pup on basic commands within hours of meeting them. But, from the first day of having a Wire Fox Terrier, you have the opportunity to start building the training relationship! This means teaching your pooch to associate you with

yummy treats and dog toys

, while also getting them used to the sound of your voice and your household schedule. These small bonding moments are crucial in setting up the strong bond that will make them willing to take commands from you when you're ready to get to work!
Did someone say treats and toys?

Finding the right reward system is an important first step for training this wilful pupper. Many terriers are food motivated, meaning that you might have your best training sessions with a handful of treats or right before you give them their

delicious bowl of raw dog food

. Others may be more interested in toys, playtime, or verbal praise.
Don't try to out-stubborn a Wire Fox Terrier.

As you start learning the basics, it can be frustrating to face-off a doggo who will not listen to your commands. Instead, you might see your goal as convincing your pup that listening to you is in their best interest. This is where your stellar reward system comes in handy. By having a variety of different treats on hand, you can keep your terrier focused on you through incentives, rather than trying to force them into submission (spoiler alert: harsh training methods will make this pup double-down!)
Celebrate small wins and build from there.

We're not saying that you shouldn't set some ambitious goals like circus dog tricks and agility training. Indeed, Wire Fox Terriers can excel in these arenas! But, it's also a good idea to start with small, manageable commands and work your way up. Celebrate every accomplishment along the way—you and your doggo deserve it!
Exercise Needs & Living Conditions
You might have guessed it by now, but the Wire Fox Terrier is not a low-energy breed. In general, they need anywhere from a half hour to an hour of exercise (some will need more!) to stay healthy and satisfied. Here are a few ideas to get them active:
Supervised free play.

A fenced backyard is ideal for a Fox Terrier to be able to trot around and follow their nose to their heart's content. You might even hide a few treasures like their favourite toys or treats around to keep them occupied and racing from tree to fence post to backyard shed. Just make sure to keep an eye on them so that you can disrupt any digging habits before they start!
Playtime with other dogs.

Throwing a Wire Fox Terrier into a dog park might not be the best for every member of this breed since they can be a bit domineering and bossy. But, scheduled playdates with other pups with a similar playstyle is a brilliant way to burn off some energy.
Jogging.

These terriers are just big enough to make excellent running partners if you find that they're up for it! Always remember to start slow and stick to soft surfaces like dirt or sandy paths if possible.

 
Agility courses.

If you can harness their attention all the way through an agility course, you'll be amazed at how speedy these doggos are. Agility training is a wonderful workout and it will provide some much-needed mental stimulation to your terrier.
Lure coursing.

We always recommend that you try to find a form of exercise that mimics a dog's original job, and lure coursing is the answer for the Fox Terrier. In this exciting sport, your pup will chase after a mechanical lure that replicates the movements and speed of a fox.
Regular exercise isn't only important for your dog's health, but it will also help to stabilise their emotional wellbeing. If you want a pup who is relaxed and content, rather than destructive and high-strung, start by putting together an exercise routine with the help of a dedicated Dog Walker.
Puzzle toys and other mentally challenging games are another way to round out a Wire Fox Terrier's lifestyle. Especially if they'll be spending any time at home alone, you'll want to make sure they have access to a variety of toys with different textures; treat-dispensing toys are also a boon!
Wire Fox Terrier Grooming
The wire coat of this terrier can be intimidating to Dog Owners who aren't used to it. But caring for this unique coat is definitely manageable, especially with the occasional help of a professional groomer!
On your own, you'll want to brush your Wire Fox Terrier at least once a week with a slicker brush or comb to prevent tangles or matting. This will also help reduce your dog's shedding from low to almost non-existent.
Hand stripping is also recommended about every 4 to 6 weeks or as your terrier needs it. This is a process in which dead or weak hairs are pulled out of the coat to instigate new growth. It's a time-consuming process, so Dog Owners typically rely on the help of a groomer experienced with wire-haired dogs.
If you don't like the idea of hand stripping, clipping is another option for the Wire Fox Terrier, although many experts say that clipping can change the quality and colour of the coat. And, it doesn't have the added benefit of improved skin health.
In addition to coat care, grooming needs for this pooch include cleaning out their ears, brushing their teeth, and clipping their nails.
Wire Fox Terrier Health
While this breed is generally quite healthy, it's always a good idea to be proactive about vet visits and sign your pooch up for a reliable pet insurance plan. The following medical conditions aren't overly common in the Wire Fox Terrier, but they can sometimes show up in the breed:
Wobbler syndrome,

a compression of the spinal cord that can lead to mobility problems
Eye problems, including glaucoma and cataracts
Fun Fact
If you follow the Mad Paws blog, you know we're big fans of the Westminster Dog Show, and all of the amazing doggos who have competed over the years. 
But we have to say, Wire Fox Terriers are kind of like the Westminster VIPs (Very Important Pooches, that is.) They've won 15 times in the show's 145 year history; that's more than any other dog breed!
The most recent winner was King, who won in 2019. An apt name if we've ever heard one!
Final Thoughts on the Wire Fox Terrier 
The Wire Fox Terrier may look distinguished enough to intimidate the competition at Westminster. But, this is truly a lovable dog through and through. They are friendly, happy-go-lucky, intelligent, and funny. There's always a good time to be had when a Fox Terrier is around!
Of course, terriers as a group have their quirks. They're wilful and clever, with personalities that exceed their modest stature. Once you learn to roll with the terrier lifestyle, these characteristics are all part of the fun.
If you're able to give the Wire Fox Terrier the attention and patience they deserve, you'll be rewarded with one special companion!
Comments
comments