Every year for the last 145 years, the Westminster Dog Show has wowed crowds of dog lovers around the world. Not only do we tune in to catch the over-the-top hair cuts and graceful gaits, but also so that we can turn to our own puppers and say: "You're definitely cuter than all of those dogs."
While the fur may be swept off the floor, and the poo scooped from the arena, we're not done talking about the Westminster Dog Show. When did this glorious event begin? What does it take for dogs to qualify? And, can you and your friendly Dog Walker get your pup in shape to compete in a dog show like this one?
We've got all the doggy details for a full post-show rundown!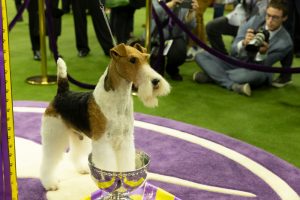 A quick history of the Westminster Dog Show
Through natural disasters, economic downturns, pandemics, and even world wars, the Westminster Dog Show has never been cancelled. In fact, it's the second-oldest continuously run sporting event in the United States. Only the Kentucky Derby is older! 
The tradition of Westminster was imagined by a group of hunters—or in the old vernacular, sporting gentlemen—who would regularly meet to share hunting stories at the bar in the Westminster Hotel in Manhattan. As is usually the case with Dog Owners, each gentleman thought his dog was surely the best. And we can imagine that at some point, one of them suggested: "Well, let's settle this once and for all with a little competition." Or something along those lines.
Out of these nights of drinking and storytelling, the Westminster Kennel Club was founded. And soon after, in May of 1877, the first Westminster Dog Show was held. It took place at the modern-day Madison Square Garden, where it has been held every year until 2021 (more on that in a moment!) And, while the first Westminster attracted an astounding number of dogs—about 1,200—there was a noticeable lack of breed diversity. After all, the show was organised by a group of hunters who wanted to see hunting dogs. So, the competitors were mostly Pointers, Retrievers, and the like. Definitely no silky Pekingese trotting around the ring.
Before long, the show attracted worldwide attention and dropped the hunting dog parameters. Foreign leaders, such as Queen Victoria of England, and American elites, like Wall Street top dog J.P. Morgan, began entering their dogs in the competition.
Every year, the show got bigger, the competition fiercer, and the dogs fancier. Today, the AKC-organised show offers multiple events within the two day program, with agility competitions, obedience tests, and of course, the flashy conformation trials.
In 2021, Westminster moved to Tarrytown, New York, just north of NYC. The dogs and their handlers congregated at the Lyndhurst Mansion, a stunning 19th century country estate with a 67-acre open park on its grounds. The doggos were probably pretty happy with the change, and the open setting allowed for compliance with Covid-19 safety measures.
For the next show in January 2022, the doggos will return to the Big Apple.
How do dogs get into the Westminster Dog Show?
Much like the Met Gala or a British Royal Wedding, getting into the Westminster Dog Show is by invitation, only. 
And how does a handsome pup get their paws on one of the only 3,200 invitations? By making a name for themselves at qualifying trials. These regional dog shows award merit points for dogs who conform, or align, best with their breed standard. With enough points, a pupper can wait for the mail carrier daily for the arrival of their much anticipated invitation.
But, let's back up for a moment, because a dog must also qualify for the qualifying trials! In order to meet the requirements for these regional dog shows, the doggos must be:
registered with the American Kennel Club,

at least six months old on the show day,

part of a recognised AKC breed (mixed breeds can participate in the agility competition!),

intact, as in not desexed

in conformity with the breed standard, and

healthy and vaccinated!
No matter where you are in the world, you'll likely find some of these local dog shows in your area. There are also conformation classes and practice dog shows for Dog Owners looking to break into competitive circles.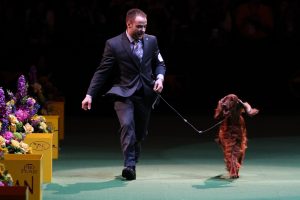 What's it like to be a competitor?
Wondering what a day in the life of a Westminster Dog Show dog is like? Here's a snapshot:
Lots of training.

The pro puppers make dog shows look like a breeze, but there's a TONNE of work behind it. Dogs must learn to walk a certain way; stand steadily whilst being poked and prodded by the judges; stay calm in the presence of other dogs; and in the case of agility competitions, perform their hearts out. All of this in an unfamiliar place, in front of an excited crowd and flashing cameras. As you can guess, that level of graceful performance takes a lot of training and socialisation, which continues throughout their life of competition.
Frequent grooming sessions.

Perhaps you caught our recent article,

How Often Should I Wash My Dog?

Well, when it comes to show dogs, those basic recommendations do not apply! Each breed follows a fairly strict grooming regimen that will keep their coat looking absolutely stunning in the ring. That usually means a full professional grooming session before each competition, plus last minute fluff-ups before setting paw in front of the judges.
Travel, travel, travel.

The more serious show dogs may travel multiple times per month to attend competitions around the country and even abroad. That means a whole lot of time on the road or in the air!
Quite a bit of waiting around.

From layovers, to pre- and post-show time in hotels, to downtime between events at the show, these professional pups have quite a bit of time to wait. Some choose to snooze in their crate, others work on their training or their looks, and many look to their beloved Owners for entertainment.
High quality meals.

In the ring, handlers have all kinds of treats, from raw

offal

to deli meat to fried crisps, to keep their dog's attention. But when they're not in the spotlight, you can bet these doggos are eating

high-quality meals packed with Omega-3s

to keep their coat shiny.
Exercise.

Just as important as a nutritious meal plan is regular exercise for these pretty pups. Show dogs need to stay in shape and burn off excess energy so that they're not too excited in the ring. As demanding as owning a show dog can be, Owners tend to have a team of Dog Walkers to help out.
Face to face time with fans.

Westminster is a bit like Comic Con, in that fans can mingle with their favourite canine celebrities between events. And, the doggos who really make waves at Westminster typically spend the days following the big show making appearances on news programs and social events. The Best In Show winner has historically been treated to a steak meal at the iconic Sardi's restaurant in New York for one tasty photo-op.
Plenty of regular dog stuff!

Out of the spotlight, show dogs are just dogs! They cuddle up with their humans, get in trouble for sticking their snout in the rubbish bin, and chase pigeons. Even Broadway stars need some relaxation between shows!
Does your dog have what it takes?
The world of Westminster is unique, prestigious, and sometimes intense. Not every doggo can compete at this elite level. And to be honest, many would rather live a more normal life with less grooming and more daily walkies with a local Dog Walker.
Whether you've got a show dog of your own or a cuddle companion to watch the Westminster Dog Show at your side, we think all the puppers deserve the title of Best in Show!
Comments
comments