"How often should I wash my dog?" If you've been searching the internet for a clear answer, you might have realised that there's no consensus. Some say once a month, others every six weeks, and there are even some dog blogs that recommend once a year! And we wish that we could give you a clear-cut universal answer to send you on your way. Unfortunately, though, it's just not that simple.
That's because different factors, including coat type, lifestyle, and age, are all important when considering how often to wash you pup. If you get it wrong, your doggo could suffer from skin rashes and itchiness.
In this article, we're going to help you come to the right washing schedule for your unique doggo. So get out your calendar and dive right in!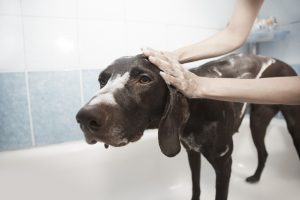 Puppies vs adult dogs vs seniors
At each life stage, your dog is going to require a different schedule.
Very young puppies, for instance, should be bathed weekly until they are about a month old. From there, they should receive a bath only about once per month. Being more consistent in a bathing routine is important at this stage, because it's a crucial time for them to get used to bathtime. When puppies don't learn to love the washing process, bathtime can be quite the battle in adulthood.
When it comes to adult dogs, finding the right bathing schedule will, as we mentioned, depend on a variety of other factors. We're going to get into those in a moment, but first, let's turn to senior doggos.
How often should I wash my dog once they've reached their senior years? Well, chances are, your senior dog is probably not going to be as active as they were during adulthood. And once your furry friend starts slowing down, you can also relax on how often you wash them. Unless, of course, your senior dog enjoys a nice warm bath; in which case, you can give them the spa treatment no more than every 4 to 6 weeks.
How often should I wash my dog depending on coat type?
After age, coat type is the most important factor to determine how often you should wash your dog. Here are the main categories:
Short coats

: Dogs in this category include bully breeds, such as

Bull Arabs

, and they sport a short single-layer coat. These puppers are prone to skin allergies and shouldn't be bathed more than once per month. In fact, depending on your dog's lifestyle, you don't have to wash a short-coated dog more than once every four to six months. Instead, you might give them the occasional wipe down with a wet rag or dog-friendly wipe and call it clean!

Double-layer coats:

Border Collies

,

Aussie Shepherds

,

Kelpies

, most spaniels and terriers, and other dogs with a medium coat can all be washed about once every two to four months. 

Thick double-layer coats:

Double-layer coats are common in dogs, but some breeds have an even thicker underlayer to keep them warm in winter climates.

Akitas

,

Chow Chows

, and

Shiba Inus

all fall into this category, and will require more frequent bathing. The general consensus for these doggos is to wash them every 6 weeks. 

Wirehair coats:

Dogs with this coat type have rough curly fur that can intimidate some new Owners. But when it comes to washing, wirehair coats don't require too much extra care. Dogs in this category, including wire-haired Vizslas and Dachshunds, can be bathed about once every three months.

Curly coats:

Curly-haired doggos were bred to love water, but does that mean that they can enjoy more frequent baths than the rest? As it turns out, yes! It's recommended that curly-coated dogs, like

Poodles

and

Portuguese Water Dogs

, be bathed once a month or every three weeks.

Long, single-layer coats.

Not too many dog breeds fall into this category, but the ones who do require the most frequent bathing schedule. Afghan Hounds, for instance, may require weekly or bimonthly bathing to keep those luxurious locks clean.

Hairless dogs:

We can't forget about the dogs with no coat to wash at all! Hairless dogs, like the Chinese Crested or

Xolo

, require a special bathing routine, as they are highly prone to skin problems. Once per week, with specialised shampoo, is the general recommendation for hairless dogs.
How much washing is too much?
As you can see, every breed has a standard range for how frequently they should be washed. But, what is the risk of overwashing, especially when their fur is so soft and fragrant after a nice bath?
The problem with overwashing is that it can strip your dog's skin of its natural oil. This can lead to dry, itchy skin, and increase the risk of infection as your pup scratches.
Another important consideration is pH balance. Whenever you introduce a shampoo to your dog's skin, there's a chance that it will throw off the natural pH balance of their derma, putting them at risk for irritation and fungal growth. It's always best to use dog shampoo, and err on the side of fewer baths to maintain healthy pH levels. Unless specifically stated by your veterinarian, your dog should not receive a bath more than once per week.
How else can we keep our dogs' coats looking amazing?
Once you've set up a consistent washing routine for your dog, you may wonder how else you can keep their coat looking shiny and smelling nice. Here are a few ideas:
Get them on a healthy diet.

Diets that are high in healthy fats are a great way to improve the look and feel of your dog's coat. Make sure your pup is getting an all-natural, high-quality dog diet with plenty of Omega-3s and Vitamins C and E.
Brush them frequently.

Brushing is a good way to help manage your dog's shedding, but it also distributes their natural oils and removes trapped smells. Most dogs should be brushed every couple of days, but make sure to follow the recommendations for your breed.
Wash their bedding.

Seems simple, but your dog is going to smell like the surfaces they spend the most time on! Washing your dog's bedding can help their coat stay clean, while also lowering the risk of

fleas

and other pests.
Keep an eye on your pup when they go outside.

Dogs have a natural tendency to roll around in the stinkiest thing they can find. And, while you may not be able to curb the behaviour completely, you can encourage your dog to roll around in areas that won't put them straight into the bathtub. For instance, you might request that your dog's dedicated Dog Walker takes them to an area with fresh, clean grass. This way, they can roll around without getting too stinky. And if you're hiking with your pup, make sure that you keep them in your sight so that they don't go off looking for particularly foul things to roll around in.
How often should I wash my dog? As you can see, it really does depend on your dog!
In this article, we've covered some of the factors that determine how often you should wash your pup. At the end of the day, though, it might come down to trial and error, as well as some helpful advice from your vet.
Once your doggo is on the right washing schedule for their age, coat-type, and lifestyle, you'll have one luxurious-looking dog!
Comments
comments