In Dog Breed Corner this month is the Australian Kelpie! Check out the Kelpie's origins, personality, trainability, grooming needs and more!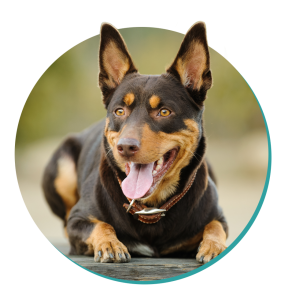 Quick Facts ✔ ​
Height – 43 – 51cm 
Weight – 11 – 20kg
Lifespan – 10 – 14 years
Country of origin – Australia
Breed type – Working 
Best breed for: 
Families with children
Active owners 
Owners who want to try agility etc 
Breed History

 

♜
 The origins of the Kelpie are not well documented so it's hard to know where exactly they came from. Most people believe that they originate from a cross between Scottish sheepdogs, imported to Australia in 1870 and an early version of what we now recognise as the Border Collie.  Others believe that Kelpies came into existence through cross breeding with Dingoes. Kelpies were accepted into the AKC in 1994.
Personality Traits & Trainability

 

★
Kelpies are natural workaholics and will run until they drop! Like most working breeds, they are high energy and are happiest when they have a job to do. They are tough, independent dogs with high intelligence and strong sense of loyalty to their owner.  Kelpies are quick learners and if you can teach it, your Kelpie can learn it. Kelpies have a natural instinct to herd and young, untrained dogs can exhibit some mustering behaviours. Their intelligence and loyalty makes them naturals at skills such as obedience, fly ball and agility and these can be excellent activities to keep them mentally and physically stimulated if they are not being kept as a 'working' dog.   
Living Conditions

 

⌂
Although they are commonly found working on farms across Australia and New Zealand, they are happy as a family pet if given enough exercise and stimulation. Like most working breeds, if being kept as a non working dog, they will need considerable daily exercise and mental stimulation to keep them happy and content. 
Grooming

 

✄
 Keeping your Kelpie comfortable and looking good takes considerably less effort than some breeds. A weekly brush should reduce shedding, although some Kelpies will shed considerably in spring. 
Fun Fact

  

♥ 
2011 saw the release of Red Dog, a movie telling the true story of a Kelpie who united a Pilbara mining community in the 1970s. After his death in 1979, the real Red Dog was honoured with a statue in Dampier, one of the towns he frequently visited. 
Comments
comments