In Dog Breed Corner this month is the Australian Kelpie! Check out the Kelpie's origins, personality, trainability, grooming needs and more. Do you need some help with your Kelp(ie)? Book a Mad Paws
Dog Sitter in Brisbane
, Alice Springs, Adelaide, or anywhere else in Australia!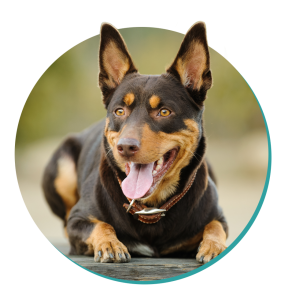 Quick Facts ✔ ​
Height – 43 – 51cm 
Weight – 11 – 20kg
Lifespan – 10 – 14 years
Country of origin – Australia
Breed type – Working 
Best breed for: 
Families with children
Active Owners 
Owners who want to try agility etc 
Australian Kelpie Breed History

 

♜
 Unlike the confusingly named Australian Shepherd, we're happy to say that the Australian Kelpie really is as Australian as you can get. But, how long have these Aussie doggos been here? Moreover, what have they been up to since their inception? There aren't great records for this special pup, but what we do know about the Australian Kelpie is fascinating!
We should start out with some myth-dispelling truth. For many years, there was a rumour floating around that the Kelpie originally descended from Australian Dingoes. It's easy to see where this myth came from. Dingoes and Kelpies have similarly pointed ears and snout shape. They're both large canines. You can see where the colour variation may have shifted from the Dingo's light golden coat to the Kelpie's brown. However, while wild Dingoes are able to mate with domestic dogs, a recent study from the University of Sydney found that modern day Kelpies don't have a trace of Dingo DNA.
Professor Wade, who conducted the study, suggested that the myth may have come out of a simple misunderstanding. At the time that the Kelpie breed began to take shape, breeders were working with a very limited stock. Beyond these constraints, they worried about whether the dogs that they'd imported from Europe would survive the harsh Australian climate. They selected their breeding animals to be hard-working and adaptable working dogs; when one litter had a few yellow pups, instead of the usual black or tan dogs, people started to question whether Dingoes had influenced the breed. After all, it would make sense to cross these new dogs with the hardy Dingoes to create a stronger pup.
Without the DNA evidence to back it up, though, this explanation falls flat. To clarify the matter further, the Working Kelpie Council of Australia maintains a pretty rounded out history of the early breeding stock, with no mention of Dingoes anywhere.
Does this mean that dog breeders never tried crossing their Australian Kelpie with a Dingo? No! That said, it's more likely that breeders abandoned the effort to introduce Dingoes into the Australian Kelpie breed. This likely occurred when subsequent litters proved too wild for the working life.
Mysterious origins aside, what have Australian Kelpies been up to since their origins in 1870? Namely, they've been working as sheepherding dogs! The high need for shepherding dogs came around the middle of the 19th century, when fencing replaced the need for human shepherds. Now, sheep farmers could keep their stock in an enclosed field without the need to follow them around constantly. As long as they had a dedicated doggo to look after the flock, sheep owners didn't have to live in the fields like generations past.
Another huge development took place with the introduction of the Merino sheep in 1797. With their fine wool and adaptability to the Australian climate, Merino sheep became some of the most profitable livestock by the end of the 19th century. However, as the Merino adapted to their new lives in Australia, they became somewhat wild and difficult to manage. Eventually, a working collie named Kelpie would come to the rescue, keeping the Merinos in line. From there, breeders would develop Kelpie's lineage to establish the Australian Kelpie breed. These dogs would prove to be excellent shepherds to the finicky Merino sheep; and so it was that Australia's best working dog was born.
Today, Kelpies continue their role as working dogs, both in Australia and around the world. They're not exactly the most popular family dog, but that doesn't mean that they won't love a more domestic life with the right Owners. 
Australian Kelpie Personality Traits

 

★
Australian Kelpies are engaged and intelligent dogs. Much like other herding dogs, they'll always have their eyes on their beloved Owners, ready to help out if required. In fact, this dog is happiest when they're at their Owner's side, preferably with an important task to complete. Australian Kelpie Owners share that loyalty is a huge part of the breed, and you'll never be alone when you own one of these wonderful pups.
Because they're so aware and alert, Australian Kelpies make great watchdogs. However, this is a double-edged sword. While it can be nice to have a dog alert you to any incoming strangers, these dogs can also be pretty territorial. And without a herd of sheep to protect, they'll do just about anything to guard the safety of their humans.
If you entertain guests frequently, it's going to be crucial to properly socialise your Australian Kelpie. They can be standoffish dogs towards strangers in the best case scenario, and grumpy growling aggressive dogs in the worst.
This is also an issue when it comes to other animals and small children. Australian Kelpies can be incredibly gentle and caring when properly trained and socialised. With their herding instincts unchecked, though, they're prone to anxious nipping and controlling behaviour.
Australian Kelpie Exercise Needs
This dog can run! In fact, the high exercise needs of an Australian Kelpie make this dog difficult for the city-dwelling Dog Owner. Kelpies are natural workaholics and will run until they drop. Like most working breeds, they are high energy and are happiest when they have a job to do.
That doesn't mean that anyone living in an urban setting can't have an Australian Kelpie. However, if they do welcome a Kelpie into their family, they'll need to make exercise a top priority. That might mean multiple walks per day, engaged training sessions, and calling in a Dog Walker for even more playtime.
Not only is this high activity level important for an Australian Kelpie to be healthy, but it's also crucial for their happiness. An unhappy Kelpie is a destructive doggo; you'll quickly learn if your pup isn't getting enough exercise because your home will be a disaster. 
Trainability & Training Tips
Kelpies are quick learners and if you can teach it, your Kelpie can learn it. Their high intelligence and people-pleasing nature will make training a joy, and you'll be amazed at how quickly they pick up new commands and tricks. One of the Australian Kelpie's most impressive skills is being able to follow commands even when they're not right at your side. With whistles and hand signals, you can train your Kelpie from a great distance, just like these dogs had to do when working in the field.
When you're getting started, of course, you'll want to be in closer proximity. Make sure that your pup knows the basic commands before moving onto anything more complex.
The best thing that you can do for an Australian Kelpie is give them a training structure that aligns with their natural herding instincts. When you give them appropriate outlets to herd, they won't be so tempted to do so in the home or anywhere else. You'll also be able to more easily call them off when they start showing their herding tendencies. Plus, they'll absolutely love it. Teaching a Kelpie to herd, even if that means nudging different coloured balls into a net or a similar task, will challenge them mentally and tire them out.
Along these same lines, you might try out other fun physical activities such as obedience, flyball, and agility. These can be excellent activities to keep them mentally and physically stimulated if they are not being kept as a 'working' dog.  
Living Conditions

 

⌂
Although they commonly work on farms across Australia and New Zealand, Australian Kelpies are happy as family pets if they receive enough exercise. Like most working breeds, they'll need considerable daily exercise and mental stimulation to keep them happy and content. Having a back yard or a large house, then, is not as important as making sure they exercise regularly.
Because Australian Kelpies are so clever and prone to destructive behaviours, it's important to keep a close eye on them and plan for their antics. When they're alone in the backyard, they may feel tempted to hop the fence and browse the neighbourhood for any errant sheep. In the home, they may figure out a way to get into the food closet. Proper exercise and stimulation will quell some of these tendencies, but it's best to reinforce your fencing and hide anything that you Kelpie might find interesting while you're away.
Another way to prevent destruction is to give an Australian Kelpie something to do while they're alone. Whether it's a treat-filled toy or challenging game, it's best to find something to hold their attention while they wait for you or their trusted Dog Walker to relieve their boredom.
Australian Kelpie Grooming

 

✄
 Kelpies come in a variety of coat types – short, rough, or smooth – but, luckily, they're all pretty easy to groom. These dogs do shed quite a bit, so make sure to have a brush handy for some weekly or more frequent brushing sessions.
A bath once every few months is also a good idea, although keep in mind that these dogs enjoy a dense water-resistant undercoat. Hosing them down won't do as good of a job as a good, long soak.
In addition to the breezy grooming routine, make sure that you're also regularly brushing your Kelpie's teeth and trimming their nails. 
Australian Kelpie Health

+
This is a hardy, strong breed, but there are a few health risks to watch out for. There are a few that are common in most breeds of the same size: Progressive Retinal Atrophy and Hip Dysplasia being the big ones.
In addition, male Kelpies can suffer from cryptorchidism, in which one of the testes does not descend and can cause complications. These dogs are also at higher risk than average for Collie Eye Anomaly, which you can read more about in our Dog Breed Corner for the Border Collie.
Fun Fact

  

♥ 
Before 2011, much of the world didn't know about this special dog breed. But, with the release of the movie, Red Dog, dog lovers beyond the shepherding community learned about this wonderful doggo.
Red Dog was a pup well-loved in the 1970s, especially in the mining towns of the Pilbara region. This pup had many different Owners during his years and travelled up and down the coast; sometimes, he stopped cars by standing in the road and then demanding a ride. No one knows quite how old Red Dog was when he died, but in memoriam, the town of Dampier erected a statue for him. The inscription has the date of his death as 1979.
Red Dog has also been the subject of a few different books written about the region. Not many puppers can boast of such fame! 
Final Thoughts on the Australian Kelpie

 
Rough, rugged, independent, and fiercely loyal, the Australian Kelpie is the quintessential Australian sheepherding dog. This pup was built for a job made difficult by climate and breed of sheep, and they have never failed. To this day, the Australian Kelpie can be found alongside farmers all over the world because of their strong work ethic.
As family dogs, Kelpies require a huge amount of training and exercise. But with the right Owner, they're wonderful family pets. This is a dog that bonds deeply with their beloved humans and will do anything to keep them safe. They're a joy to have around and are always ready for a game or a quick cuddle.
For anyone able to take on the challenge of this high energy dog, the Australian Kelpie is well worth it. Without a doubt, this furry friend is one of the most unique and rewarding dog breeds around.
Comments
comments