In Dog Breed Corner this month is the Cavalier King Charles Spaniel! Check out the Cavalier's stats, personality, trainability, health, grooming and more!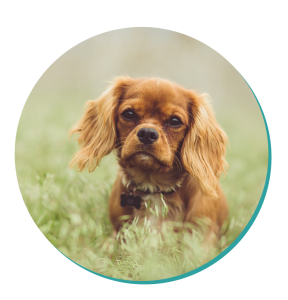 Quick Facts

 ✔
Height – 30 – 33 cm
Weight – 5 – 8 kg
Lifespan – 10 – 14 years
Country of origin: England
Breed type – Toy
Best breed for: 
Families with children
Single owners 
First time dog owners 
Households with other pets 
Breed History

 

♜
The Cavalier King Charles Spaniel has an extraordinary story! As the name suggests, the breed was a favourite of King Charles I and II during their reign and Charles II even created a law allowing all Spaniels entry into any public space, including the Houses of Parliament. It's believed that the law still stands today, although we're not sure if anyone has tested it! After King Charles II death, the Spaniel's popularity waned in favour of Pugs and other flat nosed breeds. It wasn't until the 1920s that anyone paid much interest to the archaic breed at all. A American named Roswell Eldridge travelled to England in search of a Spaniel resembling the ones he'd seen in paintings from King Charles' reign. He offered 25 pounds (a HUGE sum in those days!) to anyone who could provide a perfect example of the dogs from Charles' time. The offer stood for 5 years until someone came forward with a shining example of the Cavalier King Charles Spaniel and the interest in the breed was revived. Unfortunately for Eldridge, he never lived to see this happen as he died one month before the perfect pooch was found! The Cavalier King Charles Spaniel is not to be confused with the King Charles Spaniel, a smaller, flat nosed breed which were produced by breeding the "original" Spaniel favoured by King Charles with a Pug. 
Personality Traits & Trainability 

★
The Cavalier King Charles Spaniel has long been in demand as a companion dog, and it's easy to see why! Gentle, spirited and graceful, this breed will slot easily into life with a family or a single owner, in the city or in the country. Cavaliers have an easygoing approach to life and have a reputation for loving company – no one is a stranger to a Cavalier! They love children, are friendly with other dogs and can get along with other household pets. Their love of attention can result in separation anxiety and so they are happiest with owners who are home during the day or book them in to pet daycare to keep them happy whilst you're away. Easy to train and eager to please, this is a good breed for first time owners. 
Living Conditions

 

⌂
Although they may be small, Cavaliers love the outdoors! Although they are happy living in an apartment, daily walks are crucial and the opportunity to let loose and really stretch their legs on the beach or in the park will keep your Cavalier happy and healthy. Anxiety can be common with this breed and regular exercise (particularly before you leave the house) will keep their worries at bay. 
Grooming

 

✄
Cavaliers have beautiful, soft coats which are relatively easy to groom. Brushing 2 – 3 times a week will keep their coat looking shiny and avoid any matting of their long fur. The breed has feathering on its ears and legs and these longer hairs can become tangled and knotted easily so regular combing out of these areas is important.
Fun fact

  

♥ 
Due to their extraordinarily strong bond with their owner, the Cavalier King Charles Spaniel has the nickname "The Comforter Spaniel". 
Comments
comments