In Dog Breed Corner this month is the Cavalier King Charles Spaniel! Check out the Cavalier's stats, personality, trainability, health, grooming and more! Does your King Charles need some royal treatment? With Mad Paws, you can find top Dog Minders in Sydney, Perth, Darwin, and all across the land!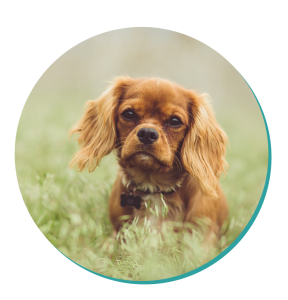 Quick Facts

 ✔
Height – 30 – 33 cm Weight – 5 – 8 kg Lifespan – 10 – 14 years Country of origin: England Breed type – Toy
Best breed for: 
Families with children
Single Owners
First time Dog Owners
Households with other pets
Cavalier King Charles Spaniel Breed History

 

♜
With a name like Cavalier King Charles Spaniel, there's no doubt that we're in for a royal tale. Just how regal is this dog's history?
The Cavalier King Charles Spaniel may belong to British royalty, but they're actually a fairly recent breed. The first of these pups came from Toy Spaniels, which were one of the most popular breeds for Europe's ruling class until the 18th century. The story claims that the Toy Spaniels and other red and white Spaniels came north from Spain (hence, Spaniel) where people bred such dogs for truffle hunting. A few generations later and the Cavalier King Charles Spaniel was born – although it wouldn't yet take that name.
It wasn't until King Charles I and his son, King Charles II, took an interest in the breed that these pups would settle into their new name. As you may have guessed, everyone began calling this pooch the King Charles Spaniel because of the father-son duo's obsession with them. When King Charles II assumed the throne, members of court apparently complained that the ruler would often neglect his duty to spend time with his dogs. Honestly, we understand. But we're also not running a country.
After King Charles II's death, Cavalier King Charles Spaniels would follow a somewhat winding breeding path. In line with the trends of the day, breeders crossed this pup with Pugs to achieve a more brachycephalic, or squished nose, look.
Others, such as wealthy American businessman Roswell Eldridge, were fond of the original full-muzzled pup. In 1926, he put an ad in the printed schedule of a well-known dog show in search of a more traditional male and female Cavalier King Charles Spaniel. In his ad, Eldridge offered a hefty sum of money (£25 in those days is something around £1,539 today!). However, he would have to keep running his ad for five years before he finally found the right dogs.
Tragically, before this Cavalier King Charles Spaniel mogul would be able to see his new puppies, he passed away. But he would receive credit for creating a new breed of dog that would be separate from the King Charles Spaniel. This new pup, the Cavalier King Charles Spaniel, would have the characteristic full snout that we know and love today. The Cavalier King Charles Spaniel is also slightly larger than the King Charles Spaniel.
Exactly why Cavalier was added onto the name, no one is quite sure. According to some interpretations, "Cavalier" was originally a derogatory name for the supporters of King Charles I in the English Civil War. Perhaps it's a callback to the longer-snouted Spaniels preferred by the royal family during that time. Clearly, there's nothing insulting about the name today, and the Cavalier King Charles Spaniel is an exemplary pacifist.
Cavalier King Charles Spaniel Personality Traits

★
The Cavalier King Charles Spaniel has long been in demand as a companion dog, and it's easy to see why! Gentle, spirited, and graceful, this breed will slot easily into life with a family or a single Owner. They can also adapt well life in either the city or the country.
Cavaliers have an easygoing approach to life and have a reputation for loving company – no one is a stranger to a Cavalier! They love children, are friendly with other dogs and can get along with other household pets. They consistently make the list for the most loyal dog breeds.
That said, their love of attention can result in separation anxiety. As such, they're happiest with Owners who are home during the day or book them in to Pet Day Care. These pups are so connected to their Owners that they're sometimes lovingly called "The Comforter Spaniel."
Cavalier King Charles Spaniel Trainability and Training Tips
Cavalier King Charles Spaniels bond deeply with their beloved Owners, which means they'll be eager to please when it comes to training. That said, don't expect this to be a dog that will go above and beyond to wow and entertain you. They would rather learn the basics and then spend their time snuggling up to you.
If you're looking for a circus dog, the Cavalier King Charles Spaniel will be too dignified for that. But if you're looking for a trainable, easy-going pooch who will learn the basics and never stray, this is the breed you need in your life.
Now, what do we mean by basic commands? It includes everything from "sit" and "come" commands to house training to manners around new people. A Cavalier King Charles Spaniel should learn the basics pretty quickly, despite some rumours about this pup being more difficult to house train than others.
One thing that you might try if you feel that your Cavalier King Charles Spaniel is slow to learn is to be mindful of their environment. This is a dog that wants to be friends with the world! If you're training them in a public place, they'll be distracted by their need to greet everyone. Instead train them in a controlled setting where they won't lose focus. As you start to introduce more distractions into your training sessions, remember to train these little puppers not to jump up onto people.
Exercise Needs
Although this is a lively and engaged little doggo, they're not high energy pups. Given their history in the lap of luxury, it makes sense. After they made the transition from truffle hunters to lap dogs, the Cavalier King Charles Spaniel gave up its need for fresh air and exercise.
Of course, no dog should be allowed to lounge around the house all day. These dogs, like any others, will benefit from ample playtime and outdoor exercise. Take them for a walk, socialise them at the dog park, and schedule some at-home playtime for mental stimulation.
As we said, this dog is prone to separation anxiety, which can be greatly helped by regular exercise. Make sure to walk them before leaving for work so that they can head into the day more relaxed. And, remember to call in a friendly Dog Walker to break the monotony if you're going to be away from home for more than a few hours.
Living Conditions

 

⌂
These dogs may have come up in grandiose palaces and mansions, but they're far from picky about their living arrangements. They'll be just as happy in a small apartment as they will be in a big home – as long as they get plenty of love and affection from their Owners. In fact, we've ranked them in our list of Best Dog Breeds for Apartment Living.
When these dogs aren't getting enough attention or stimulation, they can become quite destructive and vocal. If your neighbours complain to you about your Cavalier King Charles Spaniel, it's a sign that you might need to spend more time with them. Of course, while you're phasing out the destructive behaviour, you might keep valuables out of harm's way, and ensure that your pup cannot escape.
Crate training is a pretty good option for these dogs, as it will give them a quiet and relaxing place to wait for their beloved Owners to come home.
As your Cavalier King Charles Spaniel gets up in years, there will be a few alterations that you'll want to make around the house. Small dog ramps and plenty of comfortable doggie beds on floor level will help them stay comfortable as their mobility becomes more limited.
Grooming

 

✄
Cavaliers have beautiful, soft coats which are relatively easy to groom. Brushing 2 – 3 times a week will keep their coat looking shiny and avoid any matting of their long fur. The breed has feathering on its ears and legs and these longer hairs can become tangled and knotted easily so regular combing out of these areas is important.
Owners generally bathe this breed about once a month or every six weeks. That long fur tends to hold onto dirt and odours, so you might want to have doggie wipes on hand to keep them clean between baths. Try not to overbathe your Cavalier to lower the risk for skin problems.
In addition to coat care, remember that dental hygiene is especially important for small dogs. Teeth crowding can sometimes be an issue with this breed, so make sure to put them on a regular dog teeth brushing schedule.
Cavalier King Charles Spaniel Health

+
Unfortunately, this is a dog that is plagued with a list of health problems that is longer than average. Not all Cavaliers will suffer from these issues, but it's important to be aware of them if you're planning on bringing one of these sweet pups home.
Hip Dysplasia
Patellar Luxation
Retinal Dysplasia
Abnormal eyelids, or Entropion
Deafness
Epilepsy
A spinal cord condition called Syringomyelia
Allergies
Digestive Issues
Cancer
Thyroid Problems
Heart Mitral Valve Disease
As you can see, there are quite a few health conditions that this breed faces. New Owners should be aware of the potential medical bills and responsibilities that they might face when owning a Cavalier King Charles Spaniel. As we said, not all dogs within this breed will suffer from these health conditions. However, all potential Dog Owners should be willing and able to take on the health challenges.
Fun Fact

  

♥ 
Enough of the serious health talk, let's get to the fun facts! And with the Cavalier King Charles Spaniel, it's all about the colours. One colour, in particular, is a history lesson in itself!
The Blenheim Cavalier King Charles Spaniel is one of four accepted coat colours within the breed. And there's an interesting story behind it. Apparently, the Duke of Marlborough went into the Blenheim battle on the night that his beloved Cavalier King Charles Spaniel was to give birth. Knowing how attached he was to his little girl, his wife tended to the Cavalier King Charles Spaniel herself. To soothe the mum-to-be, she placed gentle pressure on the pup's forehead with her thumb.
Then, the Battle of Blenheim was won! The Duke returned to find that all of the Cavalier King Charles Spaniel pups were born with red markings exactly where the Duchess had placed her comforting hand. Henceforth, the coat colouration would be known as the Blenheim Cavalier King Charles Spaniel.
Tall tale or believable story? We'll leave you to decide.
Final Thoughts on the Cavalier King Charles Spaniel
Sweet, loving, soft, cuddly, regal, distinguished, insert any other positive doggie attribute here. The Cavalier is a dog that has rubbed shoulders with royalty, made waves in the dog show community, and melted the hearts of dog lovers all over the world.
They are a low-maintenance doggie as long as you can give them the one thing they need most in the world: love. With enough attention and some daily exercise to stretch their legs, they'll be a happy-go-lucky, laid-back dog. Grooming is pretty minimal, and they're a breeze to train.
At the same time, their health concerns should not be overlooked. There are quite a few medical issues that can pop up with this breed, so make sure that they get regular vet checkups, exercise, and proper nutrition for a happy, healthy life. And, take the risk for separation anxiety seriously so that you can have a relaxed and stable pup.
This is the ideal dog for families, single Owners, city-dwellers, beach-lovers, and just about anyone else. The Cavalier King Charles Spaniel is a dog to bring you comfort and be your constant companion.
Comments
comments