In Dog Breed Corner this month is the Staffordshire Bull Terrier! Check out the Staffie's stats, personality, trainability, health, grooming and more!
Quick Facts
 ✔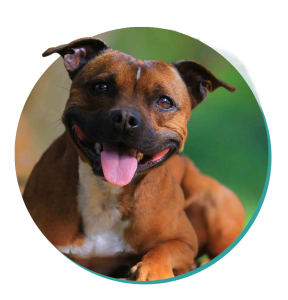 ​
Height – 36 – 41 cm
Weight – 11 – 17kg
Lifespan – 12 – 16 years
Country of origin: England
Breed type – Terrier
Best breed for: 
Families with children
Owners who want to try agility etc
Breed History
♜
The Staffordshire Bull Terrier has rather sad origins. Developed in England as a cross between types of Bulldogs and local terriers, it was originally bred for the fighting pits and called a "Bull and Terrier". Although it had to show courage and strength in the fighting ring, they also had to learn to be gentle and calm when handled by people. When dog fighting finally – thankfully – fell out of favour, the Staffie as we know it today was bred by a group of enthusiasts to create a stable family dog worthy of any show ring! The breed was finally recognised by the Kennel Club in 1935.
Personality Traits & Trainability

 ★

Staffies put 100% into every activity – play, work and love. According to experts, the Staffie is one of the best breeds to have around kids.  The Staffie is naturally affectionate and loves nothing more than to be around familiar people, although may be more unsure around unknown dogs and can sometimes show some aggression when challenged by unfamiliar dogs. Unfortunately, in recent years the Staffie has acquired an unwarranted 'dangerous dog' reputation and as a consequence the breed is commonly found in shelters. In actual fact, the problems lie with irresponsible owners who use the naturally stocky breed as a status symbol, rather than any inherent issues with the breed itself. As with most breeds, strong leadership is needed to keep a Staffie happy but with a loving owner, the Staffie is a sweet-tempered breed well suited to family life.
Living Conditions

 

⌂
The Staffie doesn't need a lot of space in the home but does need daily exercise through walking and playing to stay happy and healthy. As with all intelligent breeds, without daily exercise and stimulation, the Staffie can become bored and destructive. Their intelligence makes them ideal breeds to explore obedience agility, fly ball and other activities with to keep them challenged and content.
Grooming

 

✄
The Staffie has a thin coat, which makes them particularly suceptible to heat and cold – owners must be extra vigilant to protect their Staffie's skin from the elements on particularly hot or cold days, as their coat does not provide protection. Their coat is short and thin and so very easy to maintain and a weekly brush will keep them looking shiny!
Fun fact 

 

♥ 
The breed has earned its nickname as a "nanny dog" for its love of children
Comments
comments