No owner should expect their dog to never bark. That would be like not allowing a human to talk. However, if your dog barks excessively and it is becoming a problem in your home, it's time to look a little closer and think about why and what you can do to help.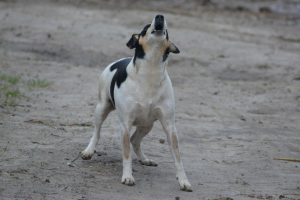 It's hard to pinpoint exactly why dogs bark excessively but it could be one of the following reasons:
Boredom
Loneliness
Fear
To get attention 
Anxiety
Barking at birds or passersby
Perceived threat 
Barking when home alone
Dogs who are home all day alone may bark purely for something to do and their woofing may be accompanied by destructive behaviours such as ripping things apart, scratching, chewing etc. When you're left alone, bored and lonely, barking can seem like pretty good entertainment!  
If you have to go out, leave your pooch with plenty to keep him entertained! Kongs stuffed with treats can keep your doggo happy for a while and for an extra challenge, plug the end with peanut butter. Interactive puzzles like these from Nina Ottosson can also be a great way to keep your dogs' mind busy.  Finally, leaving a radio or the TV on to drown out noises from outside will help to avoid your doggo shouting to every passerby or bird! 
If you're going out for a longer period, why not book a Mad Paws sitter? Book a House Visit to someone pop in to check on your doggo, a Dog Walk to get them out and about or go the whole hog and book them into Doggy Daycare! 
Barking indoors
If your pooch is barking when you are home, it could still be due to boredom and lack of stimulation. Do you walk your dog daily? If not, start by adding a daily walk into your routine. If you already walk every day, add another level of challenge into your daily walk; add an incline, turn your walk into a run or add in a game of fetch in the park before heading home. Much like when your pooch is home alone, making sure they have plenty of mental stimulation to tire them out will avoid barking indoors so make sure they have plenty of toys and puzzles to play with when indoors. 
As with all dog training, consistent positive reinforcement is the most effective way for them to learn. A short, sharp "quiet!" command from you when they are barking should be enough to redirect their attention. Once they have stopped barking, reward their silence with a treat. Make it a favourite one though to make it more appealing than a good old bark! 
Barking in the backyard 
Does your doggo launch himself into the backyard, barking at the moon? Many owners think their dog barks for 'no reason' when in fact, dogs ears are so finely tuned there's every chance they can hear another dog barking far away or a pesky bird winding them up. Nonetheless, dogs who repeatedly bark in the backyard can be a nuisance. 
First, try rewarding your doggo every time he goes out and doesn't bark. If that's not working, try stepping outside with him on a long leash. Let him explore, sniff and do his business as he normally would but the moment he starts barking, take him back inside with a firm "QUIET!". The leash is important as without it, it's likely he will have stopped barking by the time you catch him and take him inside and therefore won't understand . Eventually – after consistence by you – he will understand that as soon as he starts yapping, he gets taken inside and his outside fun time is over. The solution? Stop making a racket! 
If you have a doggo who barks a lot and have found other solutions, let us know in the comments below! 
Comments
comments