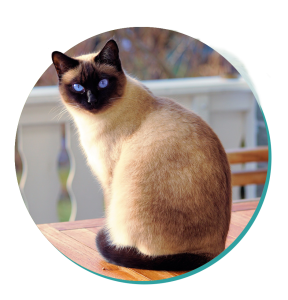 Quick Facts
Weight – 3 – 6kg
Lifespan – 10 – 13 years
Best breed for – 
Non-smokers
People who dedicate extra time to cats
Families with/without children
Adults who want a companion.
Personality Traits & Trainability ★
 The unconditional love and affection given towards their owner/families, make Siamese a great fit for almost any type of owner. They possess strong intelligence, making them one of the most popular cat breeds to own. Although they are very playful, they are super kid and pet-friendly so suit homes with other pets.  However, don't be fooled by these cuties, they are known to also be chatterboxes! They are a very vocal breed so if you're looking for someone to respond to your long days in the office, Siamese will not be afraid to give you their opinions about Susan from Admin.
Grooming ✄
Prepare to find cat hair on your clothes, because these guys shed! Luckily, Siamese have short hair which requires minimal grooming (they already do this to themselves). You're gonna need a lint roller though!
Health +
These gracious beauties are unfortunately exposed to higher risks of respiratory, heart and liver problems, due to poor breeding practices. It doesn't necessarily mean that your Siamese will develop these diseases, however, it is important to have regular check-ups at the vet to minimise the risk. 
Fun Fact ♥
 Burmese, Bengal and Himalayan cat breeds derive from the Siamese!
Comments
comments