We had thousands of entries and considered each and every one! We wish everyone could have been a winner but eventually our panel had to choose! Meet our state finalists and the overall Australia's Dog of the Year! 
State Finalists
| | |
| --- | --- |
| | When his owners Anavi & Luke were teaching in Laos, they found 2 week old Zeppelin on the side of the road. Although they were told by vets that there was absolutely no way a dog of that age could survive without its mother,  Anavi & Luke didn't give up. After weeks of bottle feeding, Zeppelin went from strength to strength and defied all the odds! From Laos, Zeppelin travelled to Vietnam and Malaysia on his long journey back to Australia. He's now almost 18 months old, settling well into Aussie life and is stronger and healthier than ever!  |
| Indi really is a miracle pooch. After a difficult start to life in a shelter and being attacked by the family dog at her first adoptive home, Indi was readopted by her owner Ellen. After slowly building up her confidence over a period of months, Indi disappeared from a friend's yard and left no clues as to where she'd gone. Although Ellen searched everywhere for her, she eventually gave up hope and knew that nervous, gentle Indi would probably not have survived out in the wild. 6 months later, Ellen received a call to say Indi had been found wandering on the street and was now in a shelter. With barely any fur, a low weight and not even knowing her own name, Ellen could only imagine what Indi had been through. A long journey with dog behaviour therapists has meant Indi is finally a happy, secure and patient pooch who is completely settled back into life!  | |
| | Duncan is a little scamp! He's very lucky he's so cute and gets away with all the "adventures" he goes on. He brings endless joy to his family who never know what he's going to do next! Whether he's getting a report card from doggy daycare, swallowing a precious USB stick or eating 12 tea light candles, this mischievous pooch keeps his family on their toes! Not only does he bring smiles to his family, he's also training to become a school support dog, helping out in the classroom and keeping students happy and focused!  |
| After having Piper for a few weeks, her owner Tegan could tell that Piper was extraordinarily intelligent and needed a job to keep her stimulated and happy. They are now training with the WA Search and Rescue canine unit, using Air Scenting to cover large areas of the bush. Piper and Tegan work to locate lost people, often elderly people with Dementia or young children who have wandered off/run away from home.  | |
| | Bodhi the 3 year old Groodle helped her owner cope with tragically losing the man she was dating. Bodhi was there for her owner Tayla in ways no human could be, anticipating what she needed before Tayla even knew herself! After experiencing the comfort brought by Bodhi, her owner was inspired to breed therapy and companion dogs from Bodhi and is learning to train the dogs to provide companionship and assistance to children and adults with autism.  |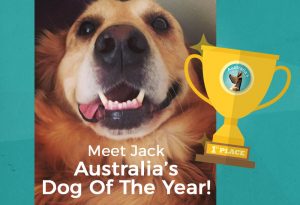 Jack is officially Australia's Dog of the Year! The adorable 8 year old Golden Retriever x Labrador is forever in his family's good books when he literally saved their lives recently. Jack's typical nighttime routine was to go outside for 20 minutes before coming back in to sleep inside with his family. On one particular evening, both of his owners, Laura and Scott were ill; Laura was already deeply asleep in bed when equally sick Scott let Jack out for the last time. While he waited for Jack to do his thing, Scott lay down on the bed and unintentionally and immediately fell into a deep sleep. Some time later, both Laura and Scott were woken up by Jack making strange noises- Laura said "it wasn't like any noise I'd ever heard him make before. He was running around outside back and forth between our bedroom and the back door, making a really strange noise". It was only when Scott got up and opened the bedroom door that he saw that the house was on fire only 2 metres from the bedroom door where they had been sleeping.  If Jack hadn't woken them up, Laura and Scott would have been trapped in their bedroom very quickly. Thanks to Jack, the family were able to get out without injury and the damage to their home was minimised. Jack, there's no doubt in our minds that you are Australia's Dog of the Year! 
Comments
comments