If your dog has red splotchy rashes on their skin, you might find yourself scouring the internet for answers. Is it ringworm or mange? Or has your furry friend developed bacterial dermatitis in dogs? As is always the case with unknown skin conditions, the best answers are going to come from your vet. Luckily, your reliable pet insurance coverage will mean that you can get Fido in for a vet visit as soon as possible.
But between now and your vet appointment, you can take the opportunity to familiarise yourself with one of the more common reasons for doggy derma discomfort: bacterial dermatitis.
In this article, we'll talk about how to spot this skin condition, what your vet might recommend, and how you can prevent it from coming back in the future.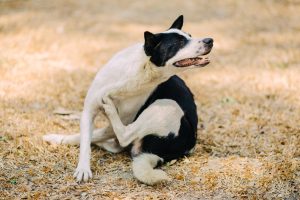 What is bacterial dermatitis in dogs?
Dermatitis is a general term for skin problems and can refer to a range of different causes, from fungal infections to parasites to food allergies. In the case of bacterial dermatitis, your dog's immune system is reacting to a type of bacteria present on the skin. 
Staph infection is the most common form of bacterial dermatitis in dogs, and it's the result of an overactive colony of the staphylococcus bacteria. This type of bacteria and many others are typically found on the skin of dogs and humans in normal circumstances. But, when the skin is irritated or damaged, such as in the case of a parasite bite, dryness, food allergies, or injury, the bacteria seize their opportunity to multiply.
What does a bacterial infection look like?
Dermatitis can look slightly different depending on the infection, but common symptoms include:
Red, inflamed, itchy skin, especially around a dog's more vulnerable areas such as the lips, eyes, armpits, and tail 

Hot spots, or bald patches

Scabs, scaling or lesions
Dogs suffering from dermatitis tend to lick, scratch and chew on the affected area, which can make matters worse. You might notice a bad smell as the infection develops.
Are some dogs more prone to bacterial dermatitis?
All dogs can develop bacterial dermatitis, but some dogs are more vulnerable to infection, including:
Brachycephalic breeds.

Dogs with wrinkles around their face and neck may be more prone to infections, as moisture trapped in skin folds creates the perfect environment for bacteria.
Golden and Labrador Retrievers
Terriers, such as Scottish Terriers and Miniature Schnauzers
Not all dogs in the higher risk category will develop bacterial dermatitis. But Dog Owners of these breeds may want to take special care to prevent infections (more on that later!)
How will your vet determine if your dog has bacterial dermatitis?
It is always extremely important that dogs suffering from dermatitis see a vet. Seeking medical treatment is the best way to quicken the recovery process, but it's also an important step in ruling out potentially life-threatening bacterial infections such as leptospirosis.
In order to determine whether a skin rash is fungal or bacterial, a vet will likely take a sample of the skin cells for further diagnostic testing.
What are the treatment options for bacterial dermatitis in dogs?
There are a couple of different treatment options that your vet may recommend to address both the infection and the cause of bacteria growth. If your vet theorises that the original infection was caused by a flea bite, for instance, they may recommend that you use antibiotics to manage the bacteria as well as a flea medication to prevent repeat infection. Similarly, if they feel that the infection was triggered by a food allergy, you'll want to address the infection while finding a less itch-inducing diet. 
When it comes to antibiotics, your vet will determine whether a topical or oral option is most appropriate for your dog. Steroids or anti-inflammatory medication may also be part of the treatment plan.
Unfortunately, it can be difficult to predict how long a treatment plan will last for bacterial dermatitis in dogs. In some cases, your dog's dermatitis will clear up by the end of the round of antibiotics. For others, you may be dealing with recurring infections until the underlying cause has been addressed. 
Throughout the treatment process, you can expect to make regular trips to the vet to monitor progress and make adjustments as necessary. For this scenario and for your dog's overall health, it's a good idea to get them on a full coverage pet insurance plan.
What can you do to prevent it in the future?
Unfortunately, once your dog recovers from their bacterial infection, they could be at risk for developing it again in the future. Here are a few ways that you can reduce the risk of recurring bacterial dermatitis in dogs:
Stay up to date on parasite medication.

Ticks, fleas, and other parasites can lead to scratching and open wounds. So, never miss a round of medication, and consider staying away from areas where parasites are common.
Put them on a high quality dog food plan.

Stick with fresh ingredients, dog-friendly veggies, and skin-healthy fatty acids.
Keep their bedding and toys clean.

As we mentioned, many of the bacteria that cause bacterial dermatitis are naturally found on the skin. But, it's still a good idea to keep all living areas clean. That way, you'll lower the amount of dust, pollen, and other irritating allergens that could trigger itchy skin.
Arrange for your dog to stay with a Pet Sitter rather than a kennel.

For dogs at higher risk of developing dermatitis, it's recommended that they stay in the care of a trusted Pet Sitter. This will ensure that your dog suffers fewer airborne allergens than they would be in a crowded kennel. And, the one-on-one care of a Sitter will mean that early signs of itchiness won't be overlooked.
Practice regular grooming.

Regular grooming is important for all dogs, but especially those with skin folds that could harbour bacterial colonies. You should clean these areas with dog-friendly wipes frequently to prevent infection.
Provide your home with ventilation and low humidity levels.

Like fungi, bacteria love warm, humid environments. Make sure that your dog's living area is well-ventilated to make it more difficult for colonies to develop.
If your dog does experience another round of bacterial infection, don't be so hard on yourself. Completely eradicating this skin condition can take some trial & error before you find the right skincare routine for your dog.
Bacterial dermatitis in dogs is definitely a challenge. However, with vet visits, minor changes to your dog's lifestyle, and some patience, your dog can have healthy skin again!
Comments
comments