You've checked your itchy dog for fleas, washed them with pH balanced shampoo, and scoured the internet for topical remedies. But still, your dog scratches, nibbles, and relentlessly searches for the perfect tree to shimmy up to and find some relief. If this is the case, your dog might be suffering from food allergies or an intolerance to a particular ingredient. Because itchy skin is one of the most prominent signs of food allergies in canines, doggy scientists are on the hunt for the best diet for itchy dogs.
We'll warn you now though, when it comes to dogs and diets, there is no one-size-fits-all approach. You may need to try out a few different options to see which one works best for your dog. 
So, get you and your pup some matching chef hats, and let's find their perfect menu!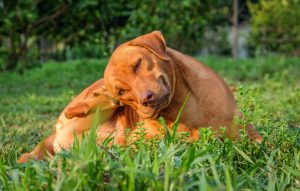 First off, chat with your vet about the best diet for itchy dogs
Any time that you're considering a diet change for your pooch, your vet is going to be a great resource. Chances are, your pup isn't the first scratchy Saluki to walk through their doors, and they may be able to recommend solutions that have worked for their other patients.
Wise advice aside, your vet will help you monitor your dog's health as you try out different diet options. So, make sure to check in with them when you're thinking of making changes.
How can you find the best diet for itchy dogs?
Once you get the go-ahead from your vet, you can start the search for your dog's ideal diet. Like we said, this isn't going to be the same journey for every Dog Owner. But, there are a few common steps that will help you create a meal plan that is best for your dog, including:
Simplify the ingredient list
The best way to identify your dog's food allergy is through the process of elimination. And, that's a much easier task when your dog's food has a very short ingredient list. 
This is where the discussion about commercial dog foods comes into play. If your dog is suffering from food allergies, that doesn't mean that they'll be allergic to all commercial dog foods. But, because the ingredient lists for these types of food tend to be so long, it can be difficult to pinpoint which ingredient is causing your dog digestive discomfort. You might find yourself swapping from one food brand to another while never finding out which ingredient is causing the food allergies.
All-natural meals, on the other hand, tend to have simple ingredient lists that will give you more control over what your dog is eating.
The fresher the better
Fresh dog food tends to be preservative-free, which is another way you might soothe your dog's itchiness. If possible, give your dog locally sourced, all-natural dog food to lower the likelihood of chemical additives.
If you're looking for really fresh, try your dog out on a raw dog food plan. Raw diets are all-natural and can promote skin and coat health.
Swap out the proteins
According to the vet nutrition team at Tufts University in the United States, the most common food allergy in dogs comes from animal protein. That means that your pup may be experiencing a reaction from the type of meat in their food.
While there are no universally hypoallergenic meats, you might give your dog some relief by trying out a different source of protein, like kangaroo or lamb and see which one is best for your pup.
Grain-free? 
The discussion to go grain or grainless is a bit controversial at the moment. On the one hand, grains in your dog's food may trigger an allergic reaction, especially if the source hasn't been well protected from storage mites or other pests. So, in terms of skin and coat health, grain free might be the best diet for itchy dogs.
But, as is sometimes the case with nutrition science, new studies uncover new concerns! And in recent years, grain free diets have been flagged as increasing the risk of heart disease in some dogs. 
Exactly why grain-free diets have had this effect is still unknown, and not all dogs will experience adverse effects. Make sure to talk with your vet about whether a grain free diet is appropriate for your dog.
Always go with human-grade
You don't want your dog to eat off your plate, but you do want to be able to eat off your dog's plate. Wait, let us explain! 
Human food is tested and held to a much higher standard than dog food, which can leave your pup with questionably sourced ingredients. Sure, it's all-natural, but does that really mean it's been properly screened for bacteria, parasites, mould, and anything else that might trigger an allergic reaction in your dog?
If it doesn't have a human-grade rating, it could be giving your dog a reason to scratch.
Look for Omega-3s
Essential fatty acids are the darlings of coat health. If you want your pup to look and feel good, Omega-3s are the way to go.
For this reason, the best diet for itchy dogs often includes fatty fish, such as sardines, or leafy greens. You may also be able to ease your dog's itchiness with the right supplements added to your dog's food.
Final thoughts on finding the best diet for itchy dogs
We wish we could snap our fingers and help your pup feel better, but the truth is, dietary issues don't go away overnight. You'll want to slowly transition your dog to their new food to avoid abrupt changes that could lead to stomach upset. And, be ready to monitor your dog for at least a few weeks, or as long as your vet recommends, to see if the new diet plan is working.
And remember, while you search for the best diet for itchy dogs, don't be afraid to reach out and ask the tough questions of your dog food provider. If you're working with a high quality dog food maker, they should have options for dogs with a sensitive digestive system and itchy skin.
Comments
comments