Essential oils have exploded in popularity in recent years, and these days, you'd be hard-pressed to find a home without a diffuser (or two). From the soothing scent of lavender to the energising aroma of rosemary, many people are singing the praises of these magical little vials. But as much as you may love them, the question remains: Are diffusers safe for dogs?
We're here to break down all your burning questions about the safety of electric diffusers, reed diffusers, and essential oils in general. Here's everything you need to know, whether you're a Dog Owner or an experienced Pet Sitter.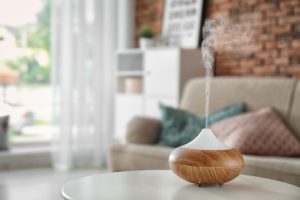 Are diffusers safe for dogs?
Well, the real question here is actually whether or not essential oils are safe. A diffuser on its own is harmless – it's what goes in it (and how much) that matters. Essential oils may smell lovely, but unfortunately, many of them can be quite harmful to your pupper pal. Remember – natural doesn't always mean safe.
The following essential oils are considered harmful to dogs and should always be avoided. This list isn't exhaustive, so always do your research before adding a few drops to your diffuser.
Anise oil

Cinnamon oil

Citrus oil (d-limonene, linalool)

Clove oil

Garlic oil

Juniper oil

Pennyroyal oil

Peppermint oil

Pine oil

Sweet birch oil

Tea tree oil (melaleuca)

Wintergreen oil

Yarrow oil

Ylang ylang oil
On the other hand, there are some essential oils that are safer to diffuse (in moderation) around your doggo. These include chamomile, cedarwood, clary sage, ginger grass, lavender, and marjoram. That said, even though these oils are safer, none get a proper stamp of approval and they should still be heavily diluted. If you're unsure, consult your vet before using any oils.
Even if you take all the right precautions, your dog may still have a negative reaction to what you're diffusing, whether inhaled, ingested, or absorbed through the skin. We recommend familiarising yourself with the symptoms of poisoning in dogs, and investing in a comprehensive pet insurance policy in the event that anything goes wrong. If your pup experiences the following reactions, take them to a vet immediately or call the Australian Animal Poisons Centre on 1300 869 738.
Watery nose or eyes

Redness in the lips, gums, tongue, or skin

Vomiting

Drooling

Pawing at the face or mouth

Difficulty breathing (coughing, panting, wheezing)

Fatigue, weakness or tremors

Slow heart rate

Low body temperature
What about reed diffusers?
So now we know that the answer to the question of, "are diffusers safe for dogs?" (or at least electric diffusers) is generally "no", you might be wondering about reed diffusers. These popular diffusers are quite different to other diffusers in that the fragrance solution is pre-made, and scent is diffused not by mist, but by absorbent wooden reeds. Unlike electric diffusers, reed diffusers cannot be turned off, nor can their scent be fine-tuned like an ultrasonic diffuser.
While reed diffusers certainly aren't considered good for dogs, they tend to be safer than electric diffusers. That's because the oil is typically more diluted and the diffuser doesn't send oil droplets into the air. As long as you place it in a large, well-ventilated area and keep it well away from your pup's prying paws, you should be good to go. Just ensure that you keep an eye on your furry friend for any reactions.
Is it safe to apply essential oils topically to dogs?
Given the risks of simply diffusing essential oils around dogs, it shouldn't come as a surprise that applying them topically is a big no-no. Oils can be harmful to inhale, but they can be particularly damaging when coming into contact with skin.
Your pupper's skin is more sensitive than you might think, and pure essential oils are so concentrated that they can cause severe reactions (even chemical burns) when applied topically. It's possible that you've read about holistic flea and tick treatments (or even certain illnesses) using essential oils. Unfortunately, there is very little scientific evidence to back these claims up, so it's best to steer clear entirely. In fact, one study found that essential oil-based flea treatments can be fatal.
Tips for using diffusers safely around dogs
In the end, diffusing essential oils around dogs may have more risks than benefits, so it's better to avoid doing so altogether. However, if you're not ready to say goodbye to your diffuser just yet, there are steps you can take to reduce the risk to your furry friend.
Location, location, location

. You can significantly reduce the risk to your pup by keeping your diffuser in a room your dog can't get to. Whether you keep it in the bathroom for some aromatherapy during a relaxing bath or in the bedroom to help you sleep, ensure your four-legged pal can't enter. Afterwards, make sure you air out the room thoroughly before allowing them back in.

Dilute

. Remember, a

dog's sense of smell

is 40 times stronger than ours. While a small amount of oil may calm you down, it may stress your pooch out. For reference, you should aim to keep concentration levels between 1% and 3%. That's around 1 to 6 drops per 100ml.

Keep oils out of reach.

Essential oils can do significant damage to dogs when ingested. For this reason, it's recommended that any essential oils or diffusers be completely outside of your pup's reach. Ideally, try to keep them safely away in a cupboard or on a tall shelf.

Wash your hands. Whether you've touched the oil itself or a diluted solution, always wash your hands thoroughly afterwards. If your pooch licks your hand, they may accidentally ingest remaining oil.
Comments
comments