If your pup flies through your training sessions, it may be because they're among the easiest to train dog breeds! These doggos are known for their people-pleasing attitude, quick responses, and endless willingness to prove their skills. In this article, we'll list the easiest to train dog breeds along with some history to explain why they're such great students. And, whether your pupper makes the list or not, we'll include some tips for more efficient training so that your pupper can impress your houseguests and their local Dog Walker!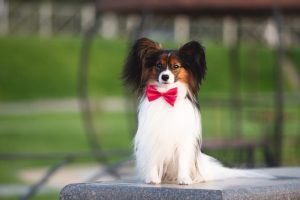 Easiest to train dog breeds: small dogs
Despite the misconception that small dogs are harder to train, there are plenty of little breeds who are ready to learn anything you throw at them! 
#9: Miniature Schnauzer
Sure, these mustachioed little terriers can be a bit stubborn at times, but all they want in life is to do a good job for their favourite human. Schnauzers were originally bred as farm dogs, where they had to follow their Owner's lead to help with daily chores like livestock herding. 
Miniature Schnauzers are the most popular size of Schnauzer you'll find at the dog park. But the Standard and Giant Schnauzers are just as trainable as their little relatives!
#8: Papillon
Even though they were bred to live among royalty, the Papillon has never been an overly spoiled pooch. Instead, they are highly trainable, sociable, and calm. It's part of what made them such excellent subjects for regal portraiture in the 16th and 17th centuries!
You'll find that training a Papillon is easy and enjoyable. They're more than willing to prove that they're more than just a pretty face and feathered ears.
#7: Boston Terrier
You might be surprised to see another terrier on the list, but the Boston Terrier really is one of the easiest to train dog breeds. They're highly intelligent and people-oriented, meaning that they'll always show up to training sessions with focus and a good attitude.
They do have a touch of stubbornness to get over, but with the right treats and praise from their favourite humans, they'll get with the training program in no time!
#6: Cavoodle
A Cavoodle is a cross between a Poodle and a Cavalier King Charles Spaniel and just so happens to be a highly trainable pupper. With the intelligence and focus of their Poodle background and the people-pleasing personality of their Cav ancestors, this dog is willing and eager to learn new tricks.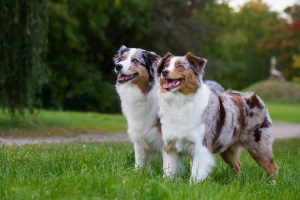 Easiest to train dog breeds: Large dogs
To be sure, not all big dogs are among the easiest to train dog breeds. But this handful of dogs includes some of the most trainable doggos you'll find!
#5: Labrador
We tend to know Labradors as skilled waterfowl hunting dogs, but in fact, they were originally bred to be fishing boat dogs! In the frigid waters off the coast of Canada, these dogs were responsible for bringing in fishing nets and carrying messages between boats. 
It's for this reason that the Labrador is such a trainable doggo. They had to be focused and ready to work for their own safety and the safety of their crewmates. Once hunters saw what a wonderful working companion they were, these dogs became revered waterfowl hunters, as well. 
#4: German Shepherd
Ahh, the German Shepherd. One of the most versatile and dependable canines in the dog world. They're loyal and smart and ready to take on a variety of roles. In fact, not only have they made a name for themselves in fields of law enforcement, the military, and search & rescue, but they're also a popular therapy dog and guide dog. 
Whether it's potty training, crate training, obedience training and more, the German Shepherd is quick to adapt to your lifestyle. That's not to say they can't develop some undesirable habits, like dog aggression, but under the right handler, they are incredibly trainable dogs.
#3: Poodle
While they have a hunting background, a fun fact about the Poodle is that they were once also famous circus dogs! Because they're so smart and hard-working, they make for the perfect performance pooch. Throughout the 19th and 20th century, Poodles were coiffed to perfection and paraded into the ring to show off their gymnastic skills and sense of humour.
Today, you'll find that Poodles are still some of the easiest to train dog breeds. And they don't mind swapping out the circus crowd for their #1 fan: their favourite human!
#2: Australian Shepherd
Aussie Shepherds aren't just fans of training, they're absolutely obsessed with it. If you can't give this brainy dog a job to do, they'll find all sorts of ways to make their own fun.
Once a sheepherding dog in the mountains of the American West, the Aussie Shepherd is a good balance of independent spirit and team player. Once you teach them what you want them to do, they'll spend every moment proving to you just what excellent learners they are. Make sure to give them a good cuddle at the end of the day to show how proud you are of them!
#1: Border Collie
Border Collie Owners know what it's like to have a dog constantly looking at them for a new trick to learn or job to do. These brainiac dogs never take a break! 
Whether it's dog yoga, agility training, farm work, or an ever-going list of show tricks, a Border Collie will be glad to step up to the challenge. And with seemingly endless energy and focus, their place as the #1 most trainable dog is well-deserved.
How to train your pup as fast as possible
Whether or not your pup made the list of easiest to train dog breeds, there are a few ways to make your training methods more efficient. After all, even the most trainable pupper needs the right environment to reach their full learning potential! Here are a few tips to training your dog faster:
Give them plenty of exercise

. Dogs who are furry balls of energy will have a harder time focusing. So make sure they get some daily exercise, either with you or a local Dog Walker, for better engagement during training sessions. 

Use positive reinforcement training

. All of the dogs that we've included on our list of easiest to train dog breeds respond better to positive reinforcement training than harsh punishments. With a handful of dog treats, you'll make much better progress, and it'll be more fun for both of you!

Keep your pup healthy.

Just like you can't be productive when you're not feeling well, your pup won't be in the best state for learning if they have a medical condition. Always stay up-to-date with your vet visits, and sign up for

reliable pet insurance

for the best care possible.

Don't forget to bond with your dog.

By far, the best way to speed up the training process for any dog is to focus on the relationship. If your pupper sees you as a dependable, trustworthy leader, they'll be happy to take direction and learn from you. So, spend time playing, cuddling, and feeding them their favourite treats for a better training relationship.
At the end of the day, any doggo can become a brilliant student regardless of breed! 
Do you feel that you have a highly trainable doggo? Does your trusted Pet Sitter compliment your pup on their quick learning? We'd love to know about how your pup stacks up to the easiest to train dog breeds and what you do to keep their mind sharp!
Comments
comments