In Dog Breed Corner this month is the Cavoodle! Check out the Cavoodle's origins, personality, trainability, grooming needs and more!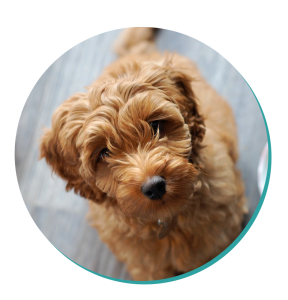 Quick Facts ✔ ​
Height – 20-35cm (depending on size of Poodle parent)
Weight – 4 – 10kg (depending on size of Poodle parent)
Lifespan – 10 -14 years
Country of origin – USA
Breed type – Hybrid 
Best breed for: 
Families with children & other pets
First time dog owners
Single owners 
Breed History

 

♜
The beloved Cavoodle – also known as a Cockerpoo or Cavapoo – is a cross between a Cavalier King Charles Spaniel and a Poodle and has seen a similar boom in popularity to their cousin, the Labradoodle over the past 10 years. The first Cavoodle is believed to have been bred in the USA in the 1950s before eventually reaching Australia and the UK. Like all hybrid or "designer" dogs,  the Cavoodle is not officially recognised as a breed by any of the major international Kennel Clubs. However, The Cockapoo Club of America formed in 1999 and created a breed standard. 
Personality Traits & Trainability

 
★
Cavoodles are intelligent, gentle dogs who make the perfect companion for owners young and old. The breed inherits their high intelligence from the Poodle ancestors, making them relatively easy to train, and their wish to be near their family from their Cavalier King Charles Spaniel roots. The Cavoodle is easy going and loves to play – and doesn't need much space to do so – and can make perfect playmates for children with equally boundless energy.  Much like the Cavalier King Charles Spaniel, Cavoodles can become extremely attached to their owners and can suffer from separation anxiety when left alone. This can be reduced by leaving them plenty of activities to keep them busy or breaking up their day with a dog walk or visit from a Sitter! As with all cross breeds, it can be challenging to predict which characteristics they will inherit from each parent's breed. With first generation Cavoodles (bred from a Poodle and a Cavalier) it is more difficult to predict their temperament or appearance than with a second generation dog (bred from two Cavoodles).  
Living Conditions

 

⌂
Cavoodles don't need oodles of space. A small back yard and a couple of walks a day will keep this breed happy. They are well suited to apartment living as long as they get out and about regularly on walks and playdates with other furry friends. Due to their strong bond with owners and need to be around people, Cavoodles are not well suited to life outdoors.
Grooming

 

✄
Thanks to the fact the Poodle and Cavalier both have a wide variety of coat colours, Cavoodles come in pretty much any variety imaginable – straight or curly fur and in most colours including black, white, tan and rust.  Thanks to their Poodle origins, most Cavoodles do not shed. although this is not a guarantee. They will need grooming every couple of months and a close eye must be kept on their lovely, big, floppy ears to avoid painful ear infections. 
Fun Fact

  

♥ 
Cavoodles are one of the top 10 most expensive breeds to purchase!
Comments
comments