In Dog Breed Corner this month is the Cavoodle! Check out the Cavoodle's origins, personality, trainability, grooming needs and more. And if you need a Cavoodle-friendly Pet Sitter in Brisbane, Perth, or elsewhere in Oz, Mad Paws will assist!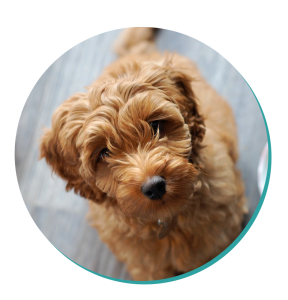 Quick Facts ✔ ​
Height – 20-35cm (depending on size of Poodle parent)
Weight – 4 – 10kg (depending on size of Poodle parent)
Lifespan – 10 -14 years
Country of origin – USA or Australia (contested)
Breed type – Hybrid 
Best breed for: 
Families with children & other pets
First time Dog Owners
Single Owners 
Breed History

 

♜
Not to be confused with the similarly named Cockapoo or Spoodle (Cocker Spaniel and Poodle hybrid), the beloved Cavoodle is a cross between a Cavalier King Charles Spaniel and a Poodle. It's one of the oldest of the Poodle hybrid breeds, and has probably been around since the 1950s or earlier.
Finding the exact origins of the Cavoodle is not easy. Most experts agree that the first Cavoodles were probably adorable little accidents between Poodles and Cavalier King Charles Spaniels who were not meant to breed. The lovable results, though, would bring the attention of serious breeders who wanted to develop a formal breed of Cavoodles.
By the 1990s, the first ever recorded Cavoodle litter was born in Australia. It's for this reason that some argue the Cavoodle to be an Australian breed, despite some earlier accidental litters from the US.
Yet, formalising the Cavoodle breed hasn't been easy. As we see with many of the other Poodle hybrids, such as the Labradoodle or the Goldendoodle, there's a wide range of coat types and other genetic traits. It can be difficult to establish a breeding line that will produce standard puppies. To confuse matters further, breeding philosophies can split into two different groups: those who want to establish a Purebred Cavoodle and those who would rather breed Poodles and Cavalier King Charles Spaniels for each generation.
While there are many local Cavoodle societies and breeding programs around the world, this breed has yet to be recognised by any major breed associations or kennel clubs. But that doesn't make this breed any less desirable for Cavoodle enthusiasts.Whether they carry the label or not, this doggo wins the hearts of dog-lovers all over the globe.
And, how about the history of the puppers that went into making the Cavoodle?
Well, the Miniature Poodle comes from the Standard Poodle, which has been bred as a hunting dog for hundreds of years. As far back as the 1400s, breeders started to shrink the Poodle into a lovable miniature version so that royalty could enjoy a lapdog with a good personality and soft, non-shedding coat.
On the other side, the Cavalier King Charles Spaniel was developed in the 17th century in Britain. The name comes from the breed's number one fan – King Charles I, himself. His son, King Charles II was also a huge Cavalier King Charles Spaniel enthusiast, and was known to have one in tow wherever he went. While Spaniel dogs were originally bred for hunting, the Cavalier King Charles Spaniel is a lovable lapdog, through and through.
So, we have two dogs that were originally bred to hunt and then later adapted to a more luxurious lifestyle. Where does that leave us when it comes to personality? Let's take a look!
Cavoodle Personality Traits

 
★
Cavoodles are intelligent, gentle dogs who make the perfect companion for owners young and old. They are even-tempered, people-oriented, and will get along with everyone in the family, including other pets.
If there's one thing that the Cavoodle has inherited from it's hunting dog origins, it's intelligence. Cavoodles are smart and aware of their surroundings. Plus, they're endlessly curious. They'll play the role of an adept watchdog, barking at approaching strangers. But, they also know when to let their guard down as soon as they've assessed the situation and the newcomers prove themselves to be dog lovers. As long as they've been properly socialised, Cavoodles get along easily with new people and other animals. They also do well in public places.
Cavoodles love attention, and they'll rely on a variety of adorable tactics to entice every family member to play or cuddle. They love to be in a household with plenty of people and animals so that they never feel bored or lonely. This is a dog that may suffer from separation anxiety because they are so attached to their favourite humans. In that case, scheduling a loving Dog Walker or Pet Sitter is a great way to provide them with some much-appreciated people time.
Because Cavoodles are the product of two breeds with very different personalities, it can be hard to predict what your pupper will be like. Some Cavoodles take on more of an independent streak stemming from their Poodle genes. Others act exactly like their Cavalier King Charles Spaniel parent – relaxed and less energetic. If you can, you'll learn more about what your future Cavoodle dog will be like by spending time with both breeds.
Living Conditions and Exercise Needs

 

⌂
Compared to other dogs of the same size, some Cavoodles will require more exercise. After all, those Poodle genes have them hard-wired for a life of adventure. As a result, they'll be more than willing to accompany you every time you leave the house.
When you do take your Cavoodle out for walkies, you'll be surprised by how much energy they have. This isn't one of those small dogs that you can pick up and place in your purse. The Cavoodle wants to be on their own four feet, running with the big dogs.
Daily exercise, then, is a must for a Cavoodle. A dedicated Dog Walker is a great way to make sure that your Cavoodle is getting all of the exercise they need to be healthy.
When it comes to living conditions, Cavoodles don't need oodles of space. A small backyard can be sufficient for potty breaks as long as you're able to take them out for longer walks a couple times per day. And, when they're able to spend plenty of quality time with their favourite humans, the size of the apartment or house doesn't matter.
Cavoodles are absolutely not suited for living in the backyard or outdoor space. This is a social doggo who will choose cuddles and playtime over a large outdoor space any day. Another thing to note about Cavoodles is that they're fairly vocal. If you live in an apartment building or are worried about neighbours complaining about barking, you may have to put extra effort in training your Cavoodle to bark less.
As your Cavoodle gets up in years, it will be necessary to make a few adjustments to your household. Doggie ramps and steps will ensure that your Cavoodle doesn't hurt themselves trying to get close to you. Because no matter how old your Cavoodle is, that desire to be right next to you will never go away.
Cavoodle Trainability and Training Tips

 
Thanks to the Cavoodle's intelligence, training can be an enjoyable bonding experience for the both of you. They'll quickly learn any commands you introduce to them, and you'll have fun exploring the many more tricks that your Cavoodle can learn.
The key to training a Cavoodle is positivity and patience. Cavoodles are usually pretty obedient doggos, but they can have an independent streak. That's quite alright! Stick with it, provide plenty of treats and verbal encouragement, and your Cavoodle will come around to the training sessions in no time.
Once you've developed a good relationship with your Cavoodle, they'll amaze you with their ability to learn new tricks quickly. And by setting up a training routine, you'll be providing your dog with the mental stimulation they need to be happy and engaged.
Because of their small size, Cavoodles are the perfect doggo for indoor obstacle courses and other games. If you're looking to include children in the training process, check out our article on Activities for Pets & Kids for some fun ideas.
Grooming

 

✄
Poodles and Cavaliers both have a wide variety of coat colours, which is why Cavoodles come in pretty much any variety imaginable – straight or curly fur and in most colours including black, white, tan and rust. 
Depending on how much of the Poodle genes are expressed in your Cavoodle, your grooming regimen will different. Cavoodles with Poodle-like coats, for instance, will shed less and require more combing to prevent tangles and mats. Cavoodles with more Cavalier coats, on the other hand, will require brushing to remove dander. Either way, you'll want to brush or comb your Cavoodle a couple of times per week. A bath about once a month is also standard Cavoodle care.
It's best to get your Cavoodle accustomed to going to the groomers at a young age. This will make your grooming routine much easier and enjoyable for your pup, and will keep their coat healthy.
In addition to keeping the coat nice and beautiful, you'll also want to keep your Cavoodle's face and ears clean. This will prevent face staining and ear infections. It can also be helpful for your Cavoodle to trim the hair around their eyes and mouth. This will make them more comfortable and help you keep their face clean. 
Cavoodle Health

+
In general, Cavoodles are healthy and enjoy the benefits of genes from Poodles and Cavalier King Charles Spaniels. At the same time, there are a few genetic issues to keep in mind:
Patellar luxation and hip dysplasia
Progressive retinal atrophy and cataracts
Epilepsy
Syringomyelia – a genetic defect in which the brain is too large for the skull and causes discomfort and pain
Mitral Valve Disease – a progressive heart condition
The best way to avoid genetic issues in your Cavoodle is to find a responsible breeder. As with any breed as popular as the Cavoodle, it's important to avoid working with breeders who cut corners.
Obesity isn't a huge concern with Cavoodles because they love playing. But if you notice your Cavoodle getting a bit rounder in the tummy area, it's a sign that you'll need to spend more time playing with and exercising your pup. Don't forget that a high-quality diet will extend your pupper's life and make their coat gorgeous.
Fun Fact

  

♥ 
Just a decade ago, Cavoodles were written off as mutts. But they've quickly become one of the most popular dogs in Australia. In 2016, the Cavoodle was the most popular dog breed in the country! And, their popularity doesn't show any signs of declining.
Why is this the case? Well, their personality obviously has a lot to do with it. But there are a few other advantages that Cavoodles have over other doggos. To start, Australians are changing their lifestyles. More of us live in high-rise apartments where a smaller dog is more appealing. Plus, the fact that Cavoodles shed less than other dogs is a huge benefit to a busy lifestyle. After all, less cleaning time translates to more quality time with our puppers!
Of all of the Poodle hybrids, the Cavoodle is arguably the most sought-after doggo in Australia. Spend a little bit of time with one and you'll see why.
Final Thoughts on the Cavoodle

 

 
From first-time Dog Owners to experienced dog lovers, the Cavoodle is the perfect breed. They get along with everyone, adapt well to any home or apartment, and are easy to train. This is a mild-mannered doggo with so much love to give.
When it comes to daily care, the Cavoodle is happy with a brisk walk and some fun playtime. They have low grooming needs and are generally healthy. These qualities make them so easy to take care of that they're recommended for a variety of lifestyles.
The only thing that may make new Cavoodle Owners hesitate is their tendency for barking. But, with regular exercise and training, barking can be easily managed.
If you're looking for a dog who will fit seamlessly into your life, the Cavoodle is ready to step up to the challenge. With basic care and attention, your Cavoodle is a lovable companion.
Comments
comments