Papillons. We get them. This month's Dog Breed Corner features a pooch that proves big things come in small packages. Find out about the Papillon's breed history, personality traits, grooming needs, and more. Do you have a Papillon furry friend that would benefit from a small dog-friendly Minder? Dog Sitters in Adelaide, Brisbane, and elsewhere stand ready to care for your pooch!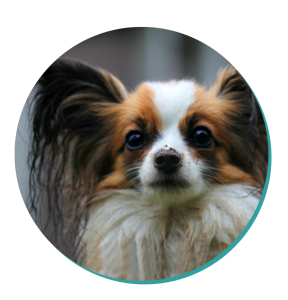 Quick Facts ✔ 
Height –  20 – 28cm 
Weight – 3.2 – 4.5kg 
Lifespan – 13 – 15 years
Country of origin – Spain, Belgium, France
Breed type – Companion Dog
Best breed for: 
Apartment living 
Novice Owners
Families with or without children 
Papillon Breed History

 

♜
From the 16th century to the 18th century, this glamorous little dog has graced the canvas of many a portrait alongside their beloved upper class Owners. So who is this little pupper? How did they get so popular with Europe's nobility? What role does Marie Antoinette play in the Papillon saga?
To answer these questions, we have to back up, all the way to the 13th century. During this time, a small dog called the Continental Toy Spaniel or Dwarf Spaniel was being developed in the Flanders region. These delicate pups were bred specifically to provide companionship to wealthy ladies. And because of their alert gaze and elegance, they made the perfect additions to painted portraits. You can even find them in some of the most important works of art of the 16th and 17th century, such as the Venus of Urbino or Reclining Venus painted by Italian artist Titian. Titian included the Continental Toy Spaniel in a few of his other notable works, and the dog is often interpreted as a symbol of fidelity.
Madame de Pompadour was another key figure in the history of the Papillon. Her name may not immediately ring a bell but she held quite a lot of power in the 18th century during her role as official chief mistress to King Louis XV. Madame de Pompadour was known for her love of these cute little Spaniels.
It was around this time that the name changed from Spaniel to Papillon. The shift is a bit confusing, so let's break it down. Originally, all of these puppers had what's called a drop-ear, or an adorable half-floppy ear. Eventually, breeders would start to select for erect ears, which many high-class Owners preferred. These erect-eared Spaniels would come to be known as Papillon, which means "butterfly" in French. The originals would gain the nickname Phalène, for "moth."
While both Papillon and Phalène can occur in the same litter, we refer broadly to the breed as Papillon. It's a bit counterintuitive considering that the Phalène came first, but breeders followed the trend of the day.
Louis XV's successor, Louis XVI, would marry the next Papillon enthusiast: Marie Antoinette. While most historians focus on Marie Antoinette's beloved Pug, the queen loved dogs in general, and owned a Papillon named Thisbe.
Despite the eventual violent overturn of the monarchy, the Papillon wouldn't suffer too much bad publicity. On the contrary, the breed would only become more popular as it began showing up in dog shows around the world. Asa result, families outside of the aristocracy would be able to enjoy this wonderful furry companion.
Papillon Personality Traits

★
The Papillon is a dog completely tuned-in to the world around them. They're smart, active, and charismatic, and you'll find that each Papillon has a unique and sometimes quirky personality.
While they absolutely love their humans – they were, after all, bred for their loyalty and affection – they're not the lapdog that you might expect. That's not to say they don't mind the occasional cuddle, but they like to balance their time. You'd sooner find them trailing the heels of their beloved family members or making friendly rounds at your next social gathering than staying put in their kennel or bed. They love to socialise, and they make excellent floofy hosts.
And they're not just people-oriented. Papillons with good training can be friendly and easy-going with other animals, as long as their furry friends know how to handle them with care. What we mean is, this isn't a meek little pooch, and they'll stand up for themselves if they feel threatened. It's important that they don't come into contact with less-than-friendly larger dogs or toddlers who play too rough.
Papillons are not the most vocal of small breeds, but can resort to whining and barking when left alone for too long. Separation anxiety is a high risk with these little pups, and it's best that they have plenty of people time, whether with family members or a loving Pet Sitter, throughout the day.
Trainability and Training Tips
Due to their cleverness and focus, these dogs do very well in Puppy School. Or, if you choose to train them on your own, you'll find that your Papillon will do whatever it takes to become your #1 student. They love the attention, as well as the mental challenge that comes with training.
One important training foundation is socialisation. Because these little guys are so, well, little, the world can be a big, scary place. Early on in your training, then, you should work on confidence and safety-building techniques. That can be as simple as playdates with other well-mannered dogs, children, or strangers in safe, neutral locations. Then, over time, you can introduce a Papillon to more crowded places, as long as there's no risk of them being trampled or lost in the crowd.
Proper leash training is another must when it comes to early training. You wouldn't let a Tibetan Mastiff pull you around, and the same should go for the Papillon. As we'll discuss in the Papillon health section, these dogs are at high risk for tracheal collapse. Because of this, they should be trained using a harness instead of a collar. Either way, you'll be able to keep your Papillon safer by teaching them proper walking on-lead etiquette.
As much as you can, work on granting autonomy to your Papillon. Sometimes it will be appropriate to pick up your pint-sized pup to keep them safe, but try to use it as a last resort. When these dogs know basic commands like "come," "sit," "stay," and "leave it," you'll find that there are many situations that can be handled without you having to scoop up your pooch.
In general, Papillons are living examples of why you can't believe the small dog myths. But, any dog without proper training can have some behaviour issues, and this gentle-mannered pup is no exception. They can become territorial and stubborn without proper training. More than that, they miss out on a fun, bonding opportunity with their favourite human.
Papillon Exercise Needs
You may be accustomed to seeing these dogs living in the lap of luxury, but don't mistake them for couch potatoes. While it may not have been obvious in the 16th century paintings, these dogs are energetic and lively. They had entire royal palaces and grounds to explore!
They need at least one brisk walk per day to stretch their legs and say hello to the neighbours. They'll also love the chance to run around in the small dog area of the dog park or play a good game of fetch. Beyond that, they're not likely to want more exercise, although every dog is unique.
You'll know that your Papillon isn't getting enough exercise if they start to gain weight or you notice that they are more restless and non-cuddly than usual. Luckily, because of their small size, they're fairly easy to exercise inside or in the backyard on the days that you can't take them out more than once. Calling in an energetic Dog Walker is always another great option.
Living Conditions

 

⌂
Highly considered to be one of the best urban dogs, the Papillon does very well in small homes and apartment settings. Of course, they wouldn't baulk at life in the suburbs or even in the country as long as they're able to spend time with their loving Owners.
This isn't a dog that would ever want to live outside, and they should never be left outside unsupervised. Not only will their small size make them prey for large birds and other wildlife, but they'll quickly become anxious.
Inside, it's a good idea to provide your Papillon with plenty of toys to keep themselves entertained. And, although they're quite agile, they would be grateful if you could set up some comfortable seating and sleeping areas at ground level. Same goes for their food bowls.
As they get older in years, make sure to install some safety precautions around stairs as well as some small dog ramps for better accessibility.
Papillon Grooming

 

✄
Are you afraid that the Papillon's sleek coat requires hours of grooming? You're in for a pleasant surprise. Papillon coats don't require too much attention, and can be maintained with one grooming session every month or so. Funny enough, only certain parts of their body – the body and backside, specifically – require regular trimming. So, even your trips to the groomers should be quick and easy.
On your end, you might want to give them a brush during the week to keep those ears feathery and beautiful. Take a look at our top Grooming Tips & Tools for some professional advice.
Beyond that, it's important that you clean your Papillon's teeth regularly. Small dogs like the Papillon are at higher risk for poor dental hygiene, so work it into your regular routine! Remember to keep some pet wipes on hand to keep their eyes and ears clean.
Papillon Health

+
As we mentioned, dental hygiene problems, like Periodontal Disease can come up in breeds like the Papillon. There are a few other health issues to watch out for:
Anesthesia Sensitivity
Collapsing Trachea. Make sure to invest in a comfortable harness for these doggos instead of a traditional collar and lead
Patellar Luxation
Progressive Retinal Atrophy
Choking Hazards
Deafness
Low Blood Sugar
Hypothyroidism
There are also a few health issues that are becoming more commonplace within the breed, such as Neuroaxonal Dystrophy Disease. It's a fatal condition marked by swelling in the brain and spinal cord, and usually develops in puppyhood. Heart disease also seems to be increasing in the breed, although both Heart Disease and Neuroaxonal Dystrophy are relatively rare.
By far the biggest risk for the Papillon is injury. Although they're confident and bold, these are fragile dogs that need to be handled with care.
Fun Fact 

 

♥ 
Believe it or not, the Papillon is a champion at dog shows. They regularly win agility and rally comps, and are the Number 1 ranked toy dog breed in the world for obedience! Want to know more about these centre-stage show dogs?
First, meet Sparkle. In 2017, she won first in the 8-inch Masters Agility Championship by completing the course in 36.09 seconds. And if that's not impressive enough, she did it when she was 12 years old!
Another big name in the Papillon hall of fame is Dylan, who won Best in Show in the Crufts dog show in 2019. There were 27,000 dogs in the show that year, which puts into perspective just how stunning Dylan's performance was! 
Final Thoughts on the Papillon
The Papillon's adaptability and friendliness makes them ideal in a variety of living situations, as long as they're able to have daily exercise and plenty of people time. When socialised early, these doggos are wonderful with other animals and children. In fact, they prefer to be in a big bustling house with many potential friends. There is a risk for separation anxiety in this breed, which a professional Dog Walker can help you deal with.
Because of their small size, some special precautions should be taken to ensure their safety. But, try not to keep them on too short a leash. This is a smart, savvy pup who will want and deserve some autonomy.
This is a small dog that has always been destined for greatness. Well, to be fair, greatness for a Papillon can include anything from living in the royal palace to performing in front of thousands of people at a dog show to curling up with a loving family. Talk about a dog with range!
Comments
comments