Papillons. We get them. This month's Dog Breed Corner features a pooch that proves big things come in small packages. Find out about the Papillon's breed history, personality traits, grooming needs and more!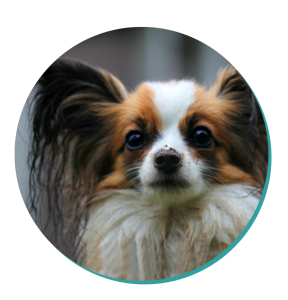 Quick Facts ✔ 
Height –  20 – 28cm 
Weight – 3.2 – 4.5kg 
Lifespan – 13 – 15 years
Country of origin – Spain, Belgium, France
Breed type – Companion Dog
Best breed for: 
Apartment living 
Novice Owners
Families with or without children 
Breed History

 

♜
The Papillion takes their name for the French word for "butterfly", and is so named for their wing-like ears. Originally known as the Dwarf Spaniel, the breed came to prominence in the 16th century. The Papillon became a fixture amongst the European upper class, and graced the laps of many lords and ladies. Because of this, Papillons are present in many portraits depicting 16th century nobility.   
Personality Traits & Trainability 

★
The Papillon is a lot of enthusiasm condensed into a small, fluffy frame. They are the ultimate companion dog: outgoing, suited to urban living, and eager to become BFFs with their owner. They are wildly clever dogs, and are known to thrive in Puppy School. In fact, Papillons are one of the most trainable small dogs you can find. With a little guidance, they can excel at agility trials and obstacle courses, and go crazy for Mini Frisbees. 
On the flipside, they can develop a stubborn streak if they're not trained from an early age. They can also run into problems with rough toddlers, as Papillons are neither meek nor hardy. Finally, they can't stand to be alone, so be sure to book a Pet Sitter if you need to leave them by themselves for more than a few hours.
However, a smidgen of patience and attention will turn your Papillon into a perfect pet for the entire family. 
Living Conditions

 

⌂
Thanks to its size and temperament, the Papillon is an ideal apartment dog. You can expect them to spend more time whizzing around your living room than laying dormant on your lap, but don't let that worry you: high energy in a small space is a hallmark of this breed. They also enjoy backyards, but aren't classed as "outdoors" dogs. 
Grooming

 

✄
Are you afraid that the Papillon's sleek coat requires hours of grooming? You're in for a pleasant surprise. Papillon coats don't require too much attention, and can be maintained with one grooming session every month or so. You might want to give them a brush during the week, but don't berate yourself if you forget. Beyond that, it's important that you clean your Papillon's teeth 2 – 3 times a week to fend off dental diseases. 
Fun Fact 

 

♥ 
Believe it or not, the Papillon is a a champion at dog shows. They regularly win agility and rally comps, and are the Number 1 ranked toy dog breed in world for obedience!  
Comments
comments