Our beloved furry friends visit the Dog Groomer every couple of months, but what about in between those visits? How do we keep their coats looking tip top? We've got the best grooming tips and tools to your pet looking good all year round!
Apart from removing dead hair, grooming is good for your pooch's skin and reduces the likelihood of your pooch getting parasites such as fleas or ticks. Regular grooming also is a great opportunity to check for any lumps, bumps or injuries that might need attention from your vet. Quite apart from all that, most dogs love being brushed and rubbed by their owners and it's a great way to strengthen your bond with your furry friend.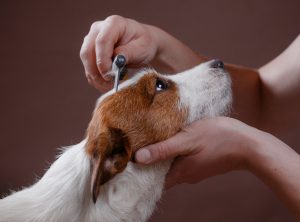 How often should you apply these grooming tips? 
Shorter haired breeds can get away with weekly brushing, whilst other longer haired breeds may need to be brushed every day. Knots and tangles can be very painful to remove once they have set in so be sure to keep an eye on breeds with longer coats or coats with feathering such as Spaniels.
Tools for Grooming Tips
Different brushes are required for different jobs. The time of year may dictate what kind of brushing and grooming your pooch requires.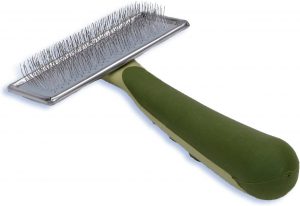 Slicker Brush 
A flat or round brush head with rows of tiny pins, this brush is good for most coat types and will gently remove dead hair and help to detangle
Shedding Blade or Shedding Brush
Sounds much more sinister than it really is! The shedding blade is a horseshoe of metal with tiny teeth to catch your dog's fur, whilst the Shedding Brush is more like a traditional style brush. Great for breeds such as Labradors and Golden Retrievers, brushing a couple of times a week with a Shedding Blade can dramatically reduce your dog's shedding in the house. Finish off with a Slicker Brush to distribute your pooch's natural oils throughout his coat.
 Undercoat Rake 
Breeds such as Huskies, Pomeranians and Samoyeds tend to shed in clumps. An undercoat rake is great for these breeds as it gets down to the thick undercoat and removes the dead hair. The brush has wide teeth so rakes over the thinner upper coat and gets down to business with the thick, shedding undercoat.
Modern Twist 
Over recent years, there has been a rise in popularity in grooming gloves such as the HandsOn Gloves . Worn by the owner and rubbed all over the dog, the gloves are covered with teeth which gather fur which can then be peeled from the gloves in layers.
If you have any other suggestions, tips or tricks, we'd love to know! Let us know in the comments below!
Comments
comments