This week, we launched our winter marketing campaign for Mad Paws. 
This may seem like an odd topic for a blog post. It might even seem a bit self-serving. After all, don't we have Facebook ads for this kind of thing? The reason we've felt compelled to share this is because this campaign speaks to who we are as people.

With our new campaign, we wanted to share a message that told of our passion for animals. Yes, we're a business, but at our core, we're really just a group of Pet Sitters who love – LOVE – pets. More than that, we understand them. We know how to read their tail movements, and  how to decipher their barking. We know when they want cuddles, and when they want to be left alone. Pets are our life, and we get them.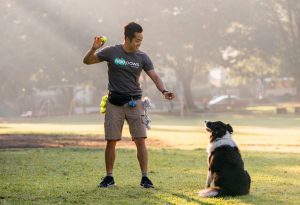 Chris gets active dogs.
Chris cares for a Siberian Husky named Winter, he can outlast a sheepdog in a game of fetch, and he can charm Border Collies with the best of them. He's also the leader of a successful hip hop dance crew, and maintains a workout routine that would make Dwayne Johnson envious. In other words, he's the human version of an active dog. 

Ale gets small dogs.
Since moving to Australia from Mexico, she's become the unofficial godmother to a Papillon named Jelly Bean. She has also spent her life raising dogs of all shapes and sizes, from Golden Retrievers to Chihuahuas. Ale knows when a dog wants their belly rubbed, when they want to play, and when they want to curl up on your lap. If there's someone who cares more about small dogs, you'll be hard pressed to find them. 

Emily gets labradors. 
A yoga-loving native of California, Emily has cared for Labradors for over a decade. Her own Lab, Whitney, is living in the States with her parents, so Emily seizes every chance  to Pet Sit labradors through Mad Paws. Emily loves Labradors so much that she braved a cold winter's day to give Hugo (pictured above) the pool party for which he'd been yearning. 
Every Pet Sitter at Mad Paws has a similar story. From bunny rabbits to Sphinx cats, from parrots to Tibetan Mastiffs, we've all lived and breathed pets for as long as we can remember. At Mad Paws, we love pets. And we get them. 
Comments
comments