There is no pack of pets too large for this canine-loving Pet Sitter! Based in Warrandyte, VIC, Veena and her family are known for finding the most creative ways to entertain their pets. This month, Veena shares her fondest memories as a Mad Paws Pet Sitter, and offers advice to other animal carers.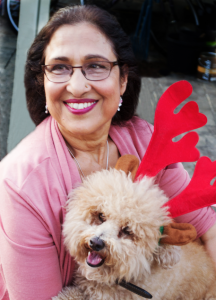 What is your greatest tip to other pet sitters?
If you're a Pet Sitter, you should pay extra attention to the pet for which you're caring. Keep them busy so they don't miss their Owners when they with you. Play with them and change to different toys every now and again. Try to make their time with you interesting and entertaining; after all, this is a holiday for them from their normal daily routine. So remember to make it an interesting and an enjoyable time for your adorable guest!
What is a fun story from your pet sitting experience?
It was a hot summer's day and we were minding nine dogs at the same time. Trying to keep them entertained in the heat was a challenge.  We filled up water in the baby bath tubs, buckets, big water bowls, and some small ceramic bowls for the small dogs. My son Randeep whistled and the whole battalion came charging towards him.
The moment they saw the water, some jumped into the tubs, some dunked their heads into the buckets, and the others dug their paws into the bowls…..and all you could see was water splashing everywhere.  It didn't stop there. Randeep picked up the garden hose to refill the tubs, but seeing the hose they all ran towards us, shaking water off themselves. It was hilarious. They were drying themselves, but in return, Randeep and myself were drenched from head to toe.
We couldn't stop laughing and the dogs kept barking. When the hose tap opened, they jumped over the tubs to catch the stream. It was like taking part in an obstacle race. They ran back and forth, barking and jumping over the obstacles, splashing water on each other and us. We laughed until our cheek bones were sore and could laugh no more; but the dogs kept playing in the water for over an hour.  Finally we stopped, dried them up with towels and hair dryers, gave them all some snacks, and fifteen minutes later all we could hear was loud snoring. Randeep and I kept laughing. It was unbelievable!!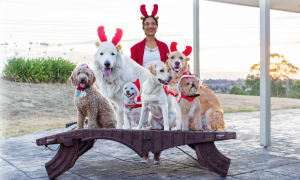 Why do you love Mad Paws?
Mad Paws is very ethical and fair with their clients as well as their Pet Sitters.  Every member of the team is compassionate, and it's all about the pets. They are also very prompt with accounting, payments, and responding to your queries. 
Do you have a dog or nine who could use some love while you're on holiday? Check out Veena's profile!
Comments
comments