In Dog Breed Corner this month is the Schnauzer! Check out the Schnauzer's origins, personality, trainability, grooming needs and more. Do you require a Schnauzer-friendly Dog Sitter in Melbourne, Broome, Townsville, or elsewhere? Mad Paws has you covered!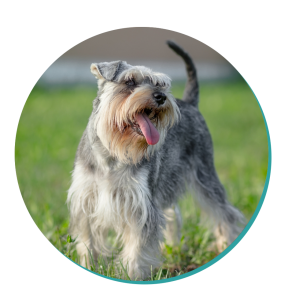 Quick Facts ✔ 
Height –  28—36cm (miniature), 45 – 50cm (standard), 60-70cm (giant)
Weight – 5—9kg (miniature), 14 – 20kg (standard), 25—48kg (giant)
Lifespan – 12—15 years (slightly shorter for the Giant Schnauzer)
Country of origin – Germany
Breed type – Terrier, and Working Dog
Best breed for: 
Families with children 
Owners committed to training 
Apartment living 
Schnauzer Breed History

 

♜
There's a lot more to this distinguished pup than an impressive moustache! Even so, those whiskers are a good place to start when talking about the Schnauzer's history.
The word Schnauzer comes from the German word "schnauze" meaning snout. From the start, these medium-sized dogs sported a recognisable beard that was more functional than fashionable. The rough whiskers were, in fact, the first line of defense against the rodents that the Schnauzer was tasked with hunting.
Throughout the 19th century, the Schnauzer gained popularity in southern Germany as an all-around farm dog. Not only could they keep rats and mice out of the barn, but they could also guard the home, protect their Owners on the way to and from the market, and even help with herding duties.
By the 1880s, dog fanciers had both miniaturised and maximised the Schnauzer, giving us, of course, the Mini and the Giant versions. Miniature Pinschers, Miniature Poodles, Great Danes, and Bouvier Des Flandres dogs were all used to influence the size of the Schnauzer; we'll let you guess which ones made the breed smaller or larger.
The different sizes allowed these doggos to perform specialised roles: Miniature Schnauzers were even better ratting dogs than their Standard predecessors and Giant Schnauzers were better suited to farming in the Bavarian Alps.
The Giant Schnauzer was also used as a police dog in Germany in the time leading up to World War I. Later on, the German Shepherd and Belgain Malinois would become the standard choice for law enforcement, prompting the Giant Schnauzer to turn to other pursuits, like that of friendly family pet.
Today, the Miniature, Standard and Giant Schnauzers are considered three separate breeds, with their own fan clubs and breed standards. The Mini Schnau is the most popular, but all three make wonderful companions.
Personality Traits
★
The first thing that will make you smile when you first see a Schnauzer is the beard. The second thing is this dog's vibrant personality.
Schnauzers are known to be social, happy dogs who get along well with just about everyone. They're particularly beloved family pets because of their patience with children, and older kids are especially compatible with this dog's energy needs. Schnauzers with a strong connection to their farming background may develop a herding instinct with kiddos, so make sure to train early and give them enough exercise to keep the habit under control.
Speaking of their farming days, Schnauzers may not be appropriate for households with small animals. They can certainly learn to get along with cats if they've been properly socialised, but anything smaller might trigger their rat-hunting instincts.
As far as other dogs go, Schnauzers are generally easy-going. Like all puppers, they need socialisation with other dogs to learn the ropes, but most don't develop dog aggression. That said, Mini Schnauzers can sometimes get overwhelmed in a group of large dogs, so take it slow when socialising them to run with the big dogs.
To be sure, life with a Schnauzer of any size is not all smooth sailing. They have an attitude that is endearing but also, at times, frustrating. Schnauzer Owners need to be ready for a dog who can be bossy, curious, jealous, and stubborn. And with an above-average intelligence, it's not always easy to reason with this pupper, but more on that in the next section!
Finally, all Owners-to-be should know that Schnauzers are natural protectors. The breed can be territorial and will alert the family to anyone approaching the home, although once you welcome someone inside, your Schnauzer will quickly make friends. Even when they're not guarding, they're quite vocal. You'll never feel lonely with a chatty Schnauzer around!
Schnauzer

Trainability & Training Tips
Even with their wilful personality, Schnauzers are people-pleasers deep down. They want a job to do and they want their beloved human to be proud of them. So training can be a much more enjoyable process than you might be expecting. Here are a few tips to training a wily dog like the Schnauzer:
Build a solid relationship.

Schnauzers bond strongly to their Owners and will be more engaged in the training process if they trust and love their trainer. Relationship-building can start from day one with play, quality time and feeding. You can kick this stage into overdrive by feeding your dog

delicious, all-natural raw meals

.
Train with treats.

Schnauzers respond well to positive praise and play, but they'll be even more engaged with treat-training. Always keep training sessions light and energetic, as these dogs will become even more stubborn with harsh punishment.
Keep sessions short.

Schnauzers are highly distractible and will need short training sessions to start out. Over time, you may be able to build up to longer sessions, but about 5 to 10 minutes is plenty for a Schnauzer puppy.
Bring a healthy dose of patience (and good humour!).

While these dogs are typically easy to train, not every training session will be a wild success. Some days, these opinionated dogs will decide to follow their own path, no matter how tempting the treats. Consistency, patience, and an upbeat attitude will allow you to stick with a regular training plan to offset the occasional failed session.
Work specifically on recall.

Because these dogs have a powerful sniffer and lively curiosity, it can be difficult to train them to stick close. Until you've mastered reliable recall, make sure to keep Fido on a leash in open areas.
With a consistent regimen, all varieties of Schnauzer will enjoy and benefit from training. For the larger pups, training will ensure that these big doggos and those around them are safe. And for the mini version, training is an important way to prevent small dog syndrome.
Exercise Needs & Living Conditions
⌂ 
​
Tiny, traditional, or towering, all Schnauzers are highly energetic doggos. The minimum amount of exercise they need per day is about 45 minutes to an hour.
The best way to exercise a Schnauzer is to appeal to their working background. Whether they were sniffing out mice or running after cattle, these dogs were always on the move. Here are a few activities that will take them back to the farm:
Walking.

A daily walk is essential for Schnauzers of all sizes. Not only do they enjoy walking alongside their favourite human or a friendly Dog Walker, but it will also give them a chance to put their snout to the ground. The mental stimulation of a walk, especially if it can be done in different neighbourhoods, is an amazing way to tire this pup out and ward off boredom. 
Backyard scavenger hunt.

Engage the Schnauzer's powerful sense of smell by hiding treats and toys around the backyard without them seeing. As soon as you set them free, they'll excitedly explore the backyard until they've found every piece of treasure. And, you'll have one tired pup.
Playtime at the dog park.

Schnauzers love to play with dogs their same size and will quickly seek out playmates at the dog park. If you notice your pup is adopting some bossy or aggressive behaviours towards other dogs, it's a good idea to start over with slow socialisation to teach them how to play nicely.
Interactive games.

Whether it's fetch, tug toys, or frisbee, Schnauzers love games that they can play with their favourite human. If you can't get your dog out for a longer exercise session, a 30 minute interactive play session can tire them out and give them some much-needed quality time.
Agility training.

Jumping over barriers and through hoops is any Schnauzer's dream! They're quick and agile and sure to work up a doggy sweat while they move through an agility course.
Hiking/Jogging/Bicycling.

For larger Schnauzers, you can increase the intensity of your workouts by incorporating other activities like hiking, running, or teaching your Schnau to run alongside your bicycle. For the Schnauzers large enough to keep up, this form of high energy activity is a wonderful way to keep them healthy and happy.
Because Schnauzers come in all sizes, it's easy to find one to fit your living conditions. Standard and Giant Schnauzers will be more comfortable in larger homes with plenty of outdoor space. While Miniature Schnauzers are a favourite for apartment living. We should note, of course, that a Mini Schnau has the spirit to be right at home on a farm, so don't discount them from a life in the country.
The breed has been known to jump over six foot fences so a secure yard is absolutely essential to keep them safe.
Schnauzer

Grooming
✄
​The Schnauzer has a double coat – a course wire outer coat and softer undercoat and feathering on the legs and beard. One of the biggest advantages of the Schnauzer coat is that it's hypoallergenic. For most people with dog allergies, the Schnauzer doesn't pose a risk.
To keep the coat healthy, brushing a couple of times a week is standard. But daily brushing and cleaning of the beard is necessary to stop it becoming tangled and dirty. Especially for lighter coloured Schnauzers, this daily cleaning practice can prevent tear stains as a result of bacteria growth.
In addition to that, the Schnauzer also needs monthly baths and hand stripping every 6 – 8 weeks to keep their coat in top condition. You'll want to find a local groomer who is experienced in hand stripping, or be able to commit a few hours to the task yourself. 
Beyond coat care, Schnauzers require basic grooming tasks like nail trimming, ear cleaning, and tooth brushing.
Schnauzer

Health

+
Because they come in a variety of sizes, health risks can vary for different Schnauzers.
Giant Schnauzers, for instance, can be prone to bloat, and hip and elbow dysplasia.
Miniature Schnauzers may be more at risk for eye issues such as cataracts, as well as liver shunts and pancreatitis.
Standard Schnauzers are considered a very healthy breed, but can also suffer from joint problems and eye conditions.
For all sizes of Schnauzer, it's important to cover them with a dependable pet insurance plan to make sure they can go through life as bold as a Schnauzer should be!
Fun Fact
♥
Is the German Schnauzer a terrier or a working dog? 
As it turns out, the dog world can't come to an agreement! While Standard and Giant Schnauzers have always been considered working dogs or members of the utility group, the Mini Schnauzer can seem out of place in that category.
After all, these smaller scruffy dogs have quite a few similarities to terriers. They were bred to hunt rodents, they've got the look (and attitude!) of a terrier, and they even sport button ears to protect them while digging. In some kennel clubs, such as the American Kennel Club and the Westminster Kennel Club, the Miniature Schnauzer meets the requirements for a terrier.
But, because these dogs don't share common ancestry with so-called true terriers, some dog fanciers are not so sure.
At the end of the day, Miniature Schnauzers themselves don't give a second thought to the distinction. They just want to be with their favourite humans!
Final Thoughts on the Schnauzer
The wonderful thing about the Schnauzer is that there's one for everybody. If you're a big dog kind of person, the Giant Schnauzer will happily accompany you on your amazing adventures. If you're looking for an apartment-friendly family dog, the Miniature Schnauzer fits the bill. And, if you want something right in the middle, the Standard Schnauzer is your dog.
All Schnauzers are hypoallergenic, intelligent, eager-to-please, naturally protective, and genuinely fun to be around. Training and daily exercise can curb some of their more difficult-to-handle farming habits to make them excellent family pets.
With attitude, bravery, and humour to spare, the Schnauzer is an all-around wonderful dog.
Comments
comments