In Dog Breed Corner this month is the Schnauzer! Check out the Schnauzer's origins, personality, trainability, grooming needs and more!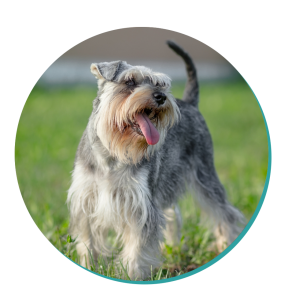 Quick Facts ✔ 
Height –  45 – 50cm 
Weight – 14 – 20kg
Lifespan – 10 years plus 
Country of origin – Germany
Breed type – Working Dog
Best breed for: 
Families with children 
Owners committed to training 
Apartment living 
Breed History 

♜
The word Schnauzer comes from the German word "schnauze" meaning snout, in reference to this breed's impressive beard. The breed was established in the 1880s in southern Germany and was used as a versatile farm dog with a reputation for rat hunting! The miniature version was later bred with larger dogs such as Great Danes and Bouvier Des Flandres to produce the Giant Schnauzer. 
Personality Traits & Trainability 

★
Schnauzers of all sizes have above-average intelligence and a naturally inquisitive nature. They can be stubborn and wilful and so will need an owner who is one step ahead and committed to training. This breed is a good family dog; patient with children and other pets if introduced from an early age with the miniature version in particular renowned as a patient and child-friendly dog. The breed can be territorial and will alert the family to anyone approaching the home, although once you welcome someone into your home your Schnauzer will quickly make friends! 
Living Conditions 

⌂
The Schnauzer can live comfortably in an apartment or on a farm with acres to run. As long as he is exercised daily, he or she will fit easily into family life. The breed has been known to jump over six foot fences so a secure yard is absolutely essential to keep them safe. 
Grooming 

✄
The Schnauzer has a double coat – a course wire outer coat and softer undercoat and feathering on the legs and beard. Brushing a couple of times a week will keep your pooch's body looking great but daily brushing and cleaning of the beard is necessary to stop it becoming tangled and dirty. The Schnauzer also needs hand stripping every 6 – 8 weeks to keep his coat in top condition.  
Fun Fact  

♥ 
The Giant Schnauzer was used as a police dog in Germany in the time leading up to World War 1 and was even featured on a stamp in the late 1970s. Other countries favoured the German Shepherd Dog for police work but the Giant Schnauzer was favoured by the German police force. 
Comments
comments