As a small dog owner myself, I take great exception when people say things like "I hate small dogs, they're always yappy" or "I'd never have a small dog! They're snappy!". But, the sad fact is, although my little Yorkie Benji is well behaved, he has shown signs of developing Small Dog Syndrome in the past and I have to watch that I don't let him slip into bad habits.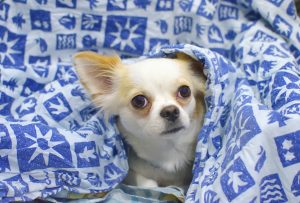 Small Dog Syndrome is a group of behaviours displayed by small breeds and, unfortunately, often ignored by owners. These behaviours – which would not typically be accepted if displayed by larger dogs – can include: 
Jumping up at people 
Reluctance to move off sofas or chairs to allow humans to sit down
Climbing over people
Barking at visitors 
Begging for food 
Aggression towards other dogs 
The truth is, if a 30kg doggo was growling at anyone who came to the front door or jumping up at children, its owner would undoubtedly retrain and correct the behaviour. However, when a 3kg pooch growls or jumps up at people, it's laughed off or seen as less of a nuisance and less dangerous and so is not addressed.
The Early Signs
Early signs of Small Dog Syndrome are often either laughed off or unintentionally reinforced. As an example, picture the scene: Your small breed puppy is in the park and a big dog comes along. Small Puppy starts growling and in response you scoop him up and  and say in your softest, most 'i love you' voice "it's ok little one!". What has Small Puppy learned? That if he growls at big doggos, he gets snuggles and love! This is the same when he growls and refuses to move off the sofa, jumps up at people etc. As an owner, you could be unintentionally rewarding these behaviours. 
The Solution
The long and short of it is Small Dog Syndrome develops because we let our small breed dogs get away with behaviours purely because they are small. If their larger canine cousins displayed the same behaviours, they would be corrected and retrained. Thankfully, the solution is simple: treat all dogs the same. Evaluate your small dog today – do they display any behaviours that would not be acceptable from a large dog? Work on correcting those with consistent positive reinforcement – rewarding them when they do the right thing. 
Comments
comments