In our opinion, every company needs an office dog. But until puppers (or cats) become an office requirement country-wide, luckily there are several pet-friendly workplaces in Australia that have already jumped on the bandwagon.
Perhaps you're itching to change jobs and want the ability to appoint your very own furry personal assistant. Or, you might be simply curious about which Australian companies let employees bring along their pets for the day. 
Whatever the case, here's our list of Australia's top pet-friendly workplaces.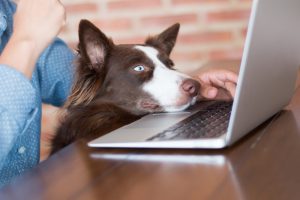 Where are the top pet-friendly workplaces in Australia?
Google
This company needs no introduction, but perhaps its pet policy does! Google is one of the most dog-friendly workplaces in the world, and that friendliness extends to its offices in Sydney.
In fact, Google has an entire section of its Employee Code of Conduct dedicated to its positive attitude towards dogs. (The policy has nothing against cats, but suggests they might get a little stressed out in an office environment.) 
Google's pet policy outlines several rules that employees and their doggos must stick to in order to maintain their workplace privileges. This includes limiting offensive smells, if you know what we mean… The fact that pets are taken so seriously might just make Google the top dog of pet-friendly offices.
Canva
Founded in 2012, Canva is now one of Australia's most internationally successful companies. The business is still headquartered in Sydney, but its simple graphic design tools are used by novice designers the world over.
Canva is consistently named one of the best workplaces in Australia, if not the number-one contender. Employees enjoy flexible working hours; in-house chefs preparing breakfast and lunch; free gym and yoga memberships; and more. So, it's no surprise that pets are allowed to join their humans in the office. 
LegalVision
Unlike typical law firms, LegalVision provides simplified online legal services available for a fixed fee or through a subscription. The company offers lots of other unconventional benefits, including a casual dress code and the opportunity to work from home.
Also unlike typical law firms, LegalVision lets doggos join their Owners at the office. The company's Sydney HQ posts regular Instagram updates of its canine co-workers, and has even granted each one the awesome title of 'Happiness Officer'. Who are we to disagree?
Melbourne Theatre Company
At Melbourne Theatre Company (MTC), doggos take centre stage. MTC has long been a dog-friendly workplace for the office staff, creatives, stage crew, and actors who work there. 
We reckon the arrangement is a bit of a win-win. Staff can bring their doggos to work and enjoy the mental health benefits of having pets in the office. And dogs are fortunate enough to get a peek behind the curtain of some of Australia's best live shows. These puppers might just take the crown for the most cultured dogs in Australia…
Cotton On
Cotton On is one of the country's most iconic retail chains. And, with eight brands under its belt and numerous stores around the world, it's the biggest global retailer in Australia. 
The company also happens to offer a pet-friendly workplace. With its main operations based in Geelong, Victoria, and satellite offices all over the country, Cotton On employees across Australia can bring their furry friends to work. 
Keen to check out some of the cute puppers at Cotton On HQ? Explore the #dogsofcottonon hashtag on Instagram and see these cuties hard at work (well, sleep and play).
Vinomofo
If daily wine tastings and a fun company culture weren't enough, wine retailer Vinomofo allows employees to bring their furbabies to work. The hip company is, naturally, based in Melbourne, and has been delivering vino to Aussie wine connoisseurs since 2011.
Its pet-friendly policy appears to have been in place for a number of years since then. Employees even report that it's one of the top perks of working in the Vinomofo office. (Yep, we'd take dogs over a casual dress code any day, too.)
Mad Paws
Okay, okay, including ourselves on the list might come across as cheating. Even so, with the greatest of modesty, it must be said: we don't just bark the bark. We walk the walk, too. Our company not only centres on pets, but it also actively welcomes them into the workplace. Our head office in Sydney has been pet-friendly for several years now, and we've got lots of doggos who regularly accompany their Owners to work. 
Pet-friendly co-working spaces
This list wouldn't be complete without mentioning Australia's top pet-friendly coworking spaces. There are plenty of spaces across the country that allow freelancers, start-ups, and other businesses to bring their doggos to work. 
Some of the best include WOTSO, which has locations all over Australia; Engine House, One Roof Women, and Savant House in Melbourne; and Reborn, The Office Space, and Emerge in Sydney.
Is your workplace not one of Australia's pet-friendly workplaces?
Fear not! Even if your workplace has a no-pets policy, your furbaby doesn't need to hang solo during the nine to five. Instead, you could consider booking them into your Pet Day Care.
Not only will your pupper receive lots of love and attention from a trusted Doggy Day Care provider, but they may also get the chance to go on fun walks throughout the day and meet some canine colleagues of their own. We hear the water bowl chat at Doggy Day Care can get pretty juicy from time to time, too!
Comments
comments